Three Billboards Outside Ebbing, Missouri will make you feel deeply, laugh loudly and think hard, often in the space of one scene. It is a triumph and sees writer and director Martin McDonagh at his absolute best.
The story centres on Mildred Hayes (McDormand), a woman whose daughter was raped and murdered seven months ago, with the police department's case now cold. Renting three billboards on a back road into her hometown of Ebbing, Missouri, Mildred decides to call local law enforcement out on the lack of progress.
Despite the gravity of the subject matter, there are more laughs to be had here than in most traditional comedies; McDonagh's balancing act of dark humour and real human emotion pays off yet again, in a film that is geographically far removed from In Bruges, but shares much of its sensibility.
We need your consent to load this rte-player contentWe use rte-player to manage extra content that can set cookies on your device and collect data about your activity. Please review their details and accept them to load the content.Manage Preferences
Watch Sinead Brennan's interview with Martin McDonagh
McDonagh never shies away from anything in his scripts, with issues of race and police brutality forming part of the conversation of the film without ever becoming the focus of the narrative, but his brand of social commentary is excellently blended in.
Middle America has rarely looked so vibrant, and the characters that fill this little town are just brilliant.
McDormand never disappoints on screen but her turn as Mildred here is a career high. She's tough, broken, lost and badass all at once, without ever being over-sentimentalised. She is determined to get justice but operates in a spectrum of shades of grey, and though you're rooting for her, you don't necessarily like her, and that doesn't matter.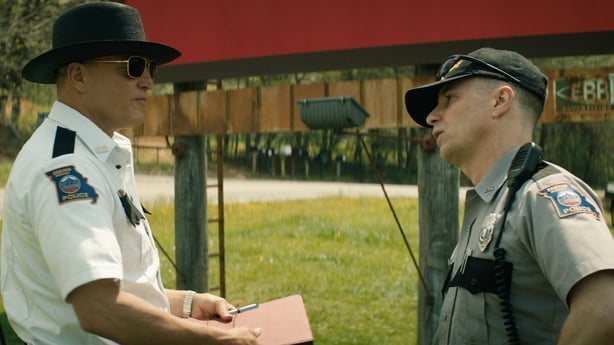 Rockwell's police officer Dixon is instantly loathsome but by some sleight of hand becomes oddly endearing, in a feat I can't imagine anyone other than Rockwell pulling off to the same extent.
Harrelson brings heart to the film, while Caleb Landry Jones (Get Out, War on Everyone) is a scene stealer. Every actor delivers, with Peter Dinklage and Samara Weaving other stand-outs.
The quality never drops below the high bar it set for itself early on, building up to an ending that was just perfectly in keeping with the tone and pace of the film.
Deserving of all of the awards season success it has been receiving, Three Billboards lives up to the hype and is a film that begs to be watched again.
Watch our interview with Sam Rockwell (Warning: Contains language of an adult nature):
We need your consent to load this rte-player contentWe use rte-player to manage extra content that can set cookies on your device and collect data about your activity. Please review their details and accept them to load the content.Manage Preferences