The lament that Ireland becomes more like the US every day is brought home once again in Sean Baker's The Florida Project - a film that gives plenty of chills under the sun and which could end up 'doing a Moonlight' at next year's Oscars.
The setting is the $38-a-night Magic Castle Motel, which is both a few blocks and million miles from Disneyworld. Among its residents are Halley (Bria Vinaite) and Moonee (Brooklynn Prince), a tearaway mother and daughter whose chaotic existence has you worrying from the off about what lies ahead. While Halley scams to pay the rent and butts heads with every adult she meets, Moonee runs wild around the Magic Castle and its environs - a whirlwind of sugar rush mischief.
Trying to keep a watchful eye on Halley and Moonee is motel manager Bobby (Willem Dafoe), a weathered soul who has seen this story play out so many times before that he knows every calamitous chapter by heart. It's going to be a long summer.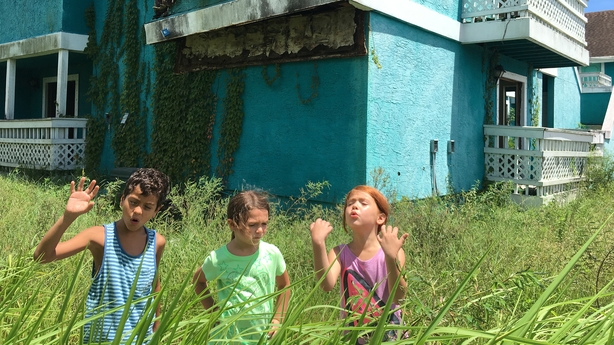 Sean Baker showed up on many a radar with his 2015, made-with-an-iPhone film Tangerine, and The Florida Project suggests he can become the go-to director for US social commentary in the years ahead, much like Ken Loach across the Atlantic. Baker's approach has lots in common with the master - a documentary feel, the casting of non-trained actors - and his anger at what is happening to people is just as palpable. A few pacing dips aside, it's hard to find fault with his film.
In an economy that thrives on the happy ending, Baker's Florida is one of condemned condos, boarded-up medical centres and food parcels as tourists pass by on their way to the dream factory up the road. Much of the story is told through the eyes - i.e. sight level - of Moonee and her pals and Baker has done a brilliant job of coaxing performances from them. While there has much talk of Dafoe's awards season momentum, his newcomer co-stars Vinaite and Prince deserve just as much recognition.
A summation about the power of The Florida Project feels trite - just go to see it.
We need your consent to load this YouTube contentWe use YouTube to manage extra content that can set cookies on your device and collect data about your activity. Please review their details and accept them to load the content.Manage Preferences