In Condemned to Remember, whose subtitle is The Remarkable Story of Tomi Reichental, 81-year-old Tomi Reichental, shows how racism is once again on the rise in Europe and how we should all be aware of its dreadful scenarios.
Tomi - who lost 35 family members in the Nazi Holocaust and is himself a survivor - spends his days visiting schools and colleges throughout Europe telling his story. These days, he is sounding a dire warning note for the immediate future and asking that we all be on our guard.
Some of Tomi's family members were gassed, some were starved and worked to death while one was guillotined for his partisan activities. In Gerry Gregg's remarkable film, Tomi demonstrates how racism is increasingly rampant throughout Eastern Europe, as though the lessons of the past were never learned.
He visits the village of Jedwabne in German-occupied Poland where on July 10, 1941 hundreds of Jews were massacred. A band of local Jewish men, accompanied by the local Rabbi, were forced to sing Communist songs (Jewry and Communism were often conflated in Nazi doctrine).
Then they were herded with many of the rest of the town's Jewish populace into a barn and burned to death. Already that day in Jedwabne, Jews had been stabbed in the street, killed with axes and other farm tools. These events have been documented in The Crime and The Silence, historian Anna Bikont's scholarly work on the massacre.
In the course of this compelling new film, Tomi visits his native Slovakia where Far Right supporters are filmed taunting a group of Muslim women, who are just going about their business. The police try to restrain their taunters but the slurs are cast and the mud sticks.
Such contemporary scenes are painful reminders for Tomi of the 1940s and the Hlinka Guard who colluded in the mass murder of Jews in Slovakia in the 1940s. He tries in vain to set up a meeting with Marion Kotleba, leader of The Peoples Party-Our Slovakia grouping, who currently hold ten per cent of voter support in Slovakia.
A crowd of supporters chant 'Slovakia for Slovakia' at a rally in the capital Bratislava and Kotleba is introduced to the crowd by a young woman as "the politician who cannot be bought.'
"I know what his heroes were like, they brought nothing but shame to Slovakia," Tomi reflects on Kotleba, dispirited by the naked xenophobia on show.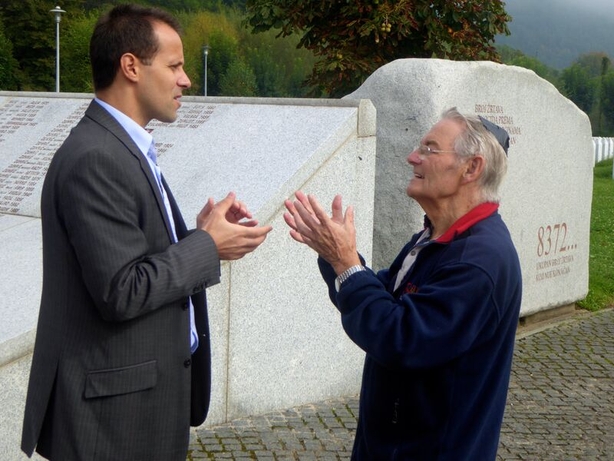 Family photographs show the Reichentals in happier days, in the Slovakian village of Merisice. The Holocaust by bullets (of the Einsatzgruppen) took more lives than the gas chambers of Auschwitz, Tomi says, the Jews of Eastern Europe "were mowed down by the truckload."
"I saw people dying in front of me," he says in firm, yet curiously measured tones.
"We have to be careful that history doesn't repeat itself," he says, and in the context of this disturbing film, the words are no empty truism. Tomi visits Holocaust memorials throughout Slovakia, Poland and Germany. In Bosnia, he embraces Muslim survivors of a genocide, people who are still looking for the remains of their loved ones.
"Ireland should take 10,000 refugees", he says at one point, before being told later by the presenter of 98FM's radio show, Dublin Talks that 73 per cent of texts to the programme have disagreed with his proposal. "My God… it's sad, what can I say," is Tomi's response.
We see him present this dimension of the Irish response to Sami Ayob, a highly perceptive young Kurd. "I am not a terrorist and I don't appreciate people thinking all refugees are terrorists," counters Sami, whose contribution to the film is delivered in fluent English.
Three million Jews lost their lives in German-occupied Poland during the Shoah or Holocaust. Tomi is in tears when he recalls the loss of a million Jewish children, only 5,000 of whom were alive in Poland after the extermination.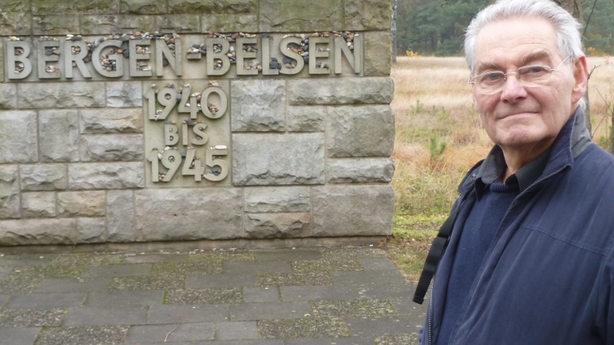 In Germany, Tomi calls the convicted SS War Criminal, Hilde Michnia, to account for her lies about the death march to Bergen- Belsen concentration camp. Tomi himself made the seven-day journey to the camp along with other family members and was liberated from the camp as a ten-year old boy.
His father, Arnold, escaped certain death by jumping from a train carriage and subsequently fought with Slovak partisans against the Hlinka Guard - happilly, father and son were reunited at a train station in 1945. After a period spent in an Israeli kibbutz, Tomi went to live with his parents in the Israeli city of Nahariya. He has lived in Ireland since 1959.
A multi-linguist, Tomi speaks in Slovak, German and English in Condemned to Remember. He recites Hebrew inscriptions at the memorials he visits and translates them into English for the viewer. Ultimately, he is realistic about the current potential for danger not just in Slovakia, but in Austria and Hungary too
"Those with nothing to declare but their traumas are meeting hard hearts and heavy hands," he observes.
Condemned to Remember is a powerful, frequently moving film whose one outright celebratory note is Tomi's 80th birthday celebrations at a Dublin mosque where he receives a warm welcome before sitting down to eat with the assembled guests.
Condemned to Remember is produced and directed by the Emmy award-winning film-maker Gerry Gregg who wrote the story with Tomi.
We need your consent to load this YouTube contentWe use YouTube to manage extra content that can set cookies on your device and collect data about your activity. Please review their details and accept them to load the content.Manage Preferences