A funny and tender biopic of the young Morrissey that captures a real sense of time and place 
If ever there was a music icon primed for an early years biopic it is Steven Patrick Morrissey, former front man of The Smiths and current world-weary curmudgeon. For a figure who would pour all the vexations and morbid fascinations of his teen years into his highly-autobiographical songs, a portrait of the artist as a young man was long overdue.
Director Mark Gill has always insisted that England is Mine (originally entitled Steven in what was perhaps an echo of the stark simplicity and very ordinariness of The Smiths name itself) was always going to be a film about a lonely kid growing up in Manchester.
England is Mine is not about the future indie icon but a nicely judged story of a cripplingly shy teen who, like countless other cripplingly shy teens, takes refuge in poetry and music as he fumbles his way through life's minor victories and defeats and eventually wills himself into existence.
We need your consent to load this YouTube contentWe use YouTube to manage extra content that can set cookies on your device and collect data about your activity. Please review their details and accept them to load the content.Manage Preferences
When we first see him, Morrissey is, indeed, 16, clumsy and shy. Feverishly writing in notebooks in his suburban box room in Stretford to a soundtrack of Sparks and Roxy Music and doing the two-fingered shuffle on his battered Remington, young Steven is already sharpening that Wildean wit.
His bedroom is the laboratory for his future lyrical obsessions and while he doesn't quite utter "it was me or the wallpaper", it is clear that his life is just going round and round like the run out groove on one of his beloved sixties girl singer 45s.
Read our interview with England is Mine director Mark Gill
Dunkirk star Jack Lowden plays Morrissey - first as a stooped and long-haired loner in a duffel coat and much later as the bequiffed pop star in waiting. Lowden's accent is spot on and his withering narration about the Manchester music scene reminded me of nothing less than Marwood's morbid but poetic observations in Within & I.
Morrissey grew up amongst women. His father Peter (played with a not quite there quality by Peter McDonald) flits in and out of his son's life and is often absent for long spells. Young Steven is mercilessly teased by his older sister Jacqueline and it is his patient and understanding librarian mother Betty, an excellent Simone Kirby, who will prove his salvation.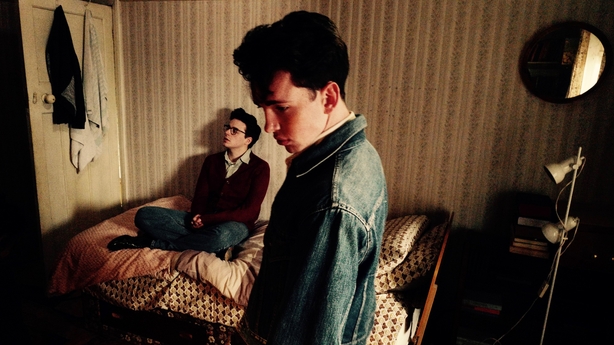 Downton Abbey actress Jessica Brown Findlay plays his one true friend, Linder Sterling. She is a waspish presence who constantly talks him down from the metaphorical ledge but Billy Duffy, Morrissey's early band mate in The Nosebleeds, will later desert him for a life in London.
The attention to actuality is impressive. Steven's first split second meeting with Johnny Marr while queuing outside a Patti Smith gig is casually handled and his early fear of fairgrounds is explained in a bluntly effective scene. The world of soul-destroying work, first in the revenue office and later as a hospital porter, is cleverly portrayed as if it's a seventies sitcom or a BBC Play for Today, complete with bullying colleagues and a jumped-up boss drunk on what little power he has.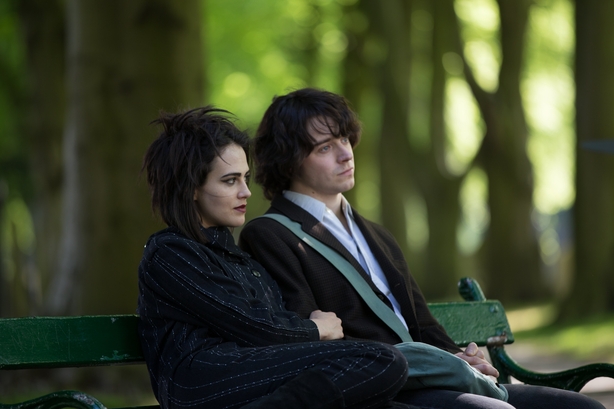 However, that slightly knockabout, slightly Carry On humour evaporates toward the end of the film as Gill charts Morrissey's descent into depression. We see him bed-ridden for a full six weeks and totally cut off from a world that won't listen. And then one bright morning comes a knock on his door and a boyish figure from his past makes an appearance . . .
The sense of time and place is very well handled and large parts of the film were shot around Morrissey and Gill's native Stretford. There are shopping trolleys in canals and darkened underpasses. It rains a lot. There is also an excellent soundtrack which gives intimations of Morrissey's own future lyrical obsessions but anyone expecting the music of the Smiths will be disappointed - the film is set between 1976 and 1982, a significant period in Britain's musical history bookended by punk's first stirring and the eve of The Smiths' arrival as a rebuke to New Romance.
Morrissey may have become far less of a sympathetic and compassionate figure in more recent years but as the tender and understated England is Mine reveals, he used to be a sweet boy.  
Alan Corr @corralan