Other Side of the Door and Storage 24 director Johannes Roberts sets the scene with captivating underwater visuals that promise much, but he fails to deliver a film of substance.
After the mysterious open water intro we meet This is Us actress Mandy Moore as Lisa and her co-star Claire Holt (Pretty Little Liars, The Vampire Diaries) as Kate. The chalk-and-cheese sisters are on a beach holiday in Mexico; Kate is a live-life-to-the-full type, while Lisa is a more play-it-safe kind of person.
There isn't much to their characters. Lisa is just all about her man and while it's implied that there is more to Kate, we never find out what. One-dimensional Lisa is on holidays to get over her ex-boyfriend and Kate is determined to make sure that Lisa lightens up and has an adventure to show her ex that she isn't boring. Pass the bucket.
We need your consent to load this YouTube contentWe use YouTube to manage extra content that can set cookies on your device and collect data about your activity. Please review their details and accept them to load the content.Manage Preferences
After Kate admits this to her sister they get changed and go on a night out with two Mexicans (hard to discern if they are locals or tourists themselves from another part of Mexico). These two gentlemen - Chris Johnson (Betrayal, The Vampire Diaries) as Javier and Yani Gellman (Lizzie McGuire, Monster Warrior) as Luis - tell Kate and Lisa that they must try out the shark cage experience.
The sisters kiss a Mexican each and go to meet them the next day on the beach to go shark diving on a rust-bucket boat with a battered cage.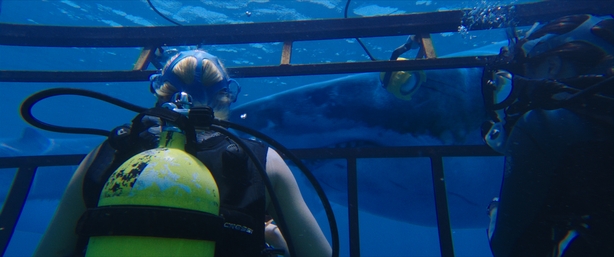 At this point Matthew Modine appears as the Jaws-like salty dog skipper, Captain Taylor. Perhaps the mundane woe-is-me and tweenie-appealing drama will now disappear and the film will take off. After all, Modine is in it.
But no. They get on the boat, the hysterical Kate has a panic attack and Lisa calmly tells her that she will not appear boring to her ex if she gets into the shark cage. Bechdel Test fail number two.
The pair get into the shark cage but the cable snaps and they plunge 47 metres down as the sharks eye them up for dinner.
Unfortunately, Claire Holt is the only actor who seems to know how to act like she is frightened and also has a more varied portfolio to handle the different phases of fear. From the moment Mandy Moore comes aboard as Kate you just want her to be eaten by a shark.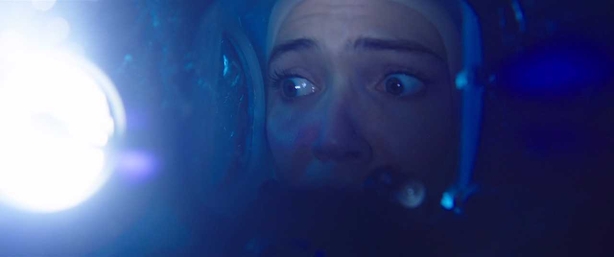 Moore's non-stop piercing shrieks à la Blair Witch Project are so irritating and deafening that for the last half-hour of the film this reviewer had to put her hands over her ears. When the twist came, the reaction was, 'Please, no more. Just end'.
If you are a fan of Jaws or The Shallows you will be disappointed as 47 Metres Down is nowhere near the same depth.
If the film is targeted at pre-teens attending a slumber party it may, perhaps, be a hit.
Nicolette Lennox