January 2014, Enda Kenny was Taoiseach, 'Happy' by Pharrell Williams dominated the charts, and movies including 'Philomena', 'Dallas Buyers Club' and 'Twelve Years a Slave' were lining up for awards season.
When I got a call to say that Garth Brooks would be holding a press conference at Croke Park to publicise an upcoming show (or maybe two?), I knew it would make a great story for RTÉ News.
The hugely popular US country music star had played the venue in 1997 to huge acclaim and it was unsurprising that a return visit was on the cards.
On the day itself, Garth was in affable form.
He was joking with journalists and doing a series of one-to-one interviews, including one with RTÉ News.
We also got shots of him beaming on the hallowed Croke Park turf, clearly delighted to be back, and then headed back to base to edit our story for the Six One News.
But neither we nor the star had any notion that it would be eight-and-a-half-years before those boots showed up again on stage in Dublin 3.
Sales for the 2014 concerts were, not to put too fine a point on it, wild.
Fans queued and even camped out to make sure they got their hands on the precious tickets, many hoping to go to multiple shows.
Those who didn't understand the depth of the fans' loyalty however, looked on in amazement.
Country music occupies a curious place in Irish culture; large pockets of listeners around the country are utterly devoted to it, while others outside the fire are completely oblivious.
The sale of those tickets in 2014 made the extent of the fans' devotion extremely clear.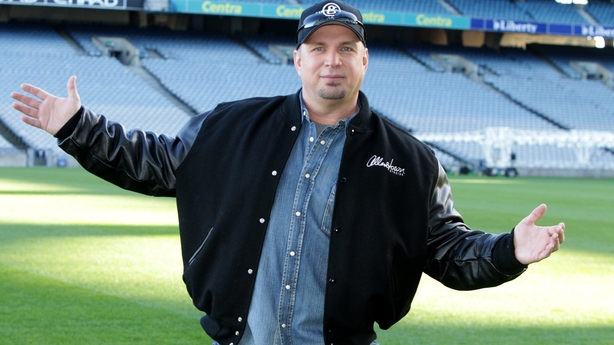 The first two shows sold out before the sun came up and prayers were then answered when a third went on sale... and a fourth... and finally a fifth.
In all, 400,000 tickets were sold for the concerts and the production of commemorative t-shirts and replica Stetsons went into overdrive.. and then the thunder rolled (I'll stop with the puns soon).
Concerts tickets in Ireland are sold 'subject to licence'
Those three little words appear at the end of radio advertisements, but which most people didn't pay much heed to prior to 2014.
In the case of the five Garth Brooks gigs however, some residents around Croke Park objected to the disruption they feared would be caused by the gigs and lodged objections.
Eventually, licences for three gigs were granted, but not the final two.
The message from the Brooks camp was clear however - it would be five or none at all.
Before long the Irish news cycle was consumed by the story - we interviewed fans, hoteliers, Stetson sellers, residents who felt under siege, others who looked forward to the extra money the gigs could bring to the locality.
The nation also experienced a collective moment of hysteria when it woke to hear the then Lord Mayor of Dublin, Christy Burke, reveal on RTÉ's Morning Ireland that the Mexican ambassador had volunteered his services as a go-between.
The matter was raised in the Dáil too - although the then US president Barack Obama (wisely), refused to intervene.
It was all to no avail however, and although Brooks' stage set sail for Ireland, the concerts were eventually called off and the Stetsons went back into storage.
There the story rested, becoming part of Irish folklore and inspiring songs and even a stage play.
It also inspired a change in the regulations surrounding large scale events - promotors now have to have pre-application consultation meetings with local authorities, and tickets are not put on sale before that occurs.
And then, late last year, The Dance began again.
Country musician Garth Brooks has said he would love to play five concerts at Croke Park, but thinks that would be impossible.

The singer is in Dublin ahead of at least two concerts at GAA headquarters next September | Read more: https://t.co/2QdrOFGvbs pic.twitter.com/0Hj1YFHbdH

— RTÉ News (@rtenews) November 22, 2021
Reporters were summoned to Croke Park once more, but this time the press conference was far more significant than simply the announcement of a few live concerts, and not just because it finally marked the beginning of the end of the 2014 saga.
Coming at the end of many months of Covid-19 closures, the appearance of the familiar lower case 'g' was also a sign that large scale live concerts were finally back on the agenda again.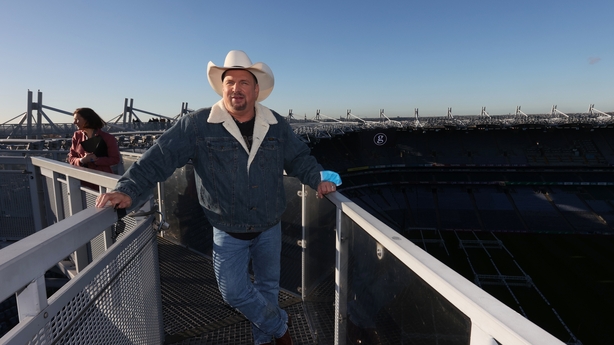 Mr Brooks himself was in upbeat mood, although he wouldn't go so far as to admit he was going to try for another five in a row.
It turned out however that nothing is really impossible in Garth world.
Two shows went on sale... and another... and another... until finally promoter Peter Aiken was able to tell the singer in an early morning phone call that the magic number five had, once again, been achieved.
It's more than eight years now since that first press conference in Croke Park and when Garth Brooks greeted the assembled media for a third time yesterday, he was a changed man.
He was visibly different - 50lbs down from his days as a 'Soccer Dad', he told us, the fitness regime undertaken so he could best tackle the physical aspects of his show. But he also cut a more intense figure than the showman who had appeared on two previous occasions.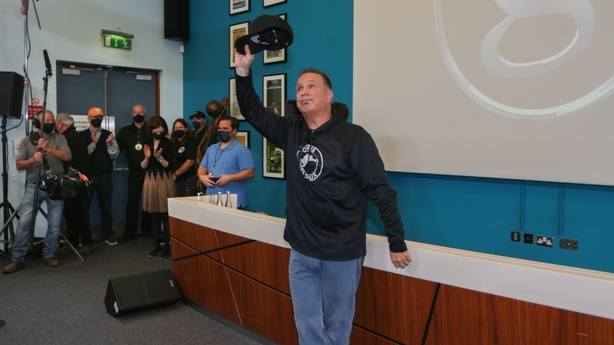 Emotional, somewhat nervous, fizzing with energy - the performer strode up and down the GAA museum, clearly chomping at the bit to finally take to the stage.
Tonight - he will do just that.
It's Time 🇮🇪!!! love, g pic.twitter.com/cnXKFuWwIk

— Garth Brooks (@garthbrooks) September 8, 2022
It's easy to look back over the saga of the last eight years and laugh at some of the more absurd moments. But the Stetsons can be taken out of storage now, and when Garth Brooks spoke yesterday about his 'dream' of playing Croke Park again - his sincerity was impossible to ignore.
"I've been waiting for this my whole life", he told the assembled press.
"Tomorrow night I'm gonna stop waiting".
The fans can finally stop waiting too.