Garth Brooks has said he has been waiting for his Croke Park shows for what feels like 'forever' and that it's starting to feel very real now.
During one of his trademark informal press conferences, the singer joked with reporters - some of whom had not been born when he played in 1997 - and became emotional when speaking about the moment promotor Peter Aiken phoned him to tell him all five Croke Park concerts had been sold.
It's Time 🇮🇪!!! love, g pic.twitter.com/cnXKFuWwIk

— Garth Brooks (@garthbrooks) September 8, 2022
Brooks has put a lot of work into getting into shape for the Dublin concerts and says he is now the same weight as he was when he played the stadium 25 years ago. He said he did so because the concert will involve a lot of running around and he wanted to be as fit as he could to do the best physical job possible.
The show starts at 7:30pm, and Brooks said he will honour the 10.30pm curfew, and that it's his job to "squeeze in as much as we can" in that three-hour window.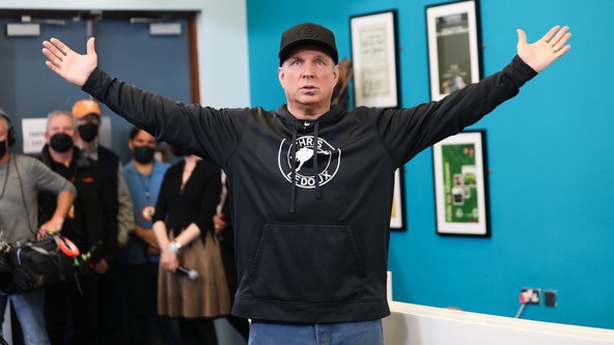 The Irish concerts have no support acts, and some musicians had questioned why there could not be an opening slot opportunity for a local band.
However, Brooks said the decision had been taken for safety reasons, because sometimes when his crowds hear music they "rush in" and organisers were worried about that. Therefore he said the decision was taken just to have some video before his show, and then he'd come on stage.
Brooks was supposed to play five shows at the venue in 2014, but following planning difficulties with the final two, none eventually took place. Brooks said today that it has been a "hell of a journey", but that he's excited that people are finally getting to see the show.
Final line, I've been waiting for this my whole life and tomorrow I stop waiting pic.twitter.com/Me0Uys1WBv

— Sinéad Crowley (@SineadCrowley) September 8, 2022
He encouraged people to get public transport to the show, saying he wanted his gigs to be great for the neighbourhood as well as the crowd and he called on people in attendance to be good and kind to each other.
He also admitted that he will "cry a lot" during the first song tomorrow night and described Croke Park as the "greatest place to play", saying that a lot of work has been done in the stadium to make sure everyone has a good seat, and that people right at the back feel he's talking to them.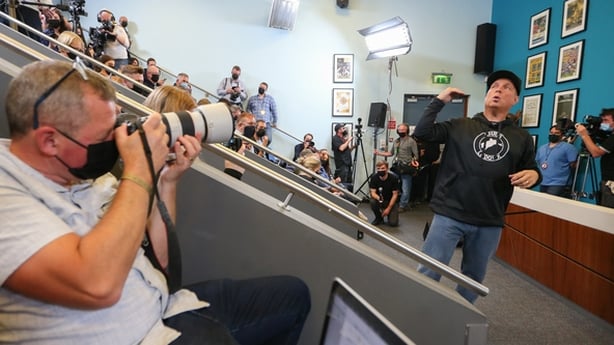 Asked by a reporter about today's launch of the Basic Income Scheme for Artists, which will pay 2000 artists €325 a week, he said any investment in art is fabulous, and that art reflects us as human beings.
Finally, Garth Brooks spoke about his dream of playing Croke Park again, a dream he held onto.
"I've been waiting for this my whole life - tomorrow night I'm gonna stop waiting."