Nicky Byrne has said the "best four dancers" who "really deserve to be there" have made it to this Sunday's Dancing with the Stars final.
Dublin singer-songwriter Erica Cody, former jockey Nina Carberry, rubgy star Jordan Conroy and Paralympic swimmer Ellen Keane are the four celebrities who will compete to lift the glitterball trophy this weekend.
Byrne, who co-hosts the dancing competition alongside 2fm's Jennifer Zamparelli, said it's a worthy line-up.
Speaking after last weekend's semi-final, which saw Love Island star Matthew MacNaab and his partner Laura Nolan being eliminated, the presenter said: "The final will always have the people who really deserve to be there on all these types of shows.
"It has done, historically, on this show and on Strictly [Come Dancing] in the UK and I think probably the best four dancers are in the final.
"That's not being disingenuous to anybody else, because everybody has come so far and has worked so hard."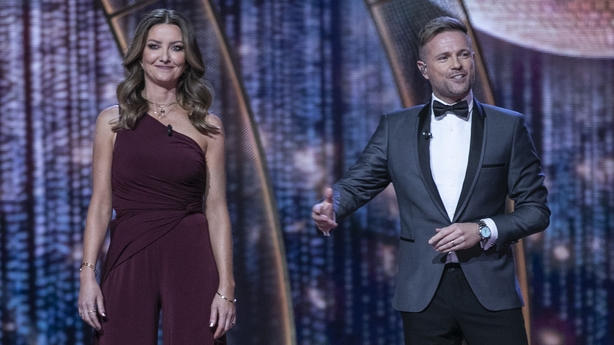 Byrne said the four finalists are exhausted as they head into the final week of the highly competitive show.
"I spoke to all of the guys earlier in rehearsals and every one of them are shot, they're broken tired," he shared.
"They've done this show now for nearly 12 weeks, once a week on live TV, but it is seven days work a week, and that goes back to November when they started.
"They are loving it, but they are absolutely shattered. They've given it their all. So when you get to the final, you really, thoroughly deserve to be there."
Byrne, who was previously a contestant on Strictly Come Dancing, said his experience on the UK version of the show has given him an insight into how it feels for the celebrities taking part. He tries to be sympathetic to the stars, particularly if they have received critical feedback from the judging panel.
"I guess it's part of my job on the show. I did Strictly in 2012 so I know what it's like on that side of the coin, to be judged, criticised, maybe overly at times," he said.
"When I took over this show six years ago, I thought about what I could bring to the show and that was definitely one thing, to be their buddy up there.
"They've learned their dance all week, they then have to do it on live TV, anything can go wrong. Sometimes you think you've given it your best and you get absolutely pulled apart by the judges. So that is a role I do play."
The host was keeping schtum on his own favourites heading into the final.
"I think it would be unfair as well for me in the role I play to say who I prefer," he said. "I've got to remain impartial, I couldn't possibly have a favourite!"
Byrne added that he's looking forward to getting back on the road with Westlife on their Wild Dreams tour.
"It'll be good to get back out with the lads," he said. "This is brilliant, Westlife is a different thing altogether, you're travelling around and singing all those big songs, it's a party atmosphere."
The Dancing with the Stars final airs on Sunday, 27 March at 6.30pm on RTÉ One and RTÉ Player.