Love Island star Matthew MacNabb and his partner Laura Nolan exited Dancing with the Stars in Sunday night's action-packed semi-final following a dance-off against Dublin singer-songwriter Erica Cody.
After the judges unanimously chose to save Cody and her partner Denys Samson and send them through to next weekend's final, Co Down star MacNabb said of his journey on the show: "It's an absolute rollercoaster, you put in seven days a week, 10 hours every day, it's been amazing.
"I've grown as a person, I feel like a completely different person."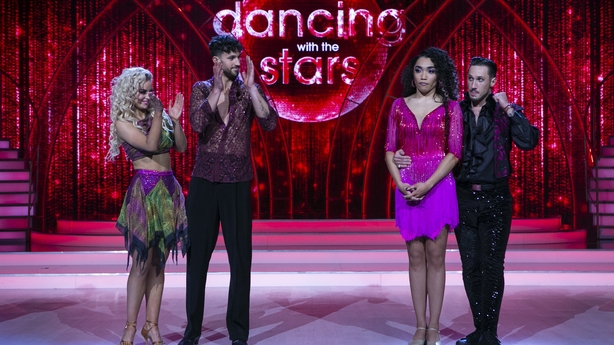 He added of his dance partner: "Thank you most importantly to Laura, she is so talented and so amazing at what she does. She's an amazing person."
As well as taking to the dancefloor for a performance with their professional partners, each of the five remaining celebrities, MacNabb, Cody, Nina Carberry, Jordan Conroy and Ellen Keane, had to take part in the exhausting Bust A Move Marathon in order to score some extra points and boost their chances on the leaderboard.
Matthew and Laura were the first couple to be voted off the dancefloor, with Jordan and Salome winning the high-energy dance challenge, bringing them to second place in the leaderboard. Nina and Pasquale were just one point ahead of them to top the semi-final leaderboard.
It was a competitive, high pressure semi-final absolutely jam-packed with dancing, where the desire to get through to next weekend's grand final shone through every performance.
The story of the night...
Nina Carberry and Pasquale La Rocca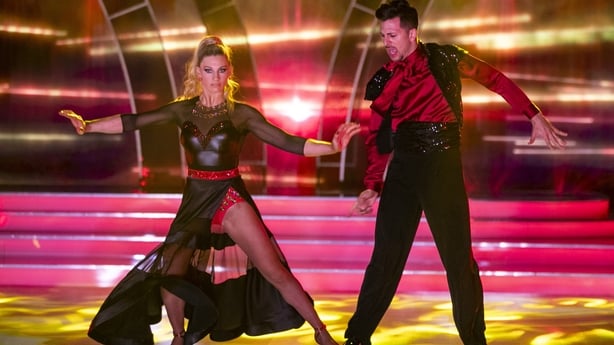 Kicking off proceedings were former jockey Nina Carberry and her partner Pasquale La Rocca dancing a dramatic Paso Doble to Get Ready by Rayelle which ended in a sensational floor spin.
The audience and judges were on their feet by the end of the performance.
Head judge Loraine Barry enthused: "There is only one word I can use and that is fearless! It gave me goosebumps, it was incredible what you put together."
After praising their "creative innovation", she added: "Overall I thought this was a striking performance tonight."
An enthusiastic Arthur Gourounlian said: "You better get ready for the final! That ending... perfection."
A fearless and powerful Paso from @ninacarberry and Pasquale La Rocca 🔥🔥

30 points!@DWTSIrl #DWTSIrl pic.twitter.com/W8Ucmd2ueG

— RTÉ One (@RTEOne) March 20, 2022
Brian Redmond added: "That was out of this world. That Paso Doble was full of devilishly delicious detail. It looks like it's going to be a good night!"
They scored a perfect score of 30 points, the highest scoring Paso Doble ever on five seasons of the show.
Erica-Cody and Denys Samson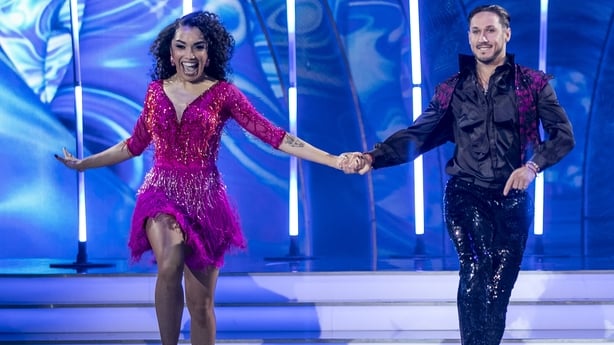 After scoring a flawless 30 points with a Cha Cha in the quarter finals, singer-songwriter Erica Cody and her partner Deny Samson took to the dancefloor with a fast-footed Jive to Let's Go Crazy by the cast of Sing 2.
Arthur was full of praise, saying: "You took us to church tonight! Jive is energetic and so are you. That was remarkable. Your energy level was here tonight."
Brian was surprisingly critical of the performance, saying the dance got "a little bit separated" and "wasn't quite fast enough in the feet."
"It just lacked a little bit," he said, to some boos from the audience.
A fast and fun Jive from @EricaCody and @DenysSamson

We loved it! 😍😍

26 points!@DWTSIrl #DWTSIrl pic.twitter.com/T7zEoXcy2L

— RTÉ One (@RTEOne) March 20, 2022
Loraine was much more enthusiastic, adding: "At this stage in the competition it's go big or go home, and this for me was massive. There was a lot of energy. For me it was a smashing jive."
They scored a total of 26 points.
Matthew MacNabb and Laura Nolan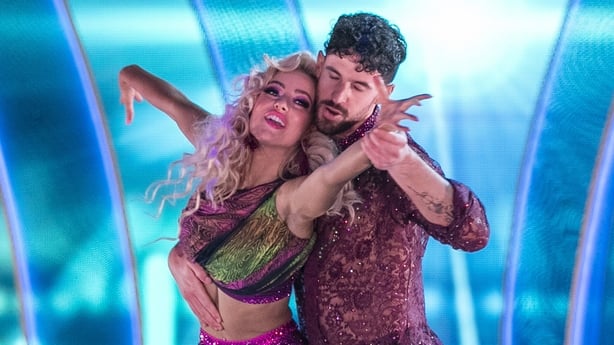 Up next dancing a sensual Samba to One Dance by Justin Bieber feat. Drake, Ozuna, Zion & Lennox were Love Island star Matthew MacNabb and his pro partner Laura Nolan.
Brian said: "That actually wasn't bad! You did move the hips, not always perfectly, but they moved. It was a good vibe. Better than what I was expecting."
Loraine continued: "It is a difficult dance to do but I think you both should be very proud. Those hips were moving, overall you did a good Samba. The timing was there. For you, for a Samba, it's a triumph."
Well done to @MatthewMacnabb and @laura_nolan on this super Samba 👏👏

21 points!@dwtsirl #DWTSIrl pic.twitter.com/scvOWi9ZhY

— RTÉ One (@RTEOne) March 20, 2022
Arthur added: "That was so cute! You know what I loved, so many facial expressions. You seemed like you enjoyed it so much, and that's what's important. You've improved so much over the past few weeks."
They scored a total of 21 points.
Jordan Conroy and Salome Chachua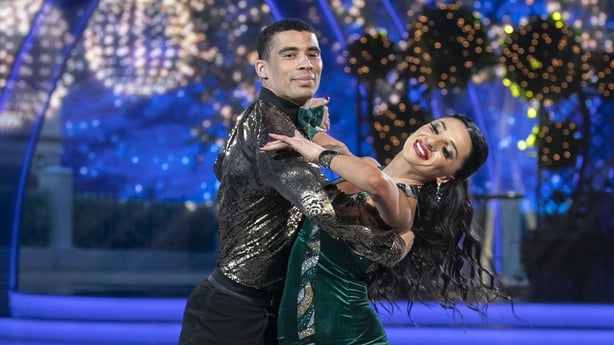 Taking to the dancefloor next with an elegant American Smooth to by The Sweetest Feeling by Jackie Wilson were rugby player Jordan Conroy and Salone Chachua.
Loraine enthused: "That was a light, bright American Smooth. So agile and free in the body, light in the feet. So charming."
Arthur said: "Watching you both dancing together is the sweetest feeling, beautifully performed. Your frame was on point. I feel like this is yet another side we haven't seen of Jordan, you are such a talent."
Great footwork in this light and charming American Smooth from Jordan Conroy & Salome Chachua❤️

28 points!@DWTSIrl #DWTSIrl pic.twitter.com/WmqiaPohLM

— RTÉ One (@RTEOne) March 20, 2022
He added: "You bring so much joy every week."
Brian was full of praise, saying: "The movement through your feet was excellent, the frame was really good. We've never seen you looking so suave! I'm loving that vibe off you. It was so close to being perfect."
They scored a total of 28 points.
Ellen Keane and Stephen Vincent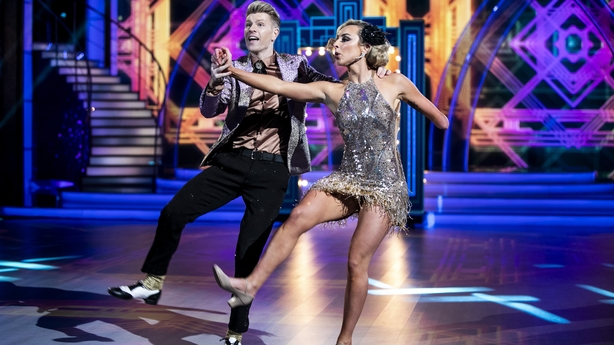 The last celebrity to take to the dancefloor performing a lively Charleston to Marvellous Party by Beverley Knight was Paralympic swimmer Ellen Keane and her partner Stephen Vincent.
Arthur enthused: "Ellen you are in your element when you do high energy numbers. That was fast and furious! Your level and confidence and dedication is incredible."
After complimenting her worm dance move, he said: "You nailed it!"
Brian was also full of praise, saying: "That was the greatest we've seen you look all season long - absolutely out of this world. Fantastic all the way through. Loved it, great well done."
We're exhausted watching this fast and furious Charleston from @keane_ellen and @SteveVincent17

Nailed it 🎉🎉

30 points!@DWTSIrl #DWTSIrl pic.twitter.com/eZDrclux7x

— RTÉ One (@RTEOne) March 20, 2022
Loraine said it was a "dazzling, glitzy Charleston", adding: "Ellen you are sassy, you are showy, you are sparkling tonight! Hands down to you. This is super slick tonight."
They scored a maximum of 30 points, their first of the season.
Bust A Move Marathon
In a further challenge for the remaining five contestants, they took to the dancefloor again along with their pro-partners for a freestyle dance marathon to the tune of I'm So Excited by The Pointer Sisters.
First voted off the dancefloor were Matthew and Laura, with Ellen and Stephen following soon after. The judges chose to send Erica and Denys off the dancefloor next, with Nina and Pasquale being the second last couple. This left Jordan and Salome to reign victorious and take home the full five points.
An out-of-breath Jordan said it was "tougher than a rugby match".
Loraine complimented them, saying: "Right from the beginning to the last beat they just kept that going all the way through. Everyone was great but that just shone a little bit more."
The Dancing with the Stars grand final airs on Sunday 27 March on RTÉ One and RTÉ Player, 6:30pm.
Watch Dancing with the Stars on RTÉ Player