Oscar nominee Ciarán Hinds has told RTÉ Entertainment that it was a profound experience when he watched Belfast for the first time with an audience.
Hinds was shortlisted in the Best Supporting Actor category on Tuesday for his performance as grandfather Pop in fellow Belfast man Kenneth Branagh's semi-autobiographical coming-of-age story.
The actor was approached about the role of Pop while in lockdown with his wife Hélène Patarot in Lyon, sharing that he "kind of welled up" reading the script.
"I got emotional when I read the script because it brought me straight back," Hinds recounted.
"It reeked of authenticity and memory and truth. Then, I spoke with Ken over Zoom and before I knew it we were filming Belfast - but in Royal Berkshire, because that's where we shot it all."
Hinds continued that he and his co-stars Caitríona Balfe, Judi Dench, Jamie Dornan, Jude Hill and Lewis McAskie "formed into a family unit very, very quickly".
"It was a fantastic experience, truly fantastic, and it was very quiet. It was done during Covid time and it was one of the first films coming out of the effort to connect again with the work of making films.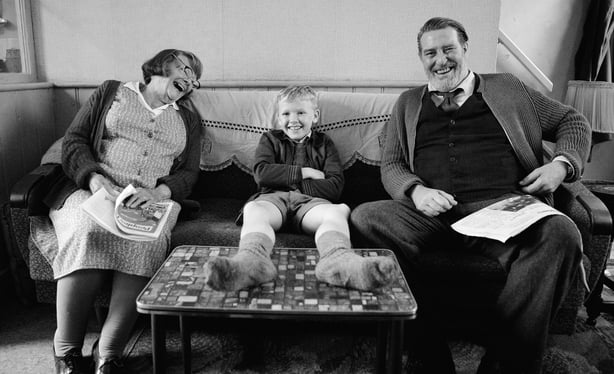 "We all came together very quickly, very quietly and with the maestro Ken Branagh in charge, we suddenly were on his ship, in a way, and he guided us to these unchartered waters from his childhood.
"For us, it was just a pleasure to work on it and to meet each other and work together - and to meet this fella [young co-star Jude Hill] was quite special."
There was more magic when Hinds saw the finished film as part of an audience.
"I'd seen a screening just quietly and I was kind of trying to be objective about it, but I recognised the brilliance of the filmmaking," he said.
"Then, when I watched it in a crowd of 2,000 people the first time, when it opened the London Film Festival, that feeling with that amount of people...
"What the film does is just, like, open people's hearts. It goes deep into the core of them, that's what I found.
"Suddenly, we were all in the same breathing pattern. It's kind of an extraordinary thing when any film or any piece of theatre or whatever does that to you. It's a wonderful human act of connection, isn't it?"
Belfast is in cinemas now. The Oscars take place on Sunday, 26 March.
Click here for more movie news.