Irish comedy Deadly Cuts, starring Angeline Ball, has been sold to film distributors in the United States, Australia, Spain and South Africa and will make its debut in time for St Patrick's Day.
The highly-entertaining dark comedy, which marks writer-director Rachel Carey's feature debut, was released on Netflix last week and is currently the number 1 movie on the streaming service in Ireland.
Deadly Cuts tells the story of Michelle (Angeline Ball) and her fellow Piglinstown hairstylists, Stacey (Ericka Roe), Chantelle (Shauna Higgins) and Gemma (Lauren Larkin), as they become accidental vigilantes after being terrorised by a local gang.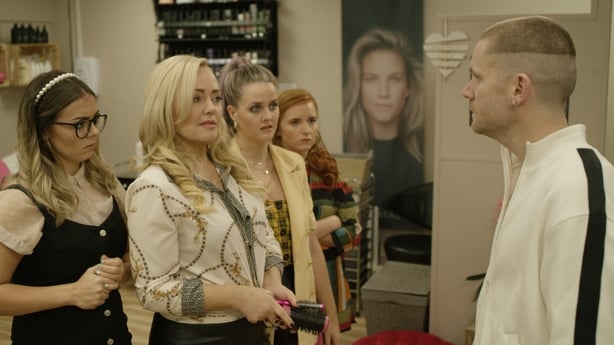 Deano (Ian Lloyd Anderson) heads up the band of thugs alongside sinister politician Darren Flynn (Aidan McArdle), who has designs on gentrifying Piglinstown while lining his own pockets. Their attempts to save their community take them to very unexpected and comical places.
Speaking on RTÉ Radio One's Morning Ireland Carey said: "It's amazing to know it is going international. It is such an Irish film and I think it is unapologetically Dublin and very deliberately so. There is no toning down of slang or accents anywhere.
"I'm really excited about an international audience seeing it and seeing Dublin wit and humour for what it really is. And just how funny the Dublin dialect can be and the humour we like to make here. I hope it goes down well.
We need your consent to load this rte-player contentWe use rte-player to manage extra content that can set cookies on your device and collect data about your activity. Please review their details and accept them to load the content.Manage Preferences
Speaking previously to RTÉ Entertainment, Ball said it's not often she comes across scripts this sharply hilarious.
"Rachel Carey said that she'd written the part with me in mind, of course, I was flattered and I just thought 'oh I really hope it's good'. Then it was just a page-turner for me, it was so funny, I absolutely loved it.
"It's just the pace and the speed, the one-line deliveries that would just knock you dead. I thought, I have to do this film."
Deadly Cuts is streaming on Netflix now.