Angeline Ball, star of the new razor-sharp Irish black comedy Deadly Cuts, has said working on the film with homegrown talent was "really special".
The highly-entertaining hairdressing comedy is writer-director Rachel Carey's feature debut, and she wrote the leading role of Michelle, a salon owner in a fictional working class Dublin neighbourhood called Piglinstown, with Ball in mind.
Michelle and her fellow hairstylists, Stacey (Ericka Roe), Chantelle (Shauna Higgins) and Gemma (Lauren Larkin), become accidental vigilantes after being terrorised by the local gang on their doorstep, led by the menacing hoodlum Deano (Ian Lloyd Anderson), as well as the sinister politician Darren Flynn (Aidan McArdle), who has designs on gentrifying Piglinstown while lining his own pockets. Their attempts to save their community take them to very unexpected and comical places.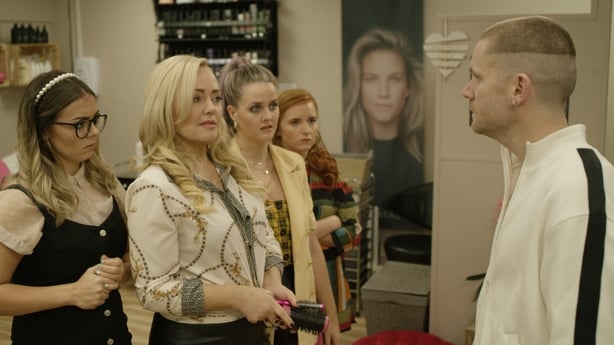 Speaking to RTÉ Entertainment, the Dublin-born, London-based actress said it's not often she comes across scripts this sharply hilarious.
"Rachel Carey said that she'd written the part with me in mind, of course I was flattered and I just thought 'oh I really hope it's good'. Then it was just a page turner for me, it was so funny, I absolutely loved it.
"It's just the pace and the speed, the one-line deliveries that would just knock you dead. I thought, I have to do this film."
The actress, famed for her role as singer Imelda Quirke in The Commitments, said that although there naturally will be comparisons to the 1991 classic based on Roddy Doyle's novel, Deadly Cuts is a different beast altogether.
"I think at the time, it [The Commitments] was absolutely pitch perfect and it really encapsulated the whole atmosphere in Ireland, what people were going through, no jobs, all of that kind of stuff. What's wonderful about this film, and of course there's going to be comparisons, is that it has moved on. It is quicker," she said.
"Even I blushed a little at some of the one-liners because it isn't quite Roddy Doyle, it's more modern Ireland, more modern Dublin. It shows attitude and sass and feistiness and also it really paints the women in a very strong light and that's why I like it as well."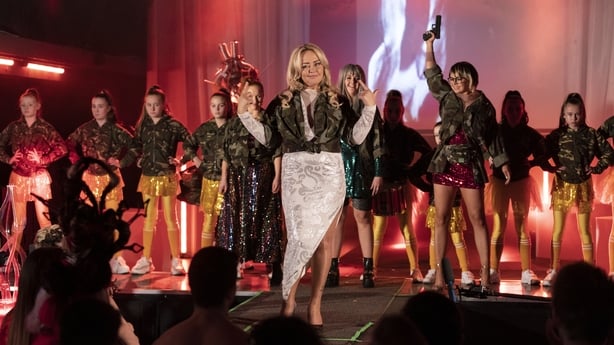 Ball had a hunch this was a special project during the making of Deadly Cuts, and it was down to the entire production team.
"It was a really good ensemble, not just cast, but everybody that was involved," she said. "You do have to pick the right people as well, this goes from catering to wardrobe, because if you've got one bad egg in the mix it doesn't make a very good cake. When everybody is singing from the same hymn sheet, that's when it works.
"Rachel as well, especially, was just so chilled out. She absolutely knew what she wanted and when she got it, she got it. It can be quite daunting meeting a director, and she's just like 'oh heya how's it going?' I think that set the tone for the whole piece.
"And the fact that she was laughing a lot as well, we had to be told off by the first assistant director for all of us to stop laughing!
"I think it shows that we had such good fun on the set, because somehow that seeps through the screen that we did have such a laugh."
Ball agreed that it's a good time for Irish female-centred stories coming to screens, with films like The Bright Side, Wildfire and Herself all being released in recent months.
"On Deadly Cuts it's all homegrown talent and that is really special. Not only that, you've got female producers, a female writer/director, the females are stronger in this. Not saying anything bad about the male side, but I think it's really nice to drive that.
"And also don't forget that it's also showing the older females, because one of the lines is 'don't piss off the auld ones in Piglinstown'. Don't underestimate older women. I think that's a really good message.
"It's so nice to see something that hasn't got a huge budget doing so well, and again that comes back to a really good script, really good cinematography, the music in it, the drive, the energy, all of it."
The fun abounded off-screen as Ball and her co-stars Ericka Roe, Shauna Higgins and Lauren Larkin enjoyed bouts of karaoke "at like ten o'clock in the morning" during breaks from filming the riotous scenes of the Ahh Hair! hairdressing competition. Father Ted star Pauline McLynn has an unforgettable role as Shelley Sherlock, one of the judges on the haughty contest.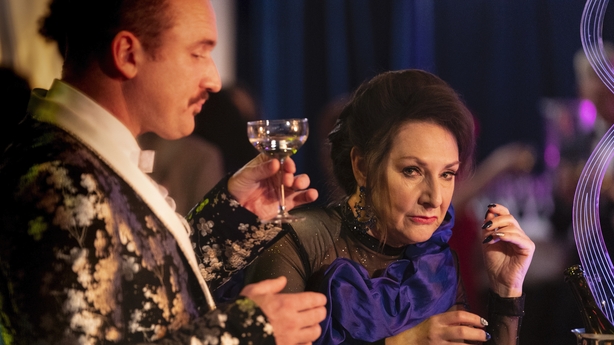 "She's just amazing and she's so funny off-screen and on. All of that team, the judges, they were rip-roaringly camp and outrageous, enjoying every single moment of filming, they just loved it, they were laughing at each other. And Pauline of course backstage was knitting the tea cosies," Ball said with a laugh.
The ending of the film tees up the story nicely to continue in some form, with Carey saying it could be made into a TV series, in a similar leap The Young Offenders made. Ball would jump at the chance to get reunite with the Deadly Cuts gang.
"I would love that, I think there's plenty of life in all of the characters. You can imagine all the kind of stories that could come out of that, you could just go anywhere with those stories," she said.
"I think it is time to have a bit of light relief in a TV series, a bit like The Young Offenders. So yeah I'd be totally up for it, any excuse to go back to Dublin and work."
We need your consent to load this YouTube contentWe use YouTube to manage extra content that can set cookies on your device and collect data about your activity. Please review their details and accept them to load the content.Manage Preferences
It's been two years since production on the film wrapped, with inevitable release delays due to the pandemic. Ball feel "a little bit apprehensive" but "so excited" for the premiere on Thursday night, ahead of the film's release on Friday.
"I think the last film I opened in Dublin was The General, a long time ago. I think it's going to be quite glam, it's a fantastic opportunity for us to glam up. We haven't seen each other in two years, and one of the actress's and Rachel had babies! It's crazy.
"So there'll be lots of hugs, lots of excitement. I think also one of the most nerve-wracking times is when you're showing it to an Irish audience, I think that will be the big test to see how they receive it."
Deadly Cuts is out in cinemas on October 8.