Jon M. Chu, director of new musical film adaptation In The Heights, has told RTÉ Entertainment that he named his new baby boy after the movie because working on the film was such an emotional experience for him.
The musical, based on Hamilton writer Lin-Manuel Miranda hit Broadway play, follows the lives of a group of people in the New York's Latino neighbourhood of Washington Heights as they dream of a better life, as their beloved community and sense of home changes around them forever.
Chu, who previously directed Crazy Rich Asians and Jem and the Holograms, said shooting the movie on location made all the difference.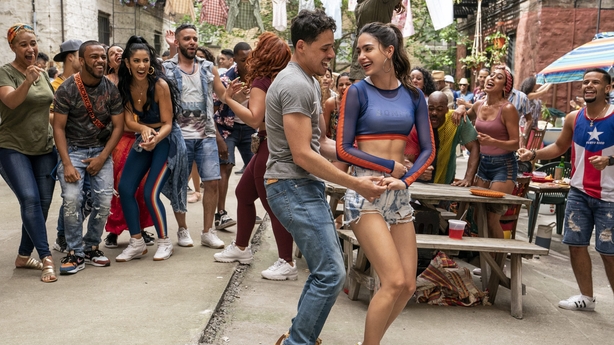 "It's so interesting - this place transforms you. Lin-Manuel said it best. He said this is where American stories begin. I felt very welcome there. They treat you like family. They don't ignore you like they do when we shot downtown. They'll yell at you if you're parking on their spot, but they'll also invite you in for a beer.
"I loved that energy," he added. "I loved making this film so much so that I named my son, who was born during the making of the movie, I named him Heights because I love this idea of taking care of each other and other people's dreams and hopes so my son will hear the word Heights every day of his life and I wanted to say that word every day of my life."
It's a story that's very close to the director's own experiences of growing up as the child of Chinese and Taiwanese emigrants in California in the 1980s.
We need your consent to load this YouTube contentWe use YouTube to manage extra content that can set cookies on your device and collect data about your activity. Please review their details and accept them to load the content.Manage Preferences
"It's crazy because when I watched In The Heights on Broadway, it spoke to me so personally," Chu says. "I knew what it felt like to grow up being raised by your aunts and your uncles, so I knew what I was like to have food as the only language between you and your parents.
"I knew what it was like to have the weight of your whole family on your shoulders and not know what to do with it or even want it. Whatever Lin wrote in In The Heights spoke directly to me in that way so the fact that we joined forces a decade later to make this film is a dream come true."
Alan Corr @CorrAlan2
In The Heights is in Irish cinemas this Friday, June 18