Jem and the Holograms is based on the Hasbro animated series for 1980s teenagers, and it's a harmless, innocent thing. Indeed one wonders if its wide-eyed innocence is the reason why it closed in all but 50 American cinemas after opening in over 2,000 locations in November 2015.
It may be one of the worst debuts of all time for a major studio movie opening, yet the movie didn't do much damage to Universal. While it grossed only $2.2 million, the budget was a mere $5 million, with marketing and promotion costs extra. Audiences that did turn out were, surprise surprise, almost 90 percent female.
Yet, after all that, perhaps a bleak question cannot be avoided. Is the young teenage demographic being primed to require ever-increasing on-screen sophistication? They may not know themselves, but do 13-year olds, say, feel the need for more nuanced depictions, more double entendres, more adult-type suggestiveness?
Anyway, the live-action reboot of the '80s cartoon – surely aimed at that very 13-year old demographic - features two actual sisters, Jerrica or Jem (Aubrey Peeples) and Kimber (Stefanie Scott) who form a girl band along with their two amiable foster sisters. The girls like experimenting with music and film at home, under the watchful eye of their aunt Bailey (Molly Ringwald). Bailey is not irritatingly pushy but she does make them do their a capella vocal practice.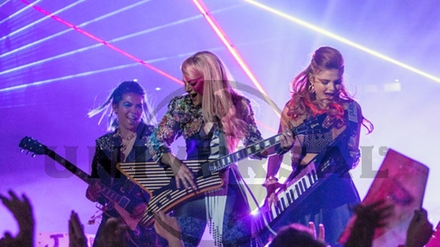 The pushiness comes from the girls themselves in fact as they egg on the camera-shy but compulsive performer that is Jerrica who very soon will be known only as Jem, her stage name. Sister Kimber rescues a shy, intimate voice-and-guitar performance, just after Jem was about to delete it.
She duly uploads it on to YouTube and before you can say the words Ahmet Ertegun, Jem's soulful, but mopey dirge - on which she accompanies herself with very basic chords - becomes a YouTube viral sensation.
Next stop, Los Angeles and the awe-struck girls are taken in by Juliette Lewis's snaky, witch-like music promoter, Erica Raymond, MD of Starlight music company. Erica's son and potential heir to the business is Rio (Ryan Guzman) who becomes the girls' manager. Chemistry breaks out in waves - or something - between him and Jem, but there's trouble on the way given the presence of the sly shark that is Erica.
After all that, it's the relationship between Jem and her deceased father, who died young, which is perhaps the central motif. Jem carries around dad's unfinished invention, a knee-high robot nicknamed Synergy. Synergy begins to lead Jem and the girls on a path throughout LA, a kind of paper trail, containing messages of encouragement from dad beyond the grave. All intended, of course, to help the girls find their way in the music maze.
It's easy to snigger at the improbabilities and the madly unlikely turn of various events, but somewhere at the heart of this movie is a kind of charm, despite its heart-on-sleeve quality.
But who would you pitch it at? Jem and the Holograms is stuck somewhere in a tight spot between the demographic for animation features such as the Madagascar franchise and, on the other side, um, whatever it is 13-years-old girls are watching nowadays. Come to think of it, vampires of any description, filed under Romantic, would be a much safer bet for director Jon M Chu next time around.
Paddy Kehoe