The first trailer for Prince Harry and Oprah's mental health series has been released, featuring interviews with Lady Gaga, Glenn Close and American basketball player DeMar DeRozan.
The Duke of Sussex and Winfrey have collaborated on the documentary series The Me You Can't See for Apple's streaming service as co-creators and executive producers.
In the emotionally charged trailer, the British royal tells Winfrey: "To make that decision to receive help is not a sign of weakness. In today's world, more than ever, it is a sign of strength."
This timely docuseries explores the current state of the world's mental health and emotional well-being through storytelling. Co-created by @Oprah and Prince Harry, #TheMeYouCantSee is about people, our experiences, and why we feel the way that we do. https://t.co/tP72EW6k2A pic.twitter.com/pvmU6LnbtF

— Apple TV (@AppleTV) May 17, 2021
Lady Gaga and Glenn Close, along with Winfrey, appear close to tears as they discuss their experiences.
Prince Harry's wife Meghan Markle makes a brief appearance in the trailer, coming into shot at Harry's side wearing a t-shirt that says 'Raising the Future'.
Their son Archie is also shown sitting on his mother's lap later on – in footage filmed around the time of his first birthday.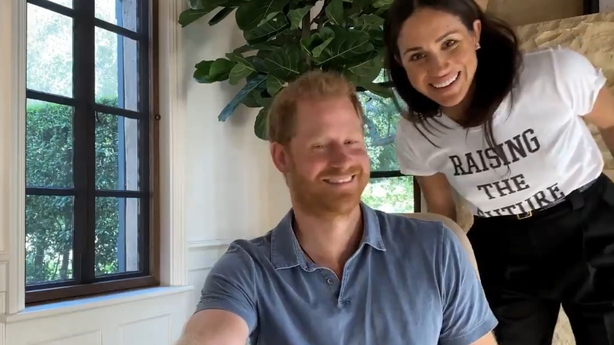 Harry says in the footage: "The results of this year will be felt for decades. The kids, families, husbands, wives, everybody."
The Sussexes made a series of explosive allegations about the royal family when they were interviewed by Winfrey earlier this year.
The couple accused an unnamed royal, not the Queen or Philip, of raising concerns about how dark their son Archie's skin tone would be, before he was born.
Meghan also said she asked for help when she was suicidal, but said the monarchy gave her no support.
Prince Harry recently said the life of a royal was "a mix between The Truman Show and living in a zoo".
The Apple TV+ series will begin on Friday May 21st.
For more television news click here