Ryan Tubridy has told his RTÉ Radio 1 listeners that he was moved to tears when he was shown one of the videos for this year's Late Late Toy Show.
As the countdown continues to the biggest television night of the year on Friday, 27 November, the host said: "I haven't shed a tear - and I don't say 'cry' because I'm not really a crier - I haven't shed a tear for a long time. I tend to cry when it's really called for - I don't turn them on.
"Yesterday, the Toy Show people showed me something and I didn't know where to look because I'm Irish and I'm a man and I was kind of mortified."
"It was this scene that involved children from around the world of Irish heritage and who are from Ireland, and they were singing a song," he continued. "I can't tell you too much, but I'll just tell you [that] it was so beautiful and so emotional.
"And actually, for me watching it, I just realised... I was thinking of the grandparents who aren't going to see these gorgeous grandchildren all over the world for the first time in a long time. Or maybe ever. And then those people thinking, 'Well, will I get to see them at all again and hold them and hug them?'
"The whole pandemic just came down on top of me in one go. I was just deeply moved by it all."
"And that's why I'm hopeful today when I see the news headlines [vaccine reports] because you have to be," Tubridy said. "I mean, if you're not hopeful, you're going to be miserable. So if that's the choice, which one are you going to go with?
"It was just very, very emotional footage that I was looking at of these kids and the roll of the dice that this generation has got. But I think it's going to be ok. It was just very, very gorgeous."
Tubridy also let Toy Show fans in on some of his preparations this week for 27 November.
"It involved a deep, intense bit of dancing, which I haven't done for a long time," he teased.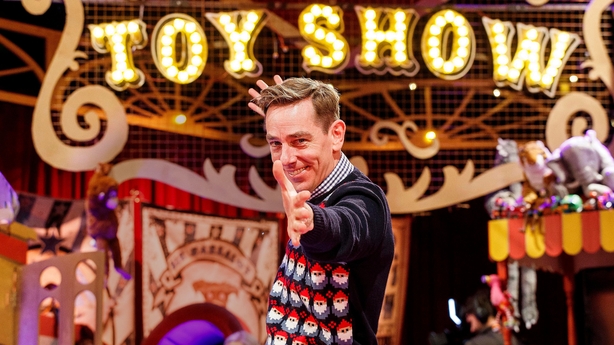 "But I was well looked after. Thank you to Stuart O'Connor; thank you to my old pal Jim Sheridan - patience of saints for pulling that together. And then the great artistic eye of Alan Byrne, keeping the show on the road. I think what we did in the last 24 hours is going to be very, very good fun - great colour, great excitement for Toy Show night.
"It is a Toy Show - and I really mean this without wanting to sound too over-the-top about it - like no other because of the pandemic. I have never seen anything like it - the work that they've put into it over there. It is knockout. More of which anon."
"I hope I didn't get a cold today after," he added. "I know that sounds whingey, but the circumstances under which we were working last night were meteorologically intense..."