Tom Vaughan-Lawlor is back on cinema screens in Rialto, a story of identity, love and loss.
He plays Colm; a father of two who has worked all his life on the Dublin docks. The recent death of his alcoholic father and a takeover at his place of work leads Colm to question everything that anchors him in the world. Unable to share his feelings with those closest to him, he instead confides in Jay (Tom Glynn-Carney), a 19-year-old he has recently met.
Adapted by Mark O'Halloran from his own play Trade, Rialto's exploration of what lies beneath is summed up in its line: "If we told people what was really in our heads - if we admitted it to ourselves, even - what would happen, do you think?"
Below, Tom Vaughan-Lawlor tells Harry Guerin about finding his way to - and in - "one of the most rewarding jobs of my career".
Harry Guerin: With your roles as Colm in Rialto, Lenny Marley in Maze and Nidge in Love/Hate, the sense I have is of an actor wanting to explore all these different shades, or facets, of masculinity. Is that wide of the mark?
Tom Vaughan-Lawlor: No. It wasn't deliberate, but it was welcome. I think you're lucky as an actor to be able to get that spread of roles and different shades, and that ability and opportunity to explore different male experiences, I suppose. And also, because the Love/Hate character was so violent and then this man in Rialto was obviously so not-violent, it's a great opportunity to explore men at polar opposites. One is a kind of Alpha male - an Alpha Alpha male - and this man, Colm, who is the absolute opposite, who is kind of self-conscious and ashamed and self-loathing and invisible. So having been allowed that chance to show that and play that is such a gift.
Was there one particular scene or line when you were reading the script for the first time where you said, 'That's it - I'm in'?
I'd known Mark O'Halloran's work before, and so kind of from the first scene I was like, 'This is astonishing'. You can often tell how good a script is even within the first few pages, or how good the potential for something can be. I literally from the first couple of pages was like, 'I have to do this'. You don't get a chance every day to be in every scene of a film, and for the film to be through that person's perspective and distilled through that person's experience. So I was just kind of knocked out by the script. I had worked with Peter Mackie Burns, the director, on his first feature, Daphne, and I'd worked with Mark before so it was a no-brainer.
We need your consent to load this YouTube contentWe use YouTube to manage extra content that can set cookies on your device and collect data about your activity. Please review their details and accept them to load the content.Manage Preferences
As a parent, did you think about whether you could have brought as much to the performance if you didn't have children of your own?
I think it deepens my understanding of what being a father is, definitely. But having said that, I've seen actors give the most astonishing performance as parents who don't have kids. I think you don't necessarily have to have lived that experience to express those feelings and that experience. But I know from my perspective having kids definitely informs my work and everything I do, obviously.
The funny thing about playing someone who has kids is that all of a sudden I'm playing characters whose kids are teenagers and in my head I'm like, 'How is this happening?!' In Maze I had five kids - 'I've five kids in this film!'. And in this one I've got two grown-up kids, one who's in their early twenties. I'm like, 'This is madness! I'm already in the proper mid-life casting bracket!' So that was a shock. But those parts are amazing, too, so it's also welcome. When my kids ask me questions, big questions about life, I'm going in my head... Paddling under the water, trying to figure out what the right thing to say is! [I] Don't know the answer myself, you know?!
You know you've become a kind of elder statesman when they're not offering you the younger man's role in a film like this.
Listen, again in my head, I'm a juvenile. I'm a 'juve lead'. I'm the romantic lead in my head! And then they go, 'Here... Here's a fat, bald guy - play this guy'. I'm like, 'What?! But I thought I was the young... I thought you wanted me to play the young lead!'
You talk about playing a role - the character of Colm brought home to me the idea that we're all essentially playing a part. We get up every day, we put on our clothes, but we think nothing of the part we're playing because we're so used to it.
Absolutely. And this man Colm is so hidden. Interesting you mention clothes: in the production we had costume design and he wears all of these layers, jackets and coats. It's about a man who hates his body and hates himself and feels so physically self-conscious that he's concealing himself. Even what he speaks, how he speaks, he has such a shame about himself that the role he plays is trying to be invisible, trying to be an invisible person who kind of seeps into the background. He doesn't put his head about the parapet, and yet he makes a choice at the start of the film to cross a threshold and kind of explode his life because he's lived a life of invisibility.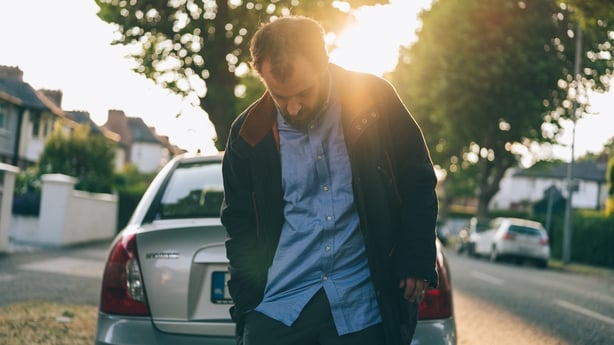 The catalyst for moving from one identity to another here is loss.
He's now unmoored from his [late] father, this great presence in his life - this great damaging presence. He's free to make a choice. And even though that choice leads to very damaging consequences, he makes a choice in his life to just explode it. It's kind of thrilling and terrifying and dangerous and mad all at the same time. But I suppose because he's losing his job, he's trying to figure out who he is. He's desperate to find out who he is and he wants to to be a good person. But that also feels like a daily job, right? To be a good person in the world, to do the right thing.
We're all works in progress.
That thing of who we are - it's changing all the time. Hopefully we maintain a basic humanity, but within that, around that, we're all the time - I am, anyway - still trying to figure out who I am, really. That's why art is important as well because it's healing - it's reflecting back to us that struggle and that endeavour, that task of all the time re-examining who we are; our frailties and our vulnerabilities and our dreams and our desires. I think that's why art is so special and important. As artists when you stop seeing yourself as a work in progress then you stagnate. But equally as people, when you stop... When you think you've learned enough or you know everything, to a certain degree you stagnate and you regress. It's important to be open to the world and that we are a work in progress, that we're never finished learning, that there's always more to learn. And there are always people out there to teach us, I think.
Did the role take more out of you in terms of tiredness than you thought it would?
Yes. I suppose a lot of characters I've played before are kind of high-energy, intense, high-tempo characters. I've played a lot of those. Whereas Colm's the opposite: he's a man who's very low-key in everything he does, or has been very low-key, so his tempo is slower. He's more aware, he's hidden and he's damaged. He's raw on the inside. Practically, because I was in every scene of the film, I was on set all day, every day, which is a joy because the material was so strong and the scenes were so brilliant and the cast around me was so incredible. But it does... By the end I was ready for a holiday! It was good to get to the end and then be able to kind of leave it behind me. But having said that, it's an opportunity I wouldn't have given up for the world. It's been one of the most rewarding jobs of my career.
On the subject of jobs, is it the case that no matter what you're filming in Ireland, people always think you're working on Love/Hate?
[Laughs] One of the actors in Love/Hate - I can't remember who it was - was doing some period piece, as in the 1800s, and someone said, 'Is this Love/Hate?' And you're like, 'We're on horseback and there's carriages... So it's a big flashback sequence - we're going to do Love/Hate in the 1800s'. The appetite for that show was so huge, and is still so huge, that everywhere [people ask about it]. I was in America last year doing some press for something and often a question would be, 'When's Love/Hate coming back? Is there a sixth series?' That is an amazing legacy and I'm lucky to have that from people. It's sweet.
I was in a scene in Rialto - it's not in the film - where I'm driving around, kind of crying. It didn't end up in the final cut, but I was in the car, driving around, kind of weeping and I heard someone go, 'Oh look, it's Nidge! He's crying! Why is he crying?! Why is Nidge crying?!' It was so funny. In the midst of the tears I nearly started laughing.
Rialto is available on the streaming services IFI@Home, Volta, Barbican Cinema on Demand and Curzon Home Cinema now.