RTÉ is re-showing all five seasons (that's all 28 episodes) of Love/Hate. From the cat killer to that heartbreaking "fizzy orange" scene, we look back at some of the acclaimed drama's top moments. Deadly buzz.

It's been ten years since gritty Dublin gangland drama Love/Hate became The Most Talked About TV Show in Ireland (simper over that, Connell and Marianne!). The exploits of King Nidge and his band of merry mayhem men had compulsive storylines, inky black humour, and fast-talking Dublinese and it may not be pushing it to say that the show was the Irish Sopranos.
Love/Hate turned a cops and robbers format into a drama with Shakespearean complexity and possibly more gore.
It made stars of the cast and is recognised as one of the greatest Irish television dramas of all time. And now you can enjoy it all over again. Coola and, indeed, boola. Here's our walk down a very dark memory lane... and be warned, if you haven't actually watched Love/Hate (hello!?), this article is spoiler alert central.
Trish and Nidge's wedding (season 1)
When Love/Hate debuted way back in 2010, one wag said it was "more Westlife than Westies" and it's perhaps true that the show struggled to find its feet, which is understandable. But one early scene did ignite the maverick spirit of the show - Trish and Nidge's wedding. Gangland's Posh and Becks threw a lavish affair (ie: gaudy, way over the top, and with rubbish music) and of course lurking in the background was the threat of imminent violence as John Boy and Hughie turned up uninvited.
Good night, John Boy. Forever (season 2)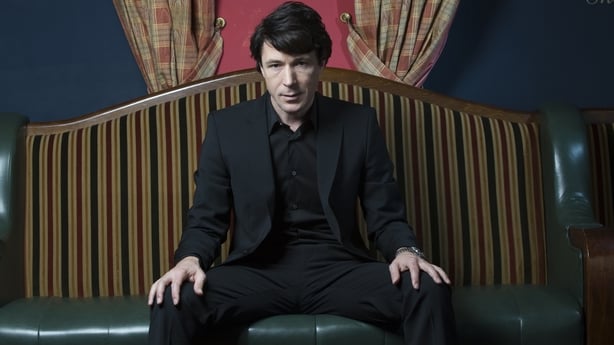 Aiden Gillen brought a flinty villain to crime boss John Boy and it turns out he was also a dab hand at ye olde economic forecasting. In an early episode of the series, he mused, "Ireland is f****d for the next ten years, did you know that? This is the only game where you make any money. Make your money and get out." However, he made a big mistake and ignored Walter White's cardinal rule - never sample your own produce. His descent into twitchy coke paranoia was compulsive viewing. It also led to his final, grisly undoing. Thinking he was rocking up to the boozer to witness his rival getting offed, a seriously high John Boy became the focus of one of the show's great switchblade plot twists when he himself was gunned down in a nasty little double-cross. In that one scene at the end of season two, Love/Hate became as sickeningly realistic as Ireland's real-life gangland scourge.
Lizzie shoots Darren (season 3)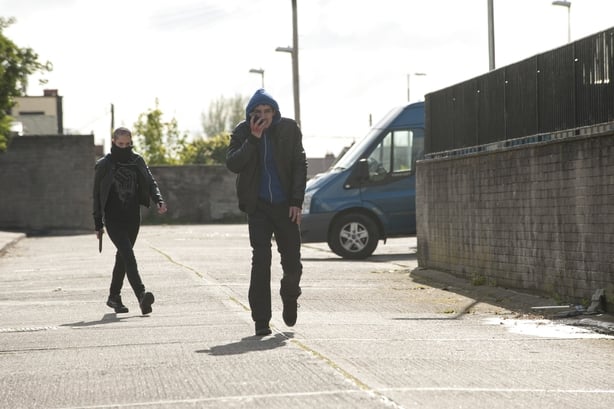 We all know Love/Hate traded in brutality and murder (after all, someone gets killed in the opening five minutes of the first episode and yes, we all remember the cat) but the murder that seemed to capture the minds and break the hearts of the Irish public was the slaying of Darren (played by Robert Sheehan, and far too good looking to be an actual gangland thug). His murder at the hands of former accomplice Lizzie left the whole country reeling and confirmed that Love/Hate was not like other tv shows.
The coronation of King Nidge (season 3)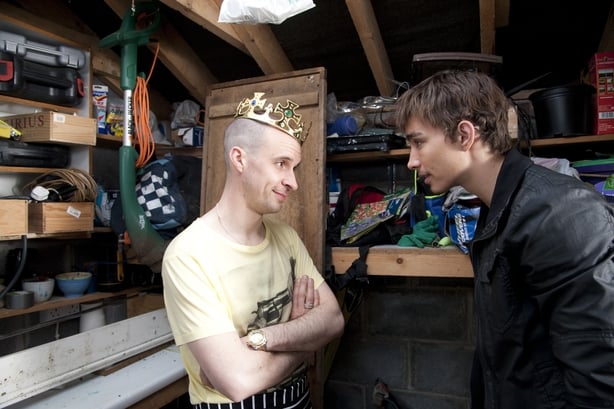 Ok, it wasn't quite Westminster Abbey but when Darren places a crown on Nidge's head in a garden shed, it was a whole lot more important to the Irish viewing public than any British royal ascending to the throne. After the slaying of John Boy at the end of series two, there was a new lawbreaker in town and from here on in Love/Hate picked up a swagger that was perhaps missing in the first two seasons. That crown certainly appealed to the boyish Nidge. After that coronation, everyone had plans for Nigel.
Nidge meets the IRA for a peace pow-wow (season 3)
"The hack o' him. It's like he's off Strictly". Call it Dutch courage or call it the self-destructive streak that seemed to spur him onto more and more savagery but Nidge got a serious buzz on before he went to meet the IRA to try and settle the peace. In a superb performance from Tom Vaughan-Lawlor, Nidgey, giddy on A-class, cheerfully takes a few smacks to the face as he parlays with a bunch of republican strongmen.
Cat killer (season 4)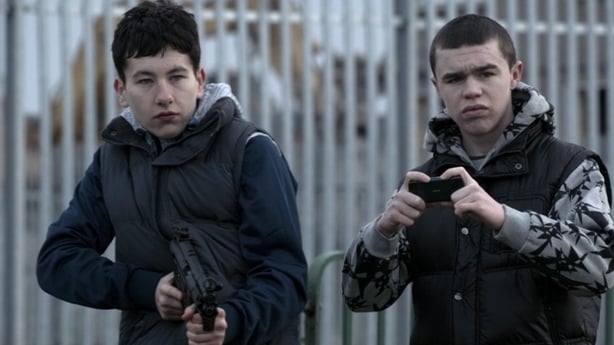 Barry Keoghan seems to be the toast of Hollywood these days but back in 2013, he played Wayne, the babyfaced cat killer who famously machine-gunned an innocent moggy in the middle of a flats complex in one of Love/Hate's most casually grim moments. Already a strange lot at the best of times, cat lovers were appalled but this act of felinecide (that's a thing, right?) marked the arrival of one of the show's most compelling and malicious characters.
Tommy asks for fizzy orange during an interview by the gardaí (season 4)
In a world of fuglies - inside and out - Killian Scott shone like a prince among thieves in Love/Hate. He played Thomas "Tommy" Daly, a strong, silent type who always seemed a reluctant soldier in King Nidge's band of lowlifes, jockeying for position in the whole twisted gangland hierarchy. Then in one of the most unsettling scenes in the whole five series run of the drama, Tommy was brutally beaten by his treacherous capo and left as a brain-damaged shadow of his former self. Nidge would pay dearly for his thuggery but when Tommy finally emerged from a coma, he took on his first job and ended up being arrested. Sitting in a Garda car being interviewed, he pitifully requested a "fizzy orange". You might have laughed... before you realised you were crying.
"I've a bone to pick with you, Nidgy" (season 4)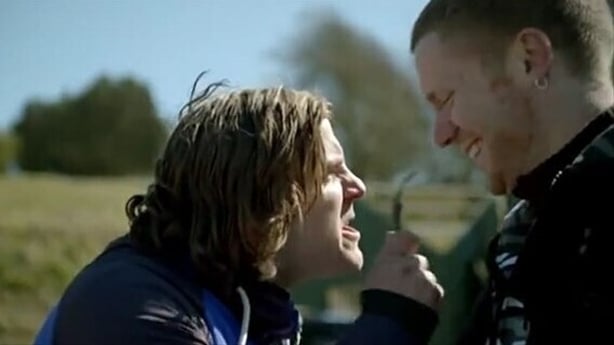 In one of the most macabre, sinister and, well, funny scenes in the whole series, Fran, always the Falstaff of the piece, stole the show when he whipped out one of the bones of slain IRA man Git, and waved it at his boss, saying, "I've a bone to pick with you, Nidgy". It seemed like the whole country was quoting the line the next day.
Siobhán is the rat (season 5)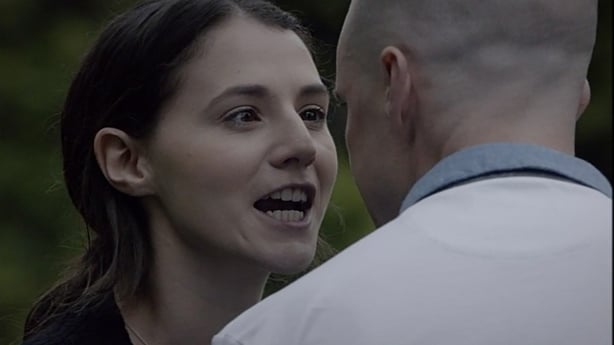 Who shot JR? Who shot Mr Burns? What the hell was Lost all about? Fuggetaboutit! When King Nidge finds out that his own niece Siobhán (brilliantly played by Charlie Murphy) is the mole who has been funnelling information to the guards, it became one of the most riveting scenes in the whole five-season run of Love/Hate.
The end of King Nidge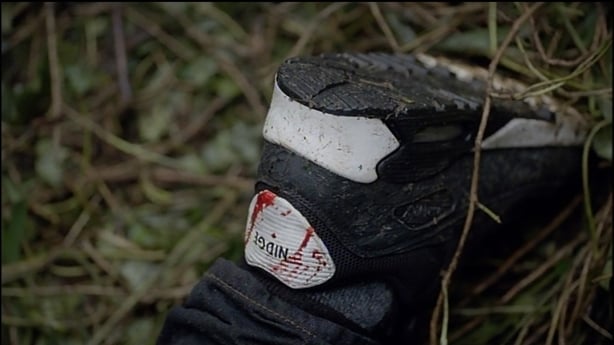 The Irish Sopranos it may have been but there was none of that arty farty (and rather bold and brilliant) abrupt switch to a black screen in the final seconds of Love/Hate. Nidge finally got his comeuppance as he squirmed like the coward and thug he always was in a corner of his own garden as traveller Patrick glowered over him, gun in hand and vengeance on his mind. Despite rumours of a sixth season, it was the perfect way to close one of the greatest tv dramas of all time.
Alan Corr @CorrAlan2
Love/Hate starts from the start at 10.50pm on RTÉ One on Friday night. The full box set available on the RTÉ Player.