There was a lot of baking. Nothing too extreme, queen cakes and Victoria sponge being the height of my culinary abilities.
There was a bit of gardening. Pots and planters, making use of whatever was to hand as shops and garden centres closed and good compost became as rare and costly as gold dust. They look beautiful right now in one small corner of the garden where they are not likely to get trampled.
There is also a bit of a tangled mess in another corner that was meant to be a wild flower paradise. Ah well, it might come round next year and the bees are happy regardless.
Home is with two very resilient, patient and amazing children. Though the less said about doing school work at home perhaps the better. 'No Mum, we do it a different way. Like this.' Even my Irish pronunciation was wrong!
Cue, lots of Lego building, messing with glycerine and washing-up liquid (dressed up as science projects) and nature walks. After two weeks of the same route, there were moans when I declared, 'it's time for THE walk'.
'Will we go left or right today?' caused heated discussions as we wrung as much novelty as we could out of a familiar path. Blessed, I do appreciate, that our 2km suburban route runs alongside part of the Limerick canal that joins the river Shannon. We could cycle, scoot and skate or do a mini-nature trail across the fields which also had a pond.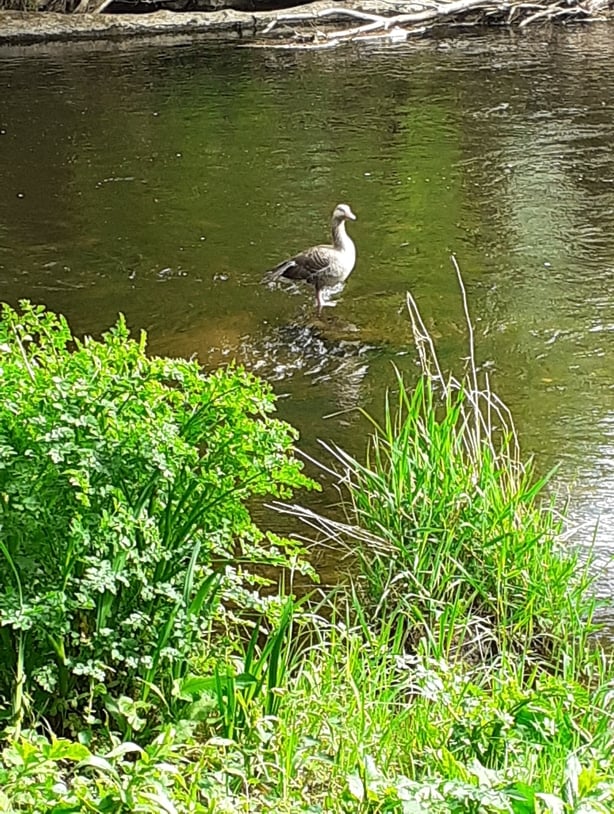 Herons, swans, ducks, finches, butterflies abounded. We learned to go early, to avoid the busier times and so, could sneak up on the rabbits, talk to the robins who would get up close and personal, and check on the frog spawn in the pond. We met a goose, nicknamed Harold, who may well have been Mother Goose as he / she was spotted with a little troop of goslings later in the season.
My panic purchase was a trampoline. I wasn't the only one picking one up in the 'click and collect' queue the day after the schools closed. On the positive side, it took up most of a day to assemble and has been well used. I have been told too, that I could probably get a pretty good price for it now if I ever wanted to sell it as along with printers, ink and swing ball, they are in demand. I am open to offers!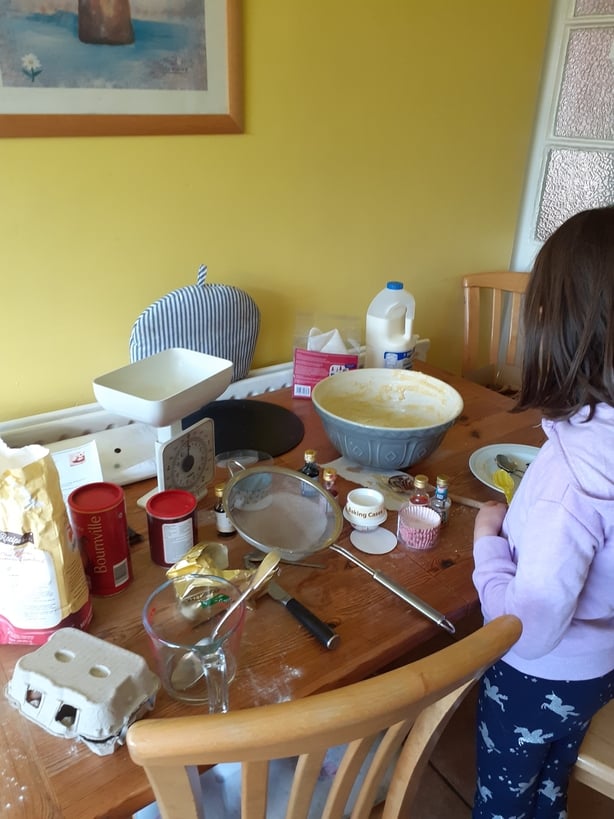 Outwardly calm, inwardly raging, I did not handle the time in lockdown at all well. I felt at various times resentful, frustrated and subsequently guilty for being so. I am lucky to be at home in a safe place and those closest to me stayed well. Logically, I understand the need for all the restrictions but inwardly miss, oh how I miss, the silly, simple things of my ordinary life. Hugs from friends, coffee in a café, working on a myriad of music projects, dropping in to a populated and friendly Lyric office, group rehearsals with singers, live concerts.
From avidly following every news bulletin and devouring the paper, I began to avoid all news of the new world arch nemesis; the polarised opinions; the rumours; the stark facts. There was no answer, no finish line and I certainly couldn't fix it. My world shrank. But by focusing on my little family, on our daily activities, I found I could better handle the greater fear and pain felt nationally and world-wide.
Radio and podcasts were my salve. I started to listen to podcasts, in particular catching up on The Lyric Feature, which I have always enjoyed. The range of subjects, beautifully produced, are fascinating, as much for their diversity as for the content.
Being called in to work and cover at Lyric was a relief. Messages from listeners were heartfelt, grateful for the continuity of Lyric, for the music, for something familiar that could also provide an escape, or ease the panic even momentarily. I was grateful for the minor pressure of deadlines and the absolute pleasure of being on air, proud of the Lyric team all keeping it going, while desperately conscious of the utter strangeness of it all.
Otherwise, did I put that time to good use personally? Unfortunately, I did not learn a new language, develop that script, take up yoga or even indulge in a box set or two. Initially, I found it impossible to read. A couple of months in and Hilary Mantel's Wolf Hall was the book that grabbed my whole attention and I was riveted. Thankfully that started the pages turning once more.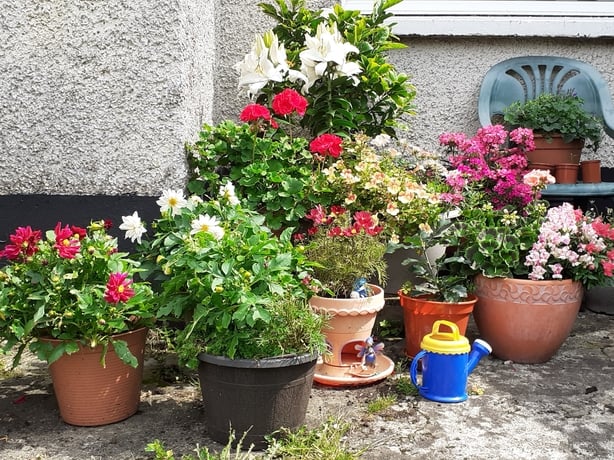 Once the reading block was broken I read Emma O'Donoghue's Kissing the Witch, an early work, edgy and engaging, and her recently published The Pull of the Stars which was fascinating, considering it is set at the time of the 1918 flu epidemic
Then Sebastian Barry's A Thousand Moons, Anne Enright's Actress - and Maggie O' Farrell's Hamnet was a beautiful surprise. Coincidentally, another plague featured through that story-line, albeit the Black Death. It is always nice to be able to count your blessings. Plus, I would never have had the time to read that many novels in such a short time. Keep counting the blessings.
Music-wise I listened to Lyric, a lot. I have always preferred radio and I enjoyed the semblance of normality coming from a corner of the kitchen. If picking a CD, I tended to choose earlier music, baroque usually. Ninety per cent of my CD collection is vocal music, but I veered towards non-vocal music, small ensembles and chamber music.
Words and voices are my waking, eating, sleeping, working world, so I should not have been surprised at my reaction to singing voices. The most banal song could induce a certain stinging of the eyes, as every aria or song, ancient or pop, took on new meaning in the early stages of the crisis. A gem in the past few months was the new CD from Katherine Hunka and the Irish Chamber Orchestra. It is superb, with incredible playing and a lovely touch of theatre.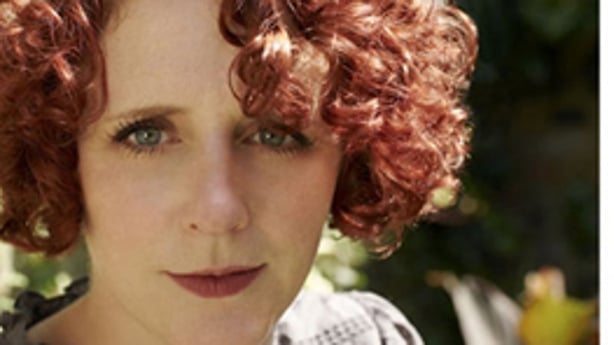 One of my constant worries, children and family aside, is for the future of live performance. I love theatre and live concerts. When not at Lyric I produce and direct opera. I love the engagement between audience and performers and the energy produced in the moment of live performance.
It is still hard to believe that going to a concert is not possible right now. Every singer, musician, actor and production crew member I know is putting on the bravest of faces, but all are worried, and to be honest, heart-broken over the current hiatus.
While I know there are many alternatives, such as recording, film and streaming, I look forward to the day when I can go see and hear the Irish Chamber Orchestra again, see a play, or experience live singing while in amongst a crowd, sharing that experience as a member of an audience. Here's to safer, however ordinary, times!