Fontaines D.C. were the surprise guests on Wednesday's Liveline on RTÉ Radio 1, with Joe Duffy taking the opportunity to ask the band to join him on Grafton Street on Christmas Eve.
The host told listeners that he had befriended the quintet by chance in the RTÉ Radio studios recently.
"We did meet in the corridor - and the lads didn't have a clue who I was, by the way!" he continued.
"The great news is that their album - which they were recording tracks of for a 2FM set which was broadcast the weekend - their second album, A Hero's Death, is set to be Number One in the UK and Ireland tomorrow, knocking the incredible Taylor Swift [off the top spot]. And it is incredible what she's done as well and the publicity, worldwide publicity, that she's generated." 
Duffy then introduced singer Grian Chatten and guitarist Carlos O'Connell to listeners and asked the bandmates: "How sure are we that you're going to be Number One tomorrow? It's looking good..."
"Well, I mean, I'm sure we will either be Number One or Number Two!" said O'Connell, taking the accolade in his stride. "It's a tight race."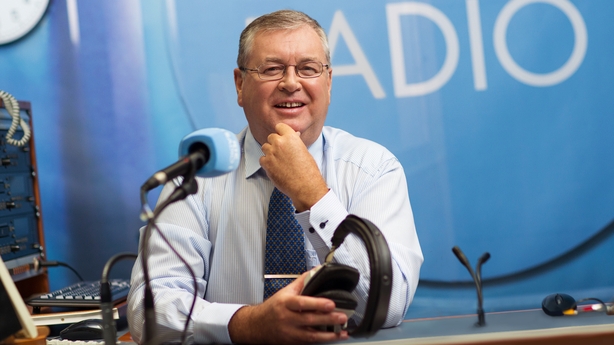 The guitarist then filled listeners in on how the band got together as students in BIMM (British and Irish Modern Music Institute) in Dublin.
"I think it was pretty much the first day that we all met and, I mean, we just fell in love with each other," he recounted. "We focussed a lot on writing poetry for a while and eventually that kind of all turned into rock 'n' roll."
"You do yourself a disservice, though, saying I had no clue who you were when I met you in the hallway!" singer Chatten told Duffy.
"I'm sure you said, 'Maybe my granny knows who he is!'" laughed the presenter.
We need your consent to load this YouTube contentWe use YouTube to manage extra content that can set cookies on your device and collect data about your activity. Please review their details and accept them to load the content.Manage Preferences
As the pair reflected on the last couple of years and the making of A Hero's Death, Duffy invited them to be his guests on December 24.
"Look after each other," he said. "As Carlos said, you love each other. You don't need it from me, an old fogey, but you know the accolades you're getting.
"If we're on on Christmas Eve on Grafton Street I'd love to see one, two, three, four or five of you come into us and [for] people to realise how - well, they've realised already - brilliant you are."
"Listen, Joe, it was an absolute pleasure," said Chatten as he introduced the title track of the album.
"It's a dream come true to be on the show - I've been listening for years!"