Just a year after their celebrated debut album, Fontaines D.C. return with A Hero's Death. Guitarist Carlos O'Connell talks to Alan Corr about how burn-out nearly tore the band apart and why reinvention saved them
"I'm overly relaxed," says Fontaines D.C. excellently moustached guitarist Carlos O'Connell down the phone from Madrid.
Who can blame him? He deserves it. In three very short years, the five-piece, who hail from Dublin, Mayo, Monaghan and Spain, have enjoyed the kind of lightning success we last saw when The Strokes were hip and before that, Oasis swaggered outta Burnage and, before that again, U2 took their crusade worldwide.
These ragged twenty-somethings have become rock's new princes in very short order. The world embraced them for their refreshingly raw take on guitar music and here at home, they were ecstatically welcomed as an Irish band who do something that few Irish bands have done since The Pogues, The Radiators, The Blades and early U2 - actually write songs about Ireland.
"Sometimes it blows my mind, how quick it's happened," O'Connell says. "The venues got so much bigger. Spring last year, we played The Garage in London and less than twelve months later we played Brixton Academy, which is just a different game, so sometimes it is mind-blowing to think how quick it happened."

With an attention to detail and a suss for self-mythlogising, Fontaines D.C. almost willed themselves into existence. Writing blear-eyed songs of romance about old Dublin, frontman Grian Chatten, O'Connell, fellow guitarist Conor Curley, bassist Conor Deegan III, and drummer Tom Coll formed while studying at music college in the city's oldest neighbourhood, The Liberties.
"The fun we can last year was quite self-destructive. It started as fun but then you get into a vicious cycle of not feeling anything. You go from a hangover to euphoria and being absolutely numb and you do that every day on and on."
Their storming debut album Dogrel celebrated and eulogised rain-soaked streets where old ghosts used to meet before sterile city blocks loomed over the old city and history vanished daily. New hotel, anyone? Old Dublin is dying - Dogrel kept it alive.
It was acclaimed as the best debut in years. It went Top 5 Ireland, Top 10 in the UK and left music critics frothing but if the tornado of sudden success didn't grant the young band untold wealth, it certainly left them reeling.
The way O'Connell tells it, Fontaines D.C. have been through the absolute grinder since the release only 15 months of Dogrel, staggering from one whisky hangover to the next, playing octane-choked gigs like a speeded-up Beatles in Hamburg, and inexorably drifting apart as friends as life on the road ran them ragged. They were also skint.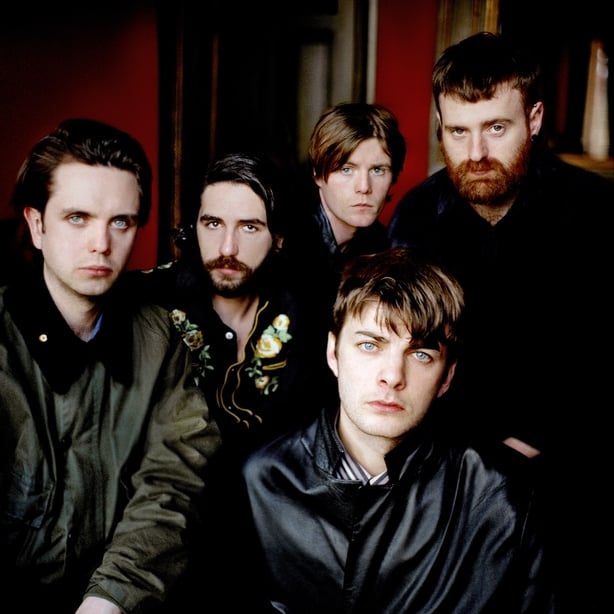 "The year after Dogrel was a tough year mentally for all of us," he says. "But I don't think we worked too much - it was because we 'd never worked like that before and we didn't know what bands were meant to be like on the road. Had we had a stronger control over how we felt and stronger emotions throughout that year it would have been a lot more enjoyable.
"But it happened so quickly, none of us were in a great place mentally. It just became a very confusing time and we had to look deep into ourselves to find out what was going on. We like to have fun and I'm excited to go back on the road now that I think I know myself a lot better and I can have fun in a way that isn't going to be self-destructive."
As a result, A Hero's Death is a far more morose affair, a journey darkly into the band's very psyches and souls. It sounds like they're drifting down the Styx on a tide of solipsism.
The new album is a startling departure from the combustible, breakneck post-punk of their debut. A rush of frazzled psych rock, cavernous-sounding guitars, and morose self-questioning that may turn expectations on their head as it leads the band off into new directions and new influences.
"I wouldn't like us to be leaders of any kind of ideals, but people do need to listen to all these different perspectives to get a better understanding of the world."
It's almost as if they're stylistically following the path from punk, to the austere long black coat era of post-punk. At this rate, by album five, they'll be playing herky-jerky funk and singing archly intelligent pop songs about vapid consumerism, while wearing pastel yellow suits and sporting extravagant bouffants.
For now, however, Fontaines D.C. are starring down the barrel of further acclaim with A Hero's Death, just over a year on from the release of the universally acclaimed Dogrel. No pressure then but this is Fontaines D.C., a band whose quiet confidence and nonchalance borders on near insolence. That's talent and self-belief for you.
Chatten has described the new record's title track (and recent single) as "about the battle between happiness and depression". As he sings on the maudlin Oh Such a Spring, a song so childlike and maudlin it sounds like it was ripped from the pages of a yellowing book of nursery rhymes, "I watched all the people go to work just to die/I wish I could go back to school again."
They are all, however, ready to start again. "The fun we can last year was quite self-destructive," says O'Connell. "It started as fun but then you get into a vicious cycle of not feeling anything. You go from a hangover to euphoria and being absolutely numb and you do that every day on and on.
"Boozing too much. It seemed that everyone around us wanted to celebrate the success and we didn't feel like celebrating because we didn't feel that happy for a long time. We weren't in a good place and we didn't really feel like celebrating. You end up self-destructing."
Was it scary? "It got scary at times. It felt lonely and it was quite isolating. That's what I find quite interesting now that when we all went into isolation during lockdown, I felt more connected with everyone and everything around me than I had in the previous year, being able to slow down and be in touch with myself and those closest to me. It felt like the most connected time and I'm in tune with my emotions again."
Luckily, the new album was in the can before Covid came calling. In fact, they had what O'Connell calls a "failed two weeks" in LA recording last October. "A lot of money was wasted over there," he sighs. "But then we went back into studio with Dan Carey, who did Dogrel, in January."
LA was a bust because the band were strangers in a strange la la land and a sense of disconnection set in between the raw, unfiltered emotions of the new songs and what was coming out of the speakers during playback.
"We feel that it's important to feel connected and to belong and it's the reason why we love Ireland."
It was just too polished. "It was very difficult for us to be in touch with the emotion of those songs when we were in LA," says O'Connell. "That whole world was miles away from the world in which we wrote the songs we were about to record. LA is very superficial. Everyone is there to maintain their status and forgets about meaningful art. That gets lost. We didn't want to get sucked into that."
In many ways A Hero's Death is a break from the band's past but also reaffirms their love and fascination with Ireland's history. The album art features a statue of the mythological warrior Cúchulainn that stands in Dublin in commemoration of the Easter Rising and the title is a line from Brendan Behan that serves as a self-deprecating notice that Fontaines D.C. could become a failure nearly as quickly as they became a success. Chatten has even talked about killing people's idea of the band.
"Basically we thought if we f*** this up, we've already said it in the album title, the death of Fontaines D.C." says O'Connell. "We just found a lot of meanings in that phrase that had nothing to do with the song, A Hero's Death, but the main idea was that a person's actions are not what makes them a hero - it's the perception of those actions.
"We wanted to kill the perception of us that had been created around us and in order to establish a new one. Allow Fontaines D.C. to be a band that doesn't have to live up to the perceptions of that first album. It's just an entity that makes music that we find relevant at the time regardless of what we've done before. The idea of being performative is alien to us. Fontaines D.C. comes from a place of being honest with oneself and accepting of oneself."
It's a funny thing. Go to a Fontaines D.C. gig and you'll see a very welcome cross-generational mix. Indie kids dig the energy and find meaning in the torrent of words and the grey beards are high on nostalgia as well as the energy and the torrent of words.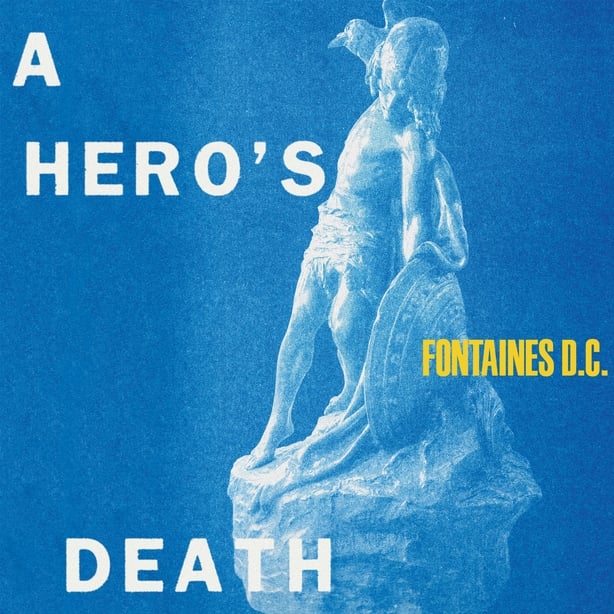 However, O'Connell is ambivalent about the band's status as potential spokesmen for their millennial and Gen Z fans. "Yes and no," he says. "I think art is meant to present a new perspective on something you already know. That's the purpose of art and so in that sense you are a spokeperson for a certain topic but I don't think our perspective would suit everyone.
"Some people would have no interest in what we have to say and I think in a generational way, our audience is quite varied in that sense, it goes from people younger than us to people older than my parents, which is quite an interesting thing because we're tuning into the music that we love which is fifties to the nineties and I guess a band hasn't done that for a long time and maybe that's why we get such a cross-generational audience.
"I wouldn't like us to be leaders of any kind of ideals, but people do need to listen to all these different perspectives a better understanding of the world."
In the end - and not to get too LA about it - Fontaines D.C. found themselves again right where they started back in 2017 - by going into a room and playing together.
"We feel that it's important to feel connected and to belong and it's the reason why we love Ireland," O'Connell says. "We think it is completely necessary to have that sense of belonging and when you don't have that it's just unnatural for humans and you need to do something about it.
"We found the connection we always had was the music we made together. That's what saved us. That's what's beautiful about being in the band - being constantly inspired by the people around you. It inspires you and gives you a sense of home and the music we make together is home."
Alan Corr @CorrAlan2
A Hero's Death is out now. Fontaines D.C. perform A Night at Montrose this Bank Holiday Monday as part of a weekend of special music broadcasts on RTÉ 2FM at 8.00pm as part of the station's ongoing Epic Summer of Music series