The Strange But True Story of the Life and Death of Felix E Patrone
Thirty years ago Denis Ryan discovered a World War One medal while playing football in Walkinstown, Dublin. The medal bore the name Felix E Patrone who 'died for freedom and honour'. Denis has been trying to track down the descendants of Felix for 30 years and had no luck until her contacted Liveline. Here Denis recounts his journey....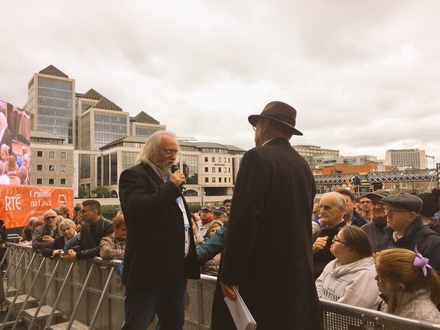 "The Strange But True Story of the Life and Death of Felix E Patrone" by Denis Ryan
It doesn't happen very often and never for long that you will be sitting in Krugers Pub in Dun Chaoin all alone.
It was one of those rare moments recently I sat there and thought of a young man named Felix E Patrone.
In order to tell this strange story we must go back to the early seventies to a place called Walkinstown, CountyDublin, where I lived as a young man. As often happened I would meet with some of my friends and spend the evening kicking a football back and forth.
But something happened this evening that was to start a chain of events that would unfold over many years. I came upon what looked like a small plate made from some kind of metal. As it was growing dark and time to go, I left and headed for home taking the "plate" with me.
Later that evening I put the object on the kitchen table and for a while forgot about it. "So where did this come from" my father asked. I told him I had found it in the field behind the house. "Do you know what it is" he said, and of course I hadn't even looked closely at it.
I took it from him and examined my find it was about four inches across and had a design of a lady holding a lion and the inscription "He Died For Freedom And Honour".
I handed it back to my father still not knowing what it was, but he had seen many of these "plates" in his day.
"What you have here" he said "is commonly known as a "Dead Man's Penny and was awarded to the family of each man who was killed during the First World War.
Obviously some kid had taken it out of his house to show off to his friends and somehow lost it in the field.
I picked it up again and now it was obvious that it was no plate but a medal which had been awarded posthumously to the man or boy whose name appeared on the medal.
Now if that name had of been Paddy Murphy or some other common name I would surely have walked away but the name on the medal was so unusual that I made a vow with myself that I would return the medal to the rightful descendant's family.
That name was Felix E Patrone!
I thought to myself surely a family with a name like Patrone would be easy to find in Ireland. Well think again!
Having perused every copy of the telephone directory for a family with the surname Patrone without success, I found myself looking at the 1911 Census for Dublin and there he was.
Felix Patrone lived with his parents Joseph and Margaret Patrone in Ushers Quay, Dublin and was aged fourteen.
I read of a new website which sounded like it might help, it was called commonwealthwargraves.com.
So I entered the name Felix Patrone and back came the answer – Negative. I read on a little further and there it was "do you mean Felix Edward Patrone from Dublin. I quickly punched in "yes" and up came the answer. Felix had died aged 22 and was buried in the Somme and had a wife called Mary (Molly). For a while I thought I was closing in on the Patrone family but soon realised that despite all the searching and new information I was no nearer to finding a living relation.
The years slippedby with no "breaks" and I began to think it was time to give up. After all it was now 2017 and though we had passed the one hundredth anniversary of the Battle of the Somme, I still had no idea of how Felix had died or even what he looked like.
A popular National Radio show hosted by well known presenter Joe Duffy was planning a special show on Easter Monday all about the Dublin Fusiliers and the many Irish men and boys who had died in the Battle of the Somme.
This was my last chance to find a relation but as Felix had died apparently childless it was very slim chance.
So I contacted the programme and told them my story and as a result found myself standing on a stage in front of thousands of people being interviewed by the Joe Duffy.
"So" said Joe "have you had any success since we first spoke".
"I'm afraid not" I replied "and I'm almost ready to give up".
"Well" said Joe "turn around and shake hands with the lady behind you because she is the granddaughter of Felix E Patrone".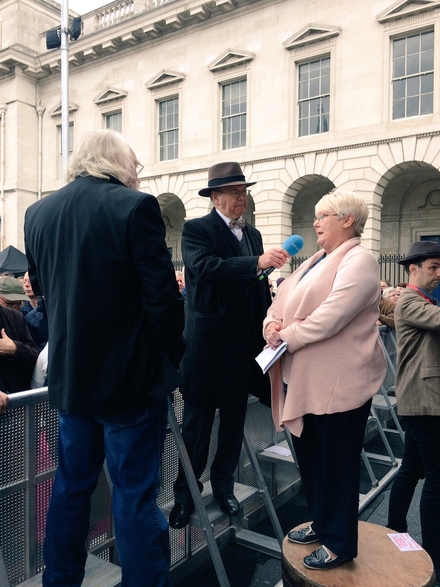 I was shocked! How had this happened? Joe Duffy had managed to unearth a relation.
The crowd shouted their delight as the granddaughter and I went back stage to start filling in the blank spaces.
And what a story she had to tell!
As Geraldine Davies (Patrone) with husband and family along with myself and lots of my family trooped around to the back stage area I noticed that the "Patrone side" were carrying a thick file about the same size as the one I was carrying and as it turned out holding many of the same documents I had come across in the pursuit of her grandfather Felix.
The first thing she produced from this file, answered a question I had asked myself many times since I first found this medal.
She handed me a sealed envelope which contained a thankyou card from the Patrone family living in England. I opened the card to see a face looking out at me of a young man in military uniform above the title "Felix Edward Patrone".
Document after document were produced and slowly the missing pieces came together to form the whole picture.
She told of how her grandfather joined the Dublin Fusileers as a young man and at the age of eighteen was stationed in France near the Somme.
About four years later he arrived home on leave and on a very important mission, he was to be married to his long time fiancée Molly.
Well, he completed this mission and on the evening prior to returning to battle, himself and Molly had an argument, and they didn't part on great terms. At this point Geraldine produced a letter from her file containing three letters. She handed me one of these to read, it was addressed to Molly Patrone from Felix – "on active duty".
It was an apology for the argument and a promise not to argue like this again.
She then handed me a second letter, a reply from Molly also agreeing not to argue like that again. This letter ended with a PS telling Felix he was soon to be a father.
And finally the third letter – "from the War Department"- with the dreaded news – "Felix was dead".
An examination of the dates of these letters proved that Felix never received Molly's letter, and died not knowing of the approaching birth of his daughter (Geraldine's mother) and who would be named "Felicia" after the father she never met.
The strange thing is Geraldine told us that Felix served for four years in a war where a new soldiers life expectancy was no more than six months.
In all this time he suffered not a scratch, but as the war ended in a cruel twist of fate, Felix caught the dreaded Spanish Flu. He died in a field hospital and is buried in Abbeyville Military Cemetry.
His wife Molly is buried along with his parents in Mount Jerome Cemetry in Dublin.
Even the Barber Shop Quartet with whom we shared the back stage room had gone silent as the story unfolded.
The silence was broken by a familiar voice "can I come in"? And in came the man without whom this story would still be unfinished. Joe Duffy.
Joe told us of the work put in to finding the Patrone family and gave credit to his team of researchers. "This leaves only one thing to finalise the story" he said.
It was time to hand the medal back to the Patrones. So with much flashing of cameras this was done. We all promised to keep in touch and as the Patrone family left for England I headed for the train station in the hope of catching the last "on the way home pint in Krugers of Dun Chaoin.