Broken Law is a strikingly engaging movie with an interesting premise for a compelling story of two brothers trying to stay on the right side of the law in unusual circumstances.
Nothing is as it seems in the slow-burning crime drama which tells the story of a wayward young lad Joe (Graham Earley) who is caught up with two decidedly amateur Dublin gangsters, the natural leader being the psychopathic Wallace (John Connors).
Wallace's accomplice is the nervy, jumpy Pete (Ryan Lincoln) and both are comically inept at the crime game, despite their macho strutting. Wallace understands violence though, tooth and nail, and such scenes are expertly handled by director Paddy Slattery, who also wrote the smart screenplay.
Wallace is bad news, but Joe is decent at heart, though it may be a big ask to believe this, given his half-hearted attempts at reform when we meet him, fresh out of Mountjoy. His anxious mother, Irene (Ally Ni Chiaráin) dearly hopes that he will mend his ways. Joe intends to try and do well by her, though he is conflicted, to say the least. 
Then there is his brother Dave, the young Garda, caught between loyalty to crime-busting while shielding Joe from prosecution, and all that with increasing unease.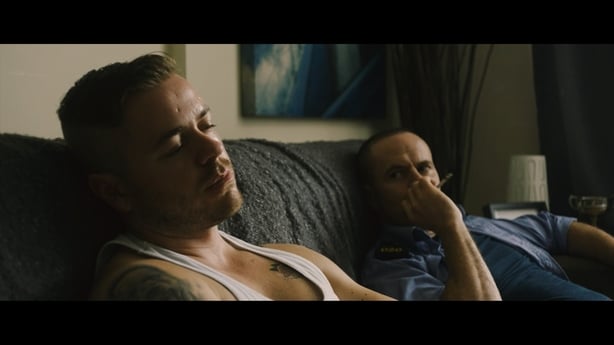 A bank raid at the local Credit Centre, caught on CCTV goes viral and becomes pivotal to the action of the story, testing the nerves of both brothers. Garda Dave happens to be in the credit centre at the time and finds himself in the position of trying to scupper the raid, defending customers and staff while wielding a captured gun. Meanwhile, suspicions are raised about the actual circumstances behind the events that took place at the Credit Centre. Senior Inspector Richard Byrne (Gary Lydon) has his doubts.
We need your consent to load this YouTube contentWe use YouTube to manage extra content that can set cookies on your device and collect data about your activity. Please review their details and accept them to load the content.Manage Preferences
The feisty- and indeed married - bank teller Amia (Gemma Leah Devereux) becomes involved romantically with Dave in the days following the raid, as both dust themselves down and offer mutual comfort after the shock. This very liaison puts their lives and Joe's life in danger too.
Towards the denouement, we learn that Dave's late father, supposedly a highly-respected member of the Gardaí was not what he seemed either. When Dave discovers this fact, his ideals and ambitions seem to crumble somewhat. However, he rallies around and realises that to be human is to be weak and tempted on occasion. And to reveal any more is to spoil.
Gritty and engaging, this Cain & Abel motif for our times features fine performances all around. Broken Law's attractive score features music from Idles, Conor O'Brien's Villagers and Katie Kim. Opens Friday 31 at cinemas nationwide.