Lilian Smith has been enjoying the woods and beaches near her home in Garretstown, County Cork, while continuing to present RTÉ Radio 1's Rising Time during the crisis.
"I've never been so grateful to live on the coast. Myself and my husband and almost 14-year-old son have been at home in Garrettstown near the Old Head of Kinsale. We have woods and beaches on our doorstep.
"Homeschooling has finished now and the summer exams have been uploaded. Who knows what September's timetable will bring but it did help keep a structure on the day. Though if there are bonus points for PlayStation, he'll do well. Definitely more time on that than normal, but it was a way of keeping in touch with his friends.
"Yoga or Pilates every morning for me - I roll up the rug and roll out the mat and enjoy the view. Bikram Yoga (Cork) went online from the beginning. Then some kick-ass cardio sessions via Zoom just lately from Rogue fitness Kinsale to combat the urge to lie in bed eating crisps.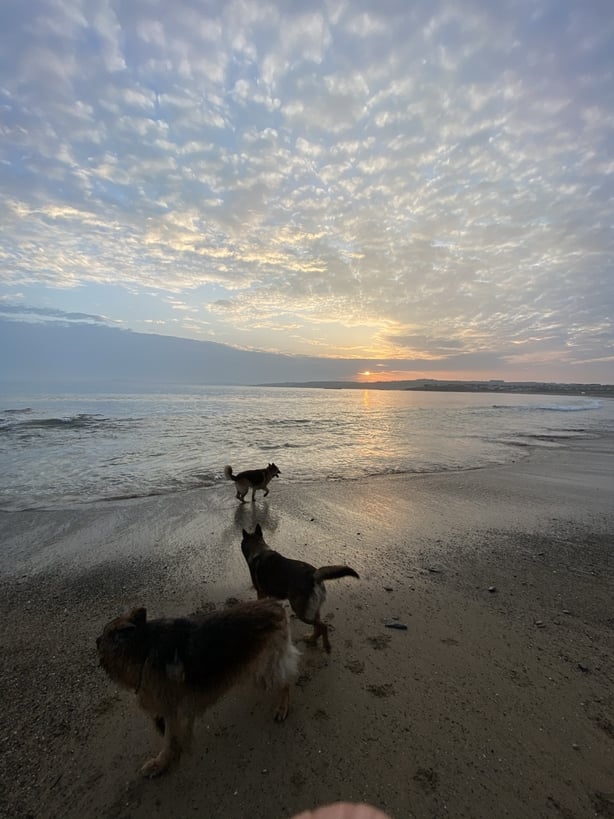 "We have three dogs and they have been beside themselves on empty beaches. Though as the restrictions ease, the leashes are back. It's a nice routine in the evening for all of us.
"The boy misses his friends in soccer, rugby and basketball. They were through to a rugby final which should have been played at the end of April. That's tough for kids. There's a basketball hoop in the yard. Despite weeks of lockdown I haven't improved much. Even when I try to cheat.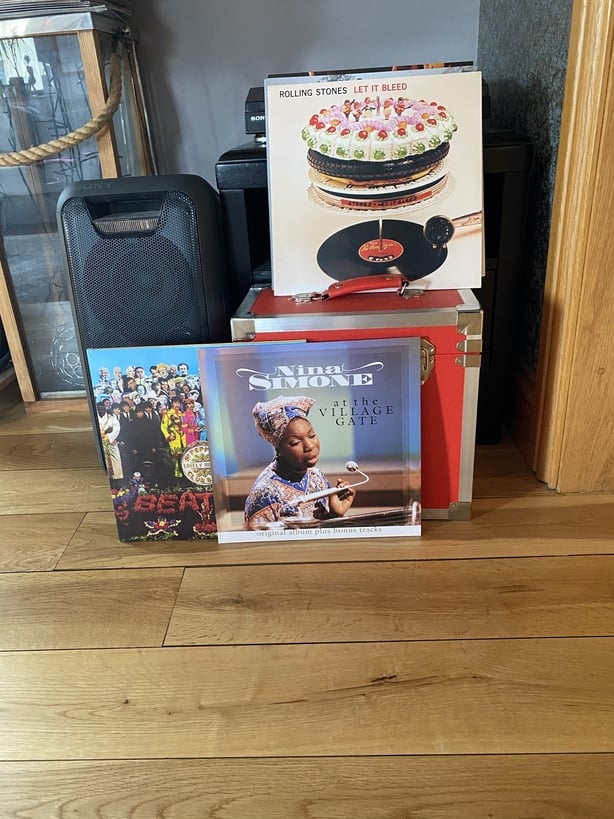 "Baking and cooking and feeding people, that's my thing. No sourdough for me, but I have enjoyed the performances from Instagram. I'm looking forward to hosting a feast for friends and family later in the summer.
"We had enough paint to keep us busy for a while. I have painted gates, fences and fence posts galore since March. I must admit I was grateful when we ran out of paint. I'm standing on a fertiliser thingy in the photo below, waiting for the cue to switch on the electric fence after a repair job. The hat hides the grey hair.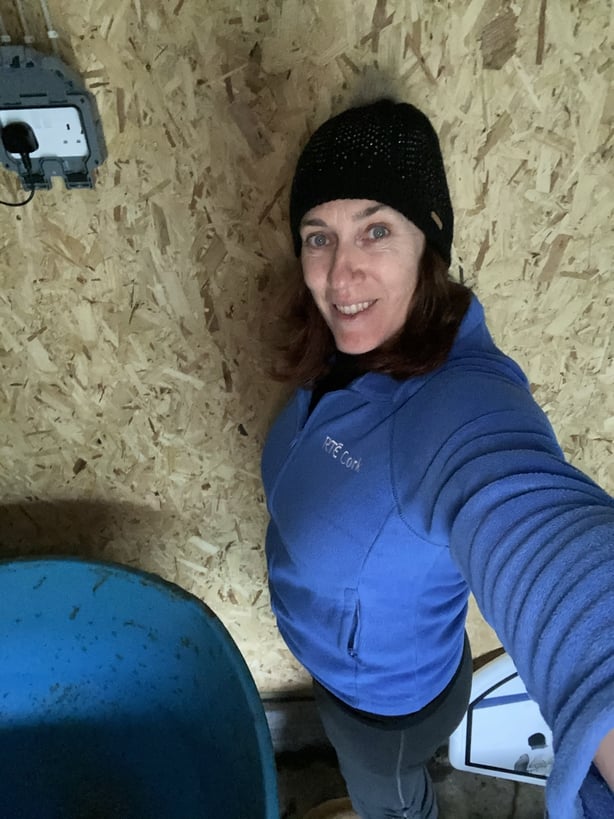 "The house has been cleaned inside and out. I have been making noises about sorting my wardrobe forever. I think I need professional help there. Work has been more or less the same for me. In the early days of the restrictions, it was a bit Zombie Apocalypse, driving for 45 minutes into the city without meeting a single car.
"There aren't even foxes or seagulls in the city at the moment. No chip wrappers to scavenge. I present Rising Time live from RTÉ Cork on Saturday and Sunday mornings from 6.00am until 8.00am. I leave the house at 4.00am. Rising Time has been busier, more requests, more people needing to make a connection from the restrictions at home.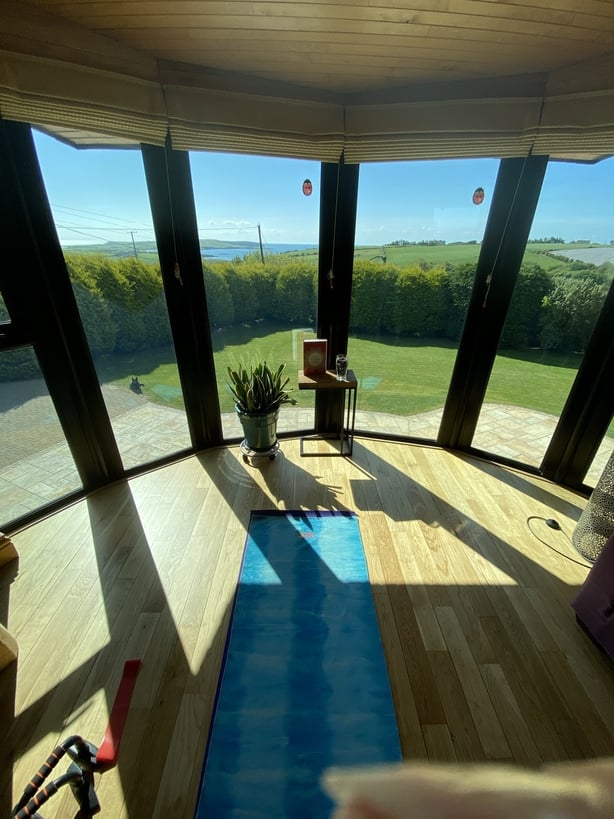 "Some of the messages I got from grandparents missing their grand-kids would break your heart. Music gives people a break and early morning weekend music should be a balm. I love my job and I'm so grateful I was able to keep broadcasting. There's a new protocol for keeping the studio clean and it's working. It's part of the routine now. Though it's weird still looking out the window to a closed church and empty streets. We as a nation will need to process our grief properly when this is over.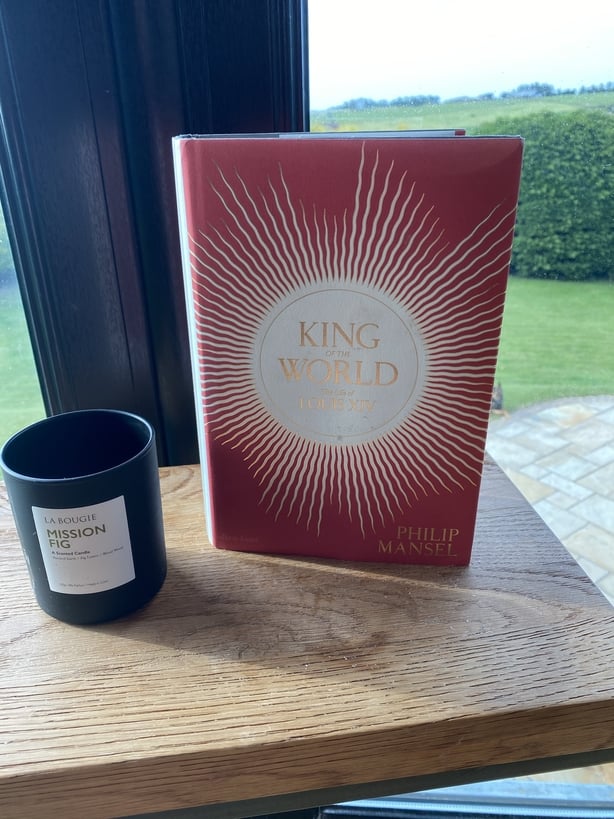 "After I finish I go buy a stack of newspapers and deliver some to my aunt in Gurranabraher on the north side. She has her front door open on Saturday mornings and we have the socially-distant chat. I drive back across the city to my dad and repeat the exercise. I often do a little shopping for him en route but my sister and my brother both live near by and they do the bulk of that. He's fed up and wants to see his grandchildren and his great-grandchildren. I'd see him more often before the restrictions, but we chat on the phone.
"In all I've enjoyed the slower pace of life. Before the restrictions we were a whirling blur of early morning hurry for the school bus, and rushed evenings for dinners, training and homework. I hope we get to keep some of that pace.
"Fingers crossed, we'll head to Inch in West Kerry at the end of July. We always take a week in the sun as well, but I've booked a few days in Barna for August. Myself and the Other Half will sneak off to the Park Hotel in Kenmare for my birthday in September. But I think that foreign holidays will wait until next year.
"As for cultural matters, we watched Normal People every week. I loved the book and I enjoyed the slow unfolding of the story every Tuesday night. On Netflix we watched White Lines which was meh, but nice to see Ibiza.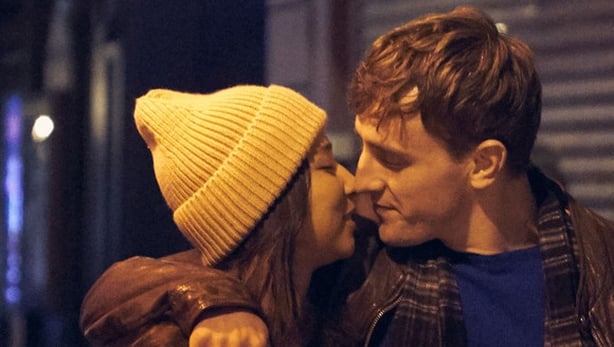 "I've been listening to a lot of old vinyl and I made playlists and brought the mini Bluetooth speaker along as we painted outside. The playlists Weeding and Painting3 have made it to national radio more or less.
"Like many people have mentioned, I found it hard to focus on reading at the beginning. Yes, I have read Hilary Mantel's The Mirror & the Light, and special mention too to Hilary Fannin's The Weight of Love and to Rosita Boland's Elsewhere.
"I finally finished a book called King of the World, which is a life of Louis XIV by Philip Mansel. A hardback, it's proved a useful prop for the phone during those online yoga classes."
Lilian Smith presents Rising Time live from RTÉ Cork on Saturday and Sunday mornings, 6.00am, RTÉ Radio 1