Writer-director David Freyne made his debut with Dublin-set horror The Cured, and his new film Dating Amber shows he's just as good at comedy as he is at doom.
In a story about growing up gay in the Ireland of 25 years ago, Normal People's Fionn O'Shea and A Bump Along the Way's Lola Petticrew play Eddie and Amber, classmates who are sick of the third degree about their sexualities and devise a plan to pretend to be a couple. They're convinced this will shut everyone up, when of course it actually gives them more to talk about.
Below, David Freyne tells us about bringing the most personal of films to the screen.
We need your consent to load this YouTube contentWe use YouTube to manage extra content that can set cookies on your device and collect data about your activity. Please review their details and accept them to load the content.Manage Preferences
Harry Guerin: Dating Amber is a 180 in terms of tone compared to your last film, The Cured. Was it always your intention to do something lighter, or did you only convince yourself after finishing The Cured?
David Freyne: No, I definitely always wanted to do comedy and, in fact, I tried to make Dating Amber several years ago, but it just didn't happen then. I just love a wide variety of genres and it's a privilege to be able to explore more than one. Having said that, I really feel at home with comedy-drama and, the older I get, the funnier my writing gets.
You've said it's "as personal a film as I will ever make". Did that add more pressure or joy to the film-making process?
Definitely joy. My friends and family were involved and I got to shoot it where I grew up [Co Kildare]. From script to screen, it's been the best experience of my life. I don't know if I would have tackled it as honestly or easily a decade ago, but it was just such a joyous and cathartic experience. I think a part of that is hindsight. Time has healed some of the wounds and given me the perspective to see the comedy and warmth that did exist amidst all the anxiety and pain.
What was the one thing above all others that kept you awake at night during the making of the film?
Like most things shot in Ireland, you are always worried about the weather and, historically, it has gone against me. I wanted this film to be doused in warmth and sunshine, like you were looking back at old photos. But I was fully expecting it to be lashing down for our five-week shoot. By some miracle we only got one day of rain - and it was a day that rain was scripted. I am resigned to the fact that this will never happen again for me.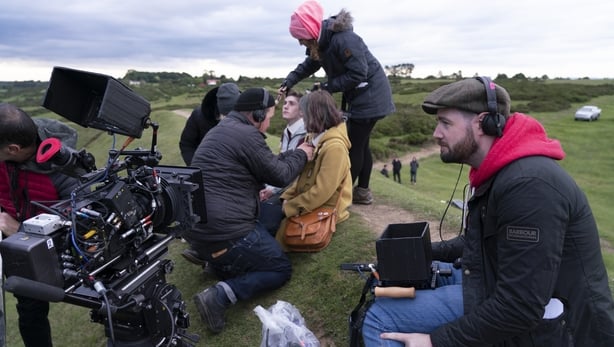 Were there scenes/situations you would have liked to have filmed but you had to cut your cloth according to your measure?
Not really, and that's largely because I had great producers, Rachael O'Kane and John Keville, that made sure we had the budget and means to tell the story I had on the page. I mean, it has certainly happened to me in the past that the weight of ambition cracks under the pressure of the budget. But on this everything seemed to come together. I had such an incredible team on this film that they delivered everything asked of them. Every department, just exceeded all expectations. And my DP [Director of Photography], Ruairí [O'Brien] and I were really prepared for every situation, so we were always able to adapt without it feeling like a compromise.
Great performances by your stars, Fionn O'Shea and Lola Petticrew. What was the light bulb moment with each of them where you said, 'I want them in my film'?
I love those two so much. They both did amazing self-tapes and auditions, but it was when we got them together during the chemistry reads that I knew I had my Eddie and Amber. All my anxiety was wrapped up in finding the right duo, so once I saw them together it was just the biggest sigh of relief. The film succeeds on their shoulders and on the audience buying their relationship. And what's so special now is that the two of them are just inseparable friends. I mean, they're quarantining together. I'm so proud of this film, but most of its success is because of them, their talent and their bond.
Another of the great joys of the film is the supporting characters and the great one-liners you gave them. Were their comebacks and cringe moments based on real-life situations, and has anyone been on to you to say they recognise themselves?
Yeah, I love our supporting cast. They're all so funny and each have their scene stealing moment, which is great. I mean, there is definitely a lot of truth in there, particularly with the cringier moments, but I fear my mystique has taken enough of a battering so I'm going to remain vague on it. The night the film launched I did a watch party with lots of friends that I was in secondary school with. Most of their real names are in the film in places. And they definitely recognised a lot of it. But it was also lovely that they sort of gained a clearer understanding of how school was for me being so closeted and insecure.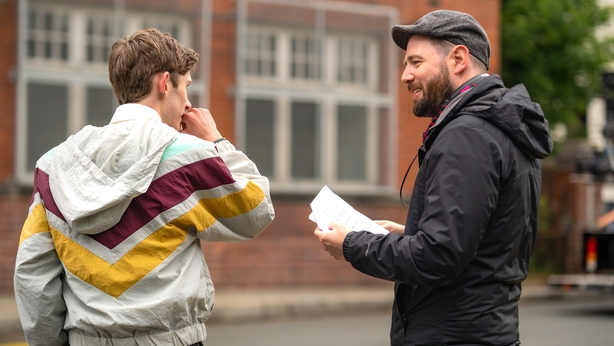 What are your own memories of 1995? Was it a big year for you?
Well in '95 I was only 13 and starting secondary school. So it was pretty miserable. I was very insecure, very shy and very lonely at that age. I would love to go back in time and let him know that it's going to be OK.
That Ireland now seems like a bygone age, rather than 25 years ago. Was it hard to recreate?
My production designer, Emma Lowney, and costume designer, Joan Cleary, were incredible. They worked miracles with what they had. And together with Ruairí, we all worked really closely together in creating the style and palette for the film. Also have to shout out to our hair designer, Niamh Glynn, and make-up artist, Katrien Frenssen, who did wonders too. That crimped hair sets the scene.
Settle this argument that's in the movie once and for all: Oasis or Blur - and why?
It's not an argument. Blur. Less machismo and vastly better music.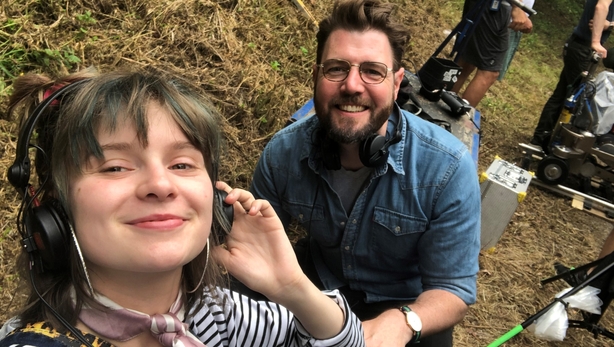 Would you ever think of catching up with the Dating Amber characters a few years down the line?
Yes, funnily the first draft of the script started and ended with older versions of the characters. It was a device that worked on the page, but the idea of having different actors pop in at the end just never felt right. But I would love to see them meet up again in London in a few years' time after having lost contact. And I really, really want to do a TV series with Tracey and Janet, the two schoolgirls, as they go off to Dublin to work as temps and hairdressers at the start of the Celtic Tiger. Mainly because I adore the actors Emma Willis [Tracey], Anastasia Blake [Janet] and Ian O'Reilly [who plays loudmouth Kev], and want to work with them more.
What is the most valuable lesson making Dating Amber has taught you?
I think to be kind to yourself. I really neglected myself during the making of my last film and it led me to a bad place for a bit. But with Dating Amber, I made sure to enjoy it and to look after my own health while making it. And not only does it leave you with greater memories but, I think, it allows you to create better work.
What's next?
I have a few things that haven't been announced yet so I can't say. And I'm using quarantine to write a new script too. It's a dark revenge comedy. And I really want to do some TV work in the near future. I'm just eager to get onto a set again.
Dating Amber is out now on Amazon Prime Video and will be released in cinemas later this year.