Brian Dowling has reflected on his time on Dancing with the Stars, saying that taking part in the show has taught him to be "a little more positive and to believe in myself".
The television presenter and his professional dance partner Laura Nolan became the fourth couple to be eliminated from the current season of the dancing competition on Sunday night following a dance-off against Sinéad O'Carroll and her partner Ryan McShane.
Speaking to RTÉ Entertainment the morning after being sent home, the endlessly upbeat TV star said he felt "a certain kind of calm, a bit like I've been set free".
Nolan, who was a newcomer on this series, interjected: "I think people are expecting us to say that we feel terrible, but I think we're just looking back on it and saying to ourselves 'we had a laugh, we really enjoyed it'."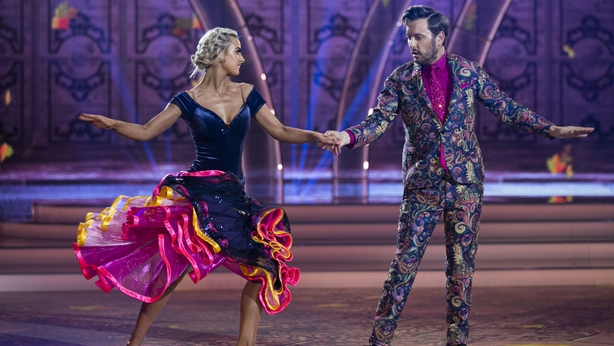 "From the looks every week to everything we've done I thoroughly enjoyed it," Dowling continued. "I had lots of little personal achievements, little goals for myself that happened on the show.
"I knew I was never going to win it. Sinead is an amazing dancer, she's so good. As much as it being an entertainment show, it's also a dance show and Sinead was the much better dancer and she deserved to stay for sure."
The Big Brother winner said he was delighted to have had the chance to make TV history during switch-up week when he took to the dancefloor with Kai Widdrington.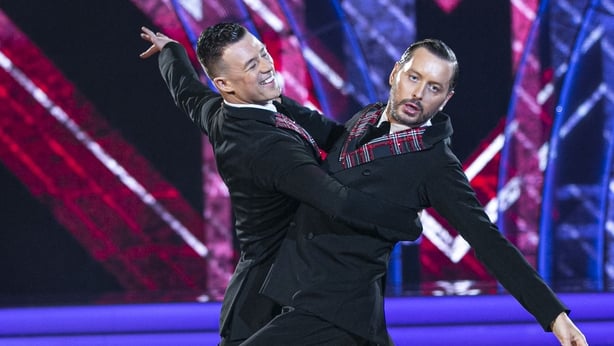 "Switch-up was the goal. I wanted to get to week 6, I wanted to dance with a guy, so any other week after that was only going to be a bonus." Dowling explained.
"Somebody sent in a message saying that because of our dance they came out to their family. That's what it's about, acceptance and celebration. In the studio that night we all felt that everyone was just so happy."
"It was such an emotional moment," Nolan continued. "In the studio there was a real special atmosphere. It was a moment where you knew this feeling would never happen again. I'm so honoured to have been a part of it."
Dowling said he was glad to have gotten the opportunity to push himself "out of my comfort zone and doing something like this that I said I'd never ever do. I think I live my life too safely sometimes."
He said the experience has taught him to be "more patient," continuing: "It's taught me to be a little bit more positive and to believe in myself. Before when I got a routine I'd be like 'no I can't do that'.
His dance partner added: "And actually it was this week in particular that he was like 'do you know something, I can do this'. It was a change in mindset. It's just about having self belief because he was really great.
"He brought a new energy to the show and entertained everybody. I'm so honoured and proud that I had him in my first year."
Commentators have said that Father Ray deserved to be sent home from the competition ahead of Dowling, but the TV star doesn't agree.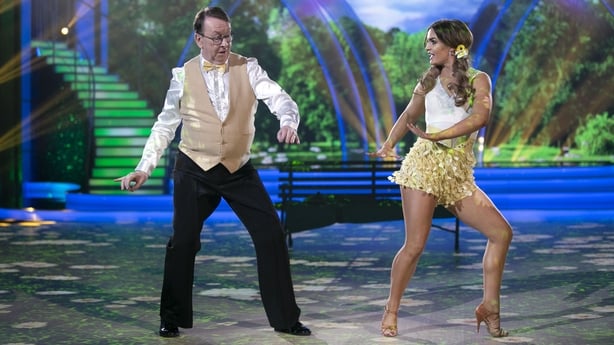 "This is just the premise of the show, people are going to go every week," Dowling said. "Ray has improved from week one to what you've seen in week 7 last night. At the end of the day people are voting for him.
"As much as it's a dance show, it's also an entertainment show. He's older than me and he's doing so well. He could go all the way!"
Dowling was full of praise for his former competitor.
"Ray being a priest and me being openly gay doing the same sex dance on the show, he was so supportive," he shared. "He's such a lovely man."
The TV star said he would love to see someone who previously had no dance experience lifting the glitterball trophy.
He said of his picks to win: "I loved getting to know Grainne and Aidan, but also Mary. Anyone for me that's come into this show who's never danced before, for me that's what it's all about because I think it gives people hope at home."
Dancing with the Stars continues on Sunday at 6.30pm on RTÉ One.
Click here to listen to this week's podcast - James Patrice gets up close and personal with some real-life DWTS couples.
If you missed the show on Sunday you can catch up here on the RTÉ Player