Irish television history was made on RTÉ One when Brian Dowling and Kai Widdrington - and then Lottie Ryan and Emily Barker - took to the floor as same-sex professional and celebrity dance partners, in a first for Dancing with the Stars.
It was Switch Up Week on Saturday night's groundbreaking show, which meant that all the celebs got to dance with a different professional dancer.
This week's opening routine saw all the celebrity and pro dancers on the dance floor, kicking off with a group performance to Moving On Up by M People.
The first couple to perform were television presenter Mary Kennedy and her pro partner for this week, Ryan McShane. They took to the floor with a fun, giddy jive to Twistin' the Night Away by Sam Cooke.
Afterwards Mary said: "It was quite a short period of time " but she "was glad to learn a jive." Mary also paid tribute to the late Keelin Shanley.
Judge Loraine said she "really liked the way you worked together," while Julian complimented Mary's legs. Brian said Mary "did very well" but felt she "needed a bit more energy".
Mary scored 14 points from the judges.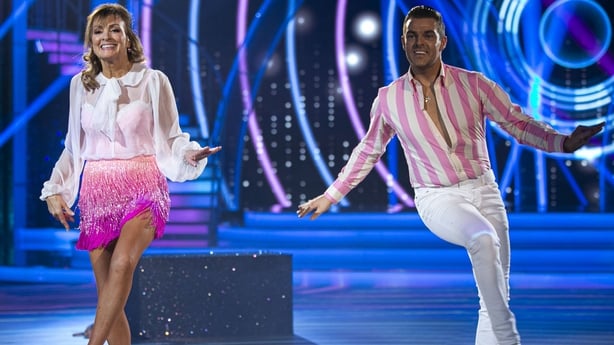 Next up, Fair City actor Ryan Andrews was partnered with Ballroom Champion Laura Nolan. They danced an enchanting waltz to Open Arms by Journey.
Afterwards Ryan said: "The pressure was on . . . especially as Laura's a champion ballroom dancer."
Judge Brian thought "Ryan was excellent" while Loraine used words like "fabulous" to describe his performance.
Ryan scored 25 points from the judges.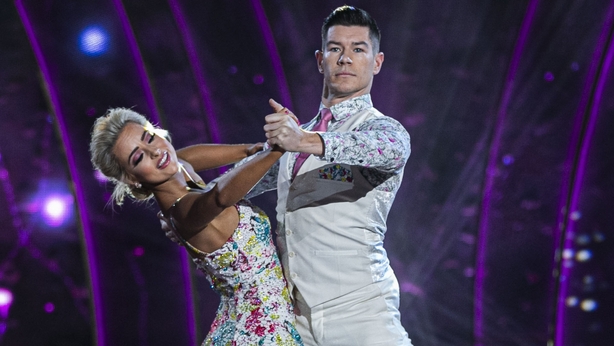 Fr Ray Kelly then danced a charleston with his new partner Giulia Dotta. The pair danced to National Express by Divine Comedy.
Commenting after they finished Fr Ray said nothing as he was out of breath, but Giulia admitted: "I've never danced with a priest before!"
When Father Ray finally found his breath he said: "I really enjoyed it!"
Judge Brian said he was "quite happy" that Father Ray was still on the show, while Loraine "loved it", while Julian said he was "going from strength to strength".
Fr Ray scored 14 points from the judges.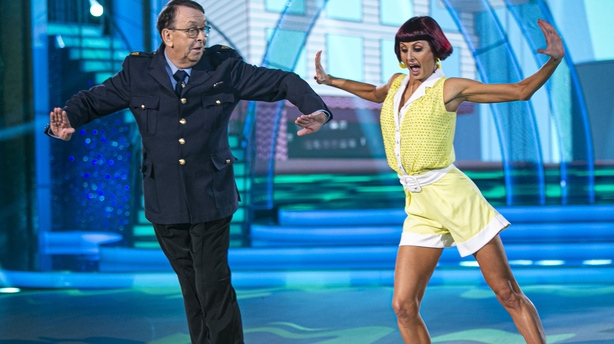 After a break, singer Sinéad O'Carroll and her switch up partner John Nolan performed a Viennese Waltz to Guilty by Paloma Faith.
Sinéad admitted that "I had to go for it!" while complimenting her new partner.
Judge Loraine described the dance as "dark and moody" and "outstanding", while Julian said they turned the Viennese waltz "upside down".
Sinéad scored 27 points from the judges, which proved to be the night's top score.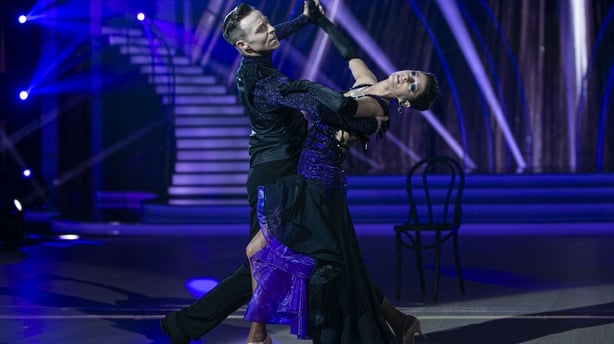 Next up was Kilkenny Hurler Aidan Fogarty, paired up with Kylee Vincent this week. They performed a lively cha-cha-cha to Feels Like Home by Sigala.
Afterwards a very honest Aidan admitted "maybe tonight wasn't my best".
Judge Julian called it a "tropical, pop-ical cha-cha" while Brian felt it had "a great party feel to it" but told Aidan that the performance "wasn't up to your usual standards".
Aidan scored 18 points from the judges.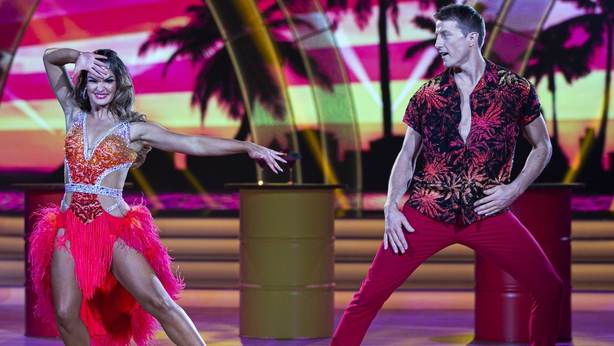 The moment viewers and audience members alike then came when Brian Dowling got to fulfil his dream of dancing with a same-sex professional for the first time ever on the show.
Wearing matching suits, Brian and Kai Widdrington danced the quickstep to Take That's Out of Our Heads.
Afterwards an emotional Brian admitted: "I've never been so nervous in all my life!"
Judge Brian described Brian as "brave" and felt "it was a very good try", while Loraine described the performance as "amazing". Julian added that "it was a loud and proud quickstep" that "made history".
Brian scored 23 points from the judges.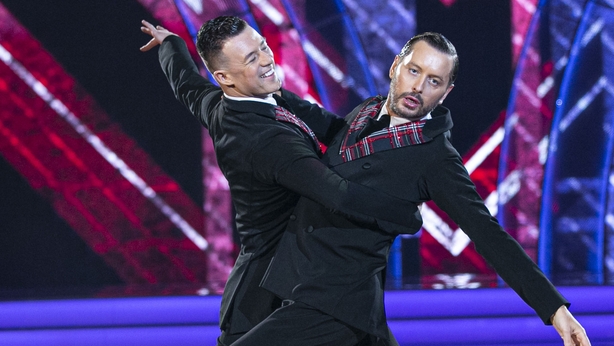 Following Brian and Kai, model Gráinne Gallanagh, who topped the leader-board last week, was paired with Pasquale La Rocca. They performed a rumba to Beautiful People by Ed Sheeran featuring Khalid.
Afterwards, Gráinne conceded that she felt "awkward beside" Pasquale, but added: "I think it went well".
Judge Loraine said that Gráinne "got all the footwork right", while Julian saw the performance as "an authentic rumba" but wanted "a little bit more commitment" in the dance.
Gráinne scored 18 points from the judges.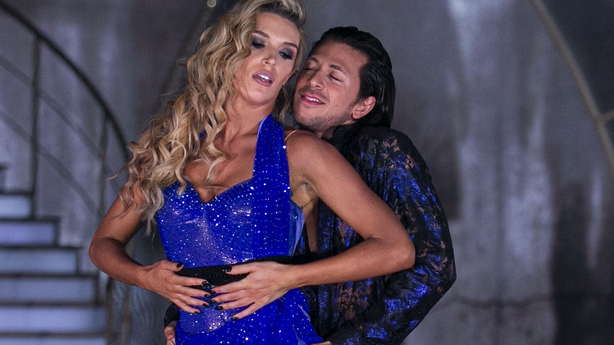 Next up were Lottie Ryan and Emily Barker, performing a high energy charleston to Woman Up by Meghan Trainor. Female empowerment was the motivation behind Lottie and Emily's routine.
Afterwards Lottie said: "Dancing with Emily on this dancefloor is just a huge privilege."
Judge Julian said "Go girl power!" while complimenting the nod to Beyonce, then Brian described Lottie as "really brave" and said she "knocked it out of the park".
Lottie scored 26 points from the judges.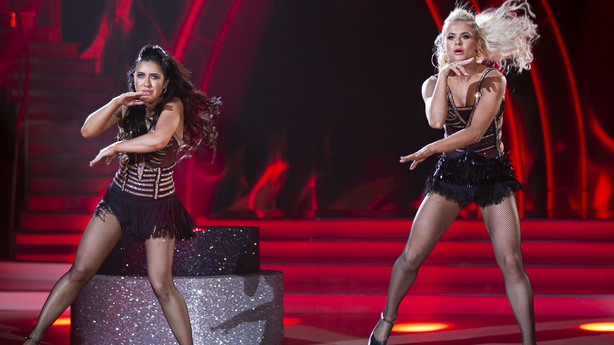 Viewers were then treated to an exclusive performance of judge Julian Benson's charity single, Cha Cha Boom, accompanied by dance troop, Fly Youth.
He was fantastic!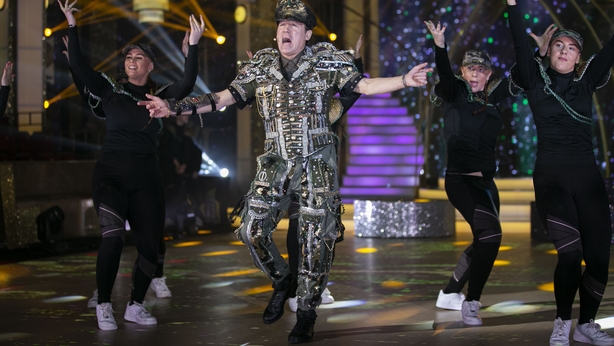 After the final break, Nicky had a lot to chat to the celebrities about after such a busy show. The pro dancers then danced a Lindy Hop to Hit the Road Jack. As the voting lines closed, Nicky met the judges to get their take on Switch Up week.
There were no eliminations this week and celebrities will return to their original pro-dance partners as they prepare for the start of the dreaded dance offs - which will begin on next week's show, which airs in its traditional Sunday evening slot on RTÉ One.