Beverly Hills, 90210 star Shannen Doherty has revealed she has stage four cancer.
In an interview with ABC News' Amy Robach that aired on Good Morning America on Tuesday, 48-year-old Doherty said: "It's going to come out in a matter of days or a week that - I'm stage four. So my cancer came back. And that's why I'm here." 
"I don't think I've processed it. It's a bitter pill to swallow in a lot of ways," she continued.
Doherty was first diagnosed with breast cancer in 2015 and documented her treatment. She kept the return of her cancer secret while she worked on the recent BH90210 reboot.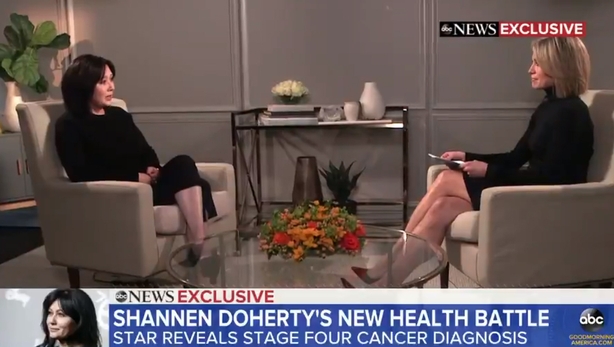 "Like, you know, our life doesn't end the minute we get that diagnosis," she told Robach. "We still have some living to do."
She said she was sharing the news that her cancer had returned because her illness could feature in documents relating to a legal action she is taking. Doherty is suing an insurance company following damage to her house in a 2018 California wildfire.
"I'd rather people hear it from me," she explained. "I don't want it to be twisted. I don't want it to be a court document. I want it to be real and authentic. And I want to control the narrative. I want people to know from me; I just didn't want them to know yet."
If you have been affected by issues raised in this story, please see: www.rte.ie/helplines.