As The Script release their new album Sunsets & Full Moons, drummer Glen Power has told RTÉ Entertainment that parental loss has made them stronger as a band because he, singer Danny O'Donoghue and guitarist Mark Sheehan "realise the importance of what we have as friends".
Below, Glen Power talks more about bereavement and bonds that can't be broken.
This album's release is not unlike the circumstances that surrounded our first album.
Danny's mum died seven months ago. My dad died about seven weeks ago. Mark's mother was dying as we were making the first album. Then [when] we were about to put it out there and things were starting to rise, Danny's father died. The worst things that could happen in your life just before one of the great things that's happened in our lives - music. 
Death knocking on your door, coming into your house, really teaches you about life.
It's a shame I have to wait for something like that to happen to bring into sharp focus what's important. So for me it's only now that the 'gift' of it is starting to appear after just trying to deal with the emotional side of it. It's the hardest thing that's ever happened in my entire life and the worst thing that could ever happen to me. And yet, it's kind of given me the greatest gift because I realise that the things I worried about aren't worth it. Whereas things have happened to me before and I thought, 'Well that's it; I'm not going to worry about this', this particular thing has changed me in a way that's never going to switch back to just getting on with life as usual.
I realise now, for my dad, I have to live a good life, be happy and shape a good life around me.
That's what he'd want. He wouldn't want me to be miserable, depressed, unhappy. He'd want me to remember him, but he'd also want me to just treasure and make good things and not have s*** in my life. Just cut the fat and be happy.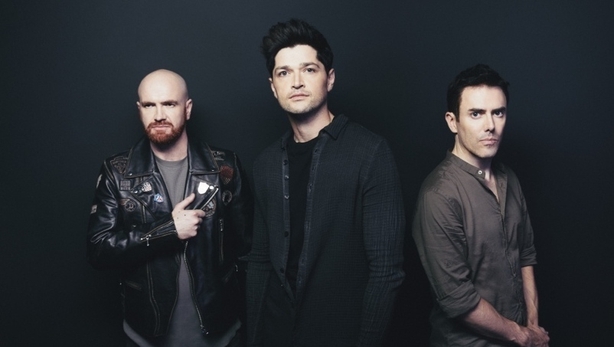 I was with my dad the whole time he was sick.
I got to interview him, podcast-style. I brought in two microphones. I asked him about his childhood, favourite curse word, what's his best day, what's the nicest thing anyone ever said to him. I got so much, and little did I know doing it how important it was, and how much it would be treasured. I got loads of voice notes. I just didn't realise I was gathering gold.
I listened to it a lot afterwards because I was so broken and now I've kind of given it a break because I need a bit of distance from it.
I realise now the man he was, and is, through me in a way and the things I've learned from him. No matter what would've happened I could never have learned that while he was alive. It's a shame, but I understand it's part of being human, it's part of the way the world works. It's even hard for me to put it into words. There's just things I know now that I couldn't have known.  
I'm very blessed to have had the dad I had.
He pushed me into learning music properly. He dropped me off at my first gig when I was 15. He drove me, and the drums, in the van. Took the gear out, put me there at the Royal Oak in Finglas and just said, 'I'll be back for him at 12 o'clock'. I didn't know who the guys were, and he just left me there! 
My dad was a singer for years.
He was in the middle of recording a new CD. He'd just finished it. He had the CDs printed and all - they're all in the hallway in the house. He was making all these plans. He was getting the old band back together. He was going to rehearse. At 71 he was doing all that. That's the kind of character he was; he was a real leader. I've so many things I can take from it, but I miss him and it's been terrible.
Tomorrow it can change for all of us in a heartbeat.
The most important thing is to be with people that you love. Be kind to other people. Be so grateful for what you have around you and them people. And then nurture that and try and make good memories in every day you're in. Anything else is a bonus. But don't worry about stuff that just isn't important.      
We got to play my dad the new music before it came out.
We were in the hospital with him, we brought a speaker in. Danny was great, came down there a couple of nights with me. He was just brilliant because my dad and Danny's dad performed together years ago, so there was a connection there. So Danny was in chatting to him and he was asking my dad about his dad because my dad knew loads of stories. And I recorded that evening on my phone as a voice note.
We need your consent to load this Instagram contentWe use Instagram to manage extra content that can set cookies on your device and collect data about your activity. Please review their details and accept them to load the content.Manage Preferences
I think loss has made us stronger as a band.
We realise the importance of what we have as friends and what we have historically and the things we've been through. For these things to come in the door and hit us all like that, and for us all to just rally and be with each other when those things happen... Without even saying words to each other, just knowing, 'They're here. They've got my back'. 
For me, the new song Run Through Walls, out of almost any song we've ever done, has probably the most significance.
It's the song about what happens when something really bad goes down in your life, i.e. a parent passing away, and your real friends running through walls to be by your side and dropping everything to be there. I didn't realise the significance of that until what happened to me happened to me. Danny walked in and was there for me and went out of his way to drag me down to the Forty Foot and have a swim. He got in the feckin' Forty Foot with me and Danny does not swim in the sea! He really, really was there in a way that I was quite amazed at and humbled by. For me, that song took on a whole new meaning then.  
If you have been affected by issues raised in this article, please visit: www.rte.ie/helplines.
Sunsets & Full Moons is out now on Sony. The Script will sign copies of the album in Golden Discs, Dundrum on Sunday, November 10, at 5:00pm.