The Script's Danny O'Donoghue told The Late Late Show on Friday night that he "went off the rails" following the passing of his mother in February, and he urged others to open up about loss in their lives.
The band are releasing their new album Sunsets & Full Moons in the midst of grief with drummer Glen Power also losing his father in September. 
"How did you go off the rails?" host Ryan Tubridy asked O'Donoghue.
"Ah, just... You don't want to know," the singer replied. "Just going off the rails. Turning to drink, just wanting to forget about everything, just wanting to really blot it all out."
"I went to a very dark place," he continued. "The guys [band] were... I can only go to those dark places when the boys have me firmly by the ankles, though."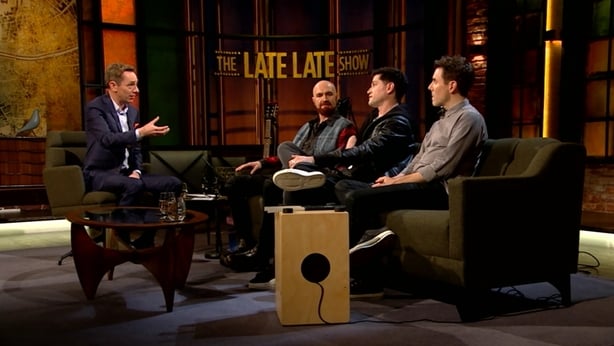 O'Donoghue said exercise became a "massive, massive part" of helping him to cope and urged people to talk about their feelings.
"We've had a hell of a year from, you know, break-ups to the births of children to the deaths of parents, and it's really, really, really important that you get it out and that you talk about it - amongst yourselves, and to your wife, to your boyfriend, to your husband, to anybody. 
"Because I believe there's a difference in grief when a woman is talking to another woman - they're amazing to just open up and they can just cry and stuff. But, you know, when a woman's talking to a man about it, it's almost like the man feels like, 'I'm letting you down. And you're not going to feel like I'm the soldier in your eyes if I tell you that I'm grieving'."
If you have been affected by issues raised in this article, please visit: www.rte.ie/helplines.
You can watch the interview in full on the RTÉ Player.