Saoirse Ronan has been tipped by US critics to receive her fourth Oscar nomination - this time for her performance in Little Women.
The new adaptation of Louisa May Alcott's classic coming-of-age-story reunites Ronan with Lady Bird writer-director Greta Gerwig and star Timothée Chalamet and is released in cinemas on December 26.
The cast also includes Laura Dern, Florence Pugh, Eliza Scanlen, Meryl Streep and Emma Watson.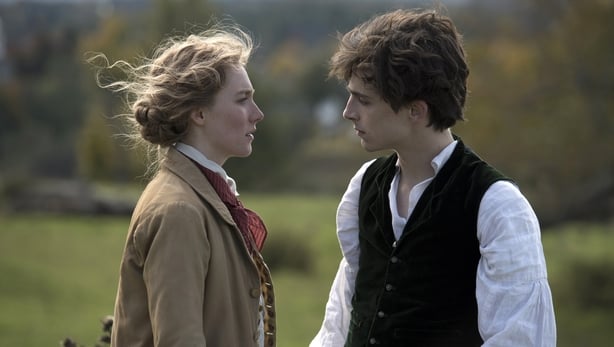 Ronan is playing Jo March, with Pugh portraying Amy March; Scanlen playing Beth March and Watson playing Meg March. Chalamet will play Laurie, with Dern as Marmee March and Streep as Aunt March.
Marc Malkin, Senior Film Awards, Events and Lifestyle Editor with entertainment trade daily Variety, tipped Ronan for a Best Actress nomination, with co-stars Pugh and Chalamet contenders in the supporting categories.
#LittleWomen could earn multiple Oscar noms, including best picture and directing for Greta Gerwig. As well as another for Gerwig for adapted screenplay.
As for acing noms--lead actress for #SaoirseRonan, suppporting for #FlorencePugh and possible #TimotheeChalamet.

— Marc Malkin (@marcmalkin) October 24, 2019
David Canfield, Books Editor and Awards Writer with Entertainment Weekly, also enthused about Ronan's performance, describing it as "fierce".
So I've seen Little Women twice now and it's one of my very favorite movies of the year. Greta Gerwig delivers a both passionately faithful and gorgeously original take. Saoirse is a fierce Jo, Chalamet/Dern/Streep esp are great in support, and Florence Pugh is astonishing.

— David Canfield (@davidcanfield97) October 24, 2019
The Hollywood Reporter's Scott Feinberg wrote: "Ronan, though just 25, has established herself with voters in a big way - her likely Oscar nom, for best actress, would be her fourth, on the heels of 2007's Atonement, 2015's Brooklyn and 2017's Lady Bird, all of which were also nominated for best picture".
Writer Jenelle Riley was adamant Ronan would be on the shortlist when the Oscar nominees are announced on January 13, 2020.
Saoirse Ronan is going to land her fourth Academy Award nomination for #LittleWomen at the age of 25. In related news, I needed a two-hour nap today after stubbing my toe.

— Jenelle Riley (@jenelleriley) October 24, 2019
Critic Scott Mantz described Ronan and Pugh's performances as "terrific", while writer-director Ben Mekler said the film marked Ronan's best work to date.
LITTLE WOMEN: A delightful gem of a movie exquisitely & lovingly crafted by Screenwriter/Director #GretaGerwig! Terrific performances across the board, especially #SaoirseRonan & #FlorencePugh! Deserving of multiple Oscar noms, including Best Pic! #LittleWomen @LittleWomen pic.twitter.com/q0vL4JLjkL

— Scott Mantz (@MovieMantz) October 24, 2019
#LittleWomen is a guaranteed Oscar contender. Gerwig confirmed as one of the most exciting filmmakers working. Didn't love that the women were so big - Meg, Jo, Beth, and Amy each at least seven feet tall with (rather strong) VFX. That said, Saoirse Ronan's best performance yet.

— Ben Mekler (@benmekler) October 24, 2019
Viewers can judge for themselves when the film opens on December 26.
Ronan joined her Little Women director and co-stars at a special screening at the Directors Guild of America Theater Complex in Los Angeles on Wednesday night.
Ample "Little Women" love vibes in swirling around in the DGA theatre following this evening's screening. Fervent, too-notch direction by Greta Gerwig; superb lensing & set design. Excellent perfs from Saoirse Ronan & Florence Pugh. A highly respectable remake of a classic. pic.twitter.com/azcqSzfGLN

— Hollywood Elsewhere (@wellshwood) October 24, 2019