Rising Irish band Picture This have announced two huge gigs in Cork and Dublin for 2020 and the release of a new single.
They play the Irish Independent Park in Cork on June 26 and Dublin's Malahide Castle on June 27 next year, with tickets priced €49.90 on sale at 9.00am on October 24.
The band, who released their second album MDRN LV last February, have also released a new single, One Night.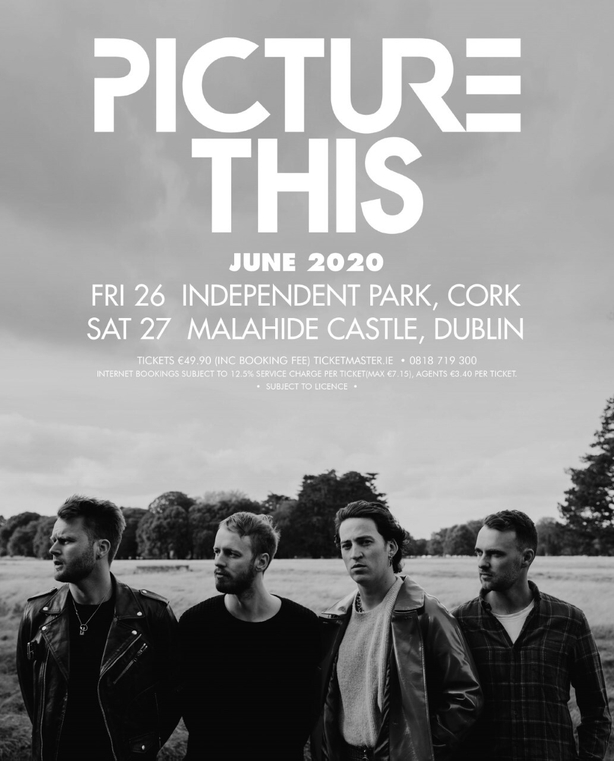 Commenting on the new release, Picture This said, "One Night is not just a song about the complete and utter turmoil of being cheated on by the one you love, it is a defiant stance to that stage where the person who has done you wrong says they wish they hadn't, and they wish that they had done things differently.
"This song is saying maybe if you didn't go and cause all the hurt that you caused then you wouldn't be in this desperate position. We hope One Night helps people to not pick up the phone to the so-called lovers who have broken their hearts."
The band will also undertake a short European tour, kicking off in Glasgow on October 24. The 14-date jaunt brings the band around Europe with shows in the UK, Germany.
The biggest-selling Irish act in both 2017 and 2018, the band's self-titled 2017 full-length debut album was certified triple-platinum in Ireland, it held the No.1 spot in Ireland for four weeks, while topping the Streaming Chart for seven weeks.
They also played their first stadium tour of Ireland last year, including a 35,000-capacity show in The RDS, as well as a sold out a five-night stand at 3Arena in Dublin.
The band aimed high when they launched MDRN LV on the top of the Empire Stare Building earlier this year.
More music news, reviews and interviews here