Director Colin Trevorrow has revealed that a secret Jurassic World short film was shot in Ireland last winter - and fans won't have long to wait to watch it as it's out this weekend.
Trevorrow directed and co-wrote 2015's smash-hit Jurassic World and co-wrote the script for the 2018 sequel Jurassic World: Fallen Kingdom, both of which feature Hollywood stars Chris Pratt and Bryce Dallas Howard.
The American filmmaker has now divulged the extremely exciting news that he and his cast and crew secretly shot an eight-minute short film set in the Jurassic World universe, titled Battle at Big Rock, on the Powerscourt Estate in Wicklow last year as it bears a striking resemblance to the national parks in Northern California.
Some thoughts on making a dinosaur short film in Ireland with the best people. https://t.co/mWsM8GCnkb

— Colin Trevorrow (@colintrevorrow) September 11, 2019
In an interview with Collider, Trevorrow opened up about the project for the first time.
"Battle At Big Rock is a short film that takes place one year after the events of Fallen Kingdom", he said. "It's about a family on a camping trip to Big Rock National Park, about 20 miles from where the last film ended.
"There have been a few sightings, but this is the first major confrontation between dinosaurs and humans."
He explained why they decided to make the film in Ireland and expressed his surprise at the project not being leaked.
"We shot it in Ireland last winter. They have a grove of redwood trees outside Dublin that look exactly like the national parks in Northern California", Trevorrow continued.
"I honestly never thought we'd make it this far without getting found out. The Irish can keep a secret."
Production on the eight-minute short, which stars Selma and Moonlight actor Andre Holland and End of Watch's Natalie Martinez, was completed in five days with a small crew.
"We had two child actors, a giant animatronic dinosaur and a baby. It shouldn't have worked, but it did", he joked.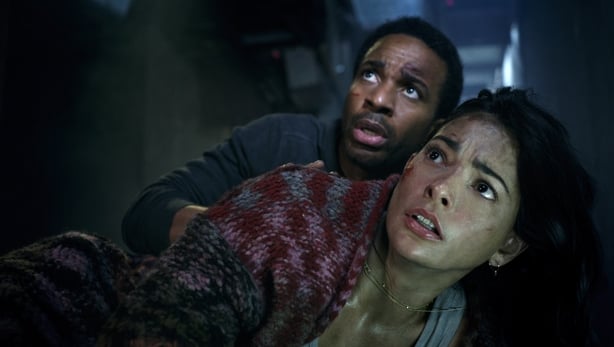 The director added of making the movie on a tighter budget than usual: "We didn't have all the resources we're accustomed to, but limitations are good. And none of the limitations mattered because everyone showed up ready to kick ass.
"No one's ever shot a Jurassic movie in Ireland, the crew was fired up. The cast was fully committed to making 8 minutes that could stand alongside the movies."
"We were a family and we believed in what we were doing. It felt like an indie film, but with a massive animatronic."
Battle at Big Rock airs this Sunday, September 15, on FX in the US after Jurassic World and will be online immediately afterwards.