It's Electric Picnic time again. Here's our choices of the must-see acts over the weekend in Co. Laois
Billie Eilish (Main Stage, Friday, 7.30pm)
Following music sensation Billie Eilish's mind-blowing Glastonbury appearance in June, Irish fans will be eagerly awaiting her Electric Picnic slot. It's sure not to disappoint.
The 17-year-old (how is she only 17?!) has had a staggering career trajectory thus far. She has been writing songs since she was 11 and released her debut track Ocean Eyes, produced by her big bro Finneas O'Connell, on SoundCloud in 2015.
After achieving a cult following among the kids, Eilish shot to mainstream success earlier this year with the release of her debut album When We All Fall Asleep, Where Do We Go?
Prepare to hear every word of her hit single Bad Guy shouted back from the crowd in Stradbally. This is her moment. Sarah McIntyre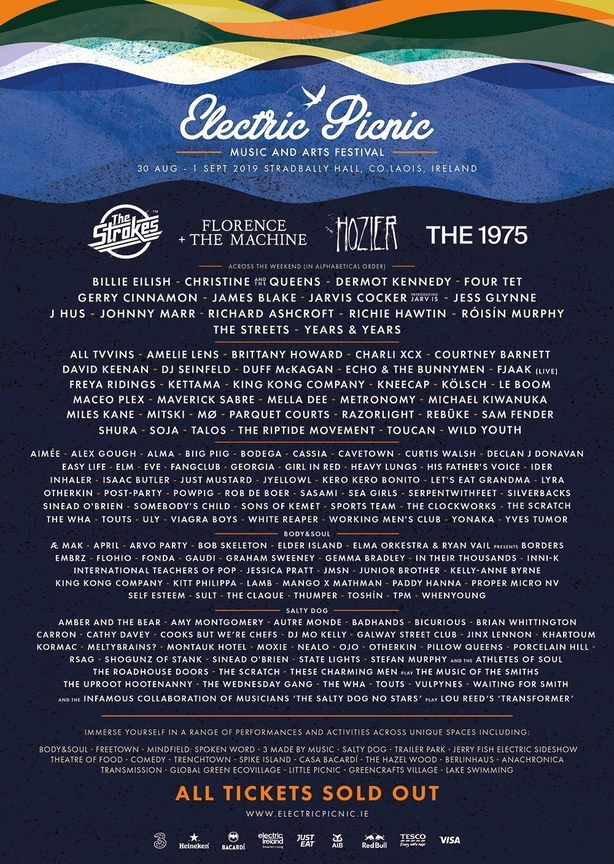 The Strokes (Main Stage, Saturday, 11.30pm)
Here's one for fellow kids of the noughties! New York rockers The Strokes blasted onto the scene with their pretty-much perfect debut album Is This It in 2001.
The deliciously lo-fi record spawned hits such as Last Nite, Hard to Explain and Someday, which still sound as fresh today as they did almost two decades ago.
They've since released four albums and most recently an EP in 2016 through singer Julian Casablancas' Cult Records. The band have been sporadically playing gigs, so don't miss the chance to see them crack out their perfectly executed indie rock bops live. SM
"Child of the 90s" Leo Varadkar takes our Electric Picnic Q&A
Johnny Marr (Electric Arena, Sunday, 6.00pm)
Given Morrissey's increasingly outlandish remarks on, well, just about everything, the eternal flame of Smithdom has passed onto Johnny Marr. After a career as a gun for hire for vital acts like Talking Heads and The The et al, and as a member of bands like Modest Mouse, Marr finally launched his solo career in 2013 and has since released three albums of increasing sophistication and, as you'd expect, melodic nous. This will be Johnny guitar's first Irish date since last November's gig at Dublin's National Stadium (an old stomping ground for both him, Moz and The Smiths) and going by his recent sets, you can expect him to reel off a lot of Smiths classics as well as a smattering of Electronic songs at EP. Likely to be the coolest cat to a stage this weekend. His singing is just fine but boy can he play guitar. Alan Corr
Dermot Kennedy (Main Stage, Friday, 9.00pm)
One of Ireland's brightest burning stars of music at the moment, Dermot Kennedy is known for his lyrical prowess, his goosebump-inducing vocals and his multi-genre influenced production.
From his songs like Glory and Power Over Me to his latest singles Lost and Outnumbered, Kennedy's work feels universal and personal all at the same time. In the live setting, his voice takes centre stage and he can hold an audience right in the palm of his hand. Sinead Brennan
Freya Ridings (Electric Arena, Saturday, 5:45pm)
I first came across Freya Ridings while watching an episode of Grey's anatomy (don't @ me, we all have our guilty pleasures). By the power of Shazam I was introduced to her 25-year-old singer-song writer who, as it turns out, has a whole album of songs that could soundtrack an entire season of the impassioned medical drama.
So if you're need of some therapy or a good oul' cry of a Saturday afternoon make it your business to catch Freya Ridings' session in the Electric Arena. If nothing else you'll be impressed by her soaring vocals and, if you're numb from too much partying, she will bring you back to life. Suzanne Keane
Mitski (Rankin's Wood, Sunday, 9.30pm)
Japanese-American singer-songwriter Mitski Miyawaki inspires an almost religious devotion among her growing fan base. Her most recent Irish show in Dublin's (now sadly demolished) Tivoli theatre was a night of celebration in which Mitski combined force of nature performance art, Björkian avant garde, and pop smarts. She'll be playing tracks from her five-album back catalogue at EP but with an emphasis on last year's sublime breakthrough Be the Cowboy. One minute she's the Patsy Cline Pixies; A Pearl has the same quiet/loud dynamic of the Boston godheads, while Lonesome Love sounds like the work of a veteran country singer. A captivating performer. AC
Four Tet (Electric Arena, Saturday, 11.30pm)
The FOMO should be real if missing Kieran Hebden's Four Tet set is looking like a possibility for you this EP.
The visionary artist brings his distinct brand of experimental electronic music to Stradbally and it's a guaranteed good time. You'll dance, you'll sway and you'll be utterly enthralled. SB
The Streets (Electric Arena, Sunday, 10.30pm)
Long before Instagram and 'influencers' were a thing, legendary rapper and banger creator Mike Skinner hilariously documented the art of posing for attention, and the increasing fake tan epidemic that swept the Noughties in a catchy little ditty.
While Fit But You Know It still remains an anthem, Skinner has since dabbled in other musical projects as well as reinventing himself as a successful DJ.
Following a six-year hiatus, the Brummie revived The Streets with a touring band which also features Rob Harvey of The Music on guitar.
Fans can't be promised that they'll hear any of Skinner's new material from his upcoming collaborations/duets album, but old-school fun from Original Pirate Material (2002) and A Grand Don't Come for Free (2004) will have you and your mates crying tears of joy. Laura Delaney
Bonnie Tyler (Electric Ireland Throwback Stage, Saturday, 7.00pm)
You won't be left Holding Out For a Hero this Electric Picnic as the power ballad queen Bonnie Tyler makes her return to Electric Ireland's Throwback Stage, which is always a one-stop-shop when it comes to a bop and some ultimate feel-good vibes.
When else can you sing along to Total Eclipse of the Heart with the legend herself? Embrace the throwback! SB
Abandoman (Comedy Stage, Saturday)
Abandoman, aka Rob Broderick, aka the real lyrical gangster, is without question, the king of freestyle comedy.
Described as 'Flight of the Conchords meets 8 Mile', the Dublin-born stand-up comedian uses razor sharp wit and hip-hop-infused humour to make delicious musical sketches.
From rapping about the contents of festival-goers pockets (don't say we didn't warn you) to matchmaking randomers, this guy can add slick beats to just about any object and person. The high-octane performance is guaranteed to have audiences chuckling long after they've left Stradbally. LD
Let's Eat Grandma (Three Made By Music, Sunday, 8.30pm)
British teenage duo Rosa Walton and Jenny Hollingworth won well-deserved acclaim for their startling and unsettling debut album I, Gemini in 2016. Daring to be different, their songs of young love, chocolate cake, and dead cats were dressed up in a kind of macabre folk and eerie fairytale magic.
For their ambitious and expansive second album, 2018's I'm All Ears, they teamed up with David Wrech, who's previously worked with sonic adventurers like Caribou and Frank Ocean, and it revealed that the duo are more than just a mere novelty. Their EP appearance promises to be an enchanting affair full of non-stop invention and spooky charm. AC
NLB (Living Lab Stage, Body & Soul, Saturday, 10.00pm)
Up and coming DJ duo NLB are quickly becoming a fixture on the Irish festival scene, with their sets at EP last year and June's Body & Soul absolutely buzzing.
Their name stands for Next Level Bangers, and that's pretty much what they provide. You'll hear everything from disco funk to deep house and a few unexpected remixes thrown in for good measure. Expect to dance... a Lot. SB
Scary Eire (Salty Dog, Friday/Saturday, 1.00am)
One of the greatest live acts in Irish music history, hip-hop pioneers Scary Éire make a rare public appearance at this year's Electric Picnic.
Formed in the early 1990s, they played legendary gigs at the likes of Dublin venues Fibbers and Barnstormers before becoming the first Irish rap act to sign to a major label when Island Records swooped.
Unfortunately, just one single - their anthem to unemployment, Dole Q - was released before the band imploded, although a compilation of recordings was released in 2007 entitled The Scary Era.
During their short but unforgettable time together, they also opened for Madness, Beastie Boys, House of Pain and U2 on the Zooropa tour.
Scary Éire reunited for the first time in decades for a gig at Dublin's Sugar Club last St Patrick's Day, and the show was regarded as major triumph. Their late-night Friday turn on the Salty Dog stage is pretty unmissable. John Byrne
Maverick Sabre (Rankin's Wood, Saturday, 6.30pm)
A child of Hackney in London who was brought up in Wexford's New Ross, Maverick Sabre came up through the Irish hip-hop scene before returning to London in his late teens to pursue a musical path.
After a couple of years bubbling under, his solo debut album Lonely Are The Brave brought him into the mainstream when the first single, Let Me Go, entered the UK Singles Chart at number 16 in August 2011.
Further singles I Need, What Have I Done To You and No One established him as a true talent with a unique voice.
An equally impressive second album, Innerstanding, duly arrived in 2015, showcasing Sabre's more mature vocals. His third collection, When I Wake Up, was released in March this year, again to great acclaim, marking him as a true and genuine voice for these troubled times. Miss him at EP at your peril. JB
Duff McKagan (Rankin's Wood, Saturday, 7:45pm)
It may not have shown up on your 2019 radar, but Guns N' Roses bassist Duff McKagan did quite the nixer with solo album Tenderness - his first in 26 years.
With help from Shooter Jennings (yes, son of country legend Waylon), McKagan gave free rein to his introspective side, travelling the heartworn highways and putting that all-important distance between himself and the day job.
We're going to forgive his website faux pas that this Electric Picnic set is taking place in Dublin, because Tenderness proves that McKagan can find his way to a quality torch song. Try a little and you might stay for the lot. Harry Guerin
Jess Glynne (Main Stage, 5.30pm, Sunday)
Anyone who was at the Spice Girls earlier this year (again don't @ me!) you will know that Jess Glynne knows how to get a party started. Her bright and colourful pop tracks, like I'm Ready for This, All I Am and Hold My Hand, will be the perfect way to ease, what are bound to be sore heads and bodies, into the final run of madness on Sunday. SK
Viagra Boys (Cosby Tent, Saturday, 8:00pm)
The Swedish upstarts put in quite the shift at Dublin's Grand Social in May, proving that they really have the staying power to go with their ironic moniker.
If you're after a bit of bass-driven belligerence amidst all the weekend's boho bonhomie, the sextet will duly oblige, with songs like Sports and Research Chemicals guaranteed to have sweat dripping from the sides of the tent.
Antics-loving frontman Sebastian Murphy (Swedish mother, American father) is one for the crowdsurfing and will be only too willing to put it up to bigger bands on the bill - more proof that size isn't everything. HG
More music, news, reviews and interviews here