Johnny Marr's new album Call The Comet is his best solo record yet. Alan Corr talks to the thinking person's guitar god and hears about new songs, old times and why it's always been about "moving forward and trying to do something great"
"Being a rock musician is a great escape for me and it still feels like it did when I was 14, 15 - I was escaping from adult bullshit and the hypocrisy I didn't want to be around," says Johnny Marr. "I've got such a great job because if I can do it right then my audience can escape as well. A rock band is a really good escape even if it's only for 65 minutes."
It's safe to say Johnny Marr has been escaping all his life. He left the Smiths aged just 23 after helping to create a body of work that still has an almost mystical grip on fans, both from the era and new generations, who remain mesmerised by the words of the singer but, just as crucially, Marr's endless guitar inventiveness.
That's not to mention his gun for hire career after The Smiths for Talking Heads, The Pretenders, The The and, more recently, composer Hans Zimmer. In 2013 he launched his solo career with The Messenger, followed quickly with Playland in 2014 and now Marr, ever the shark moving relentlessly forward, is about to release this third album, Call The Comet.
I meet him in an empty bar in Dublin's Olympia Theatre - a venue both he and a certain former foil have played separately - on an early Saturday afternoon. In person he is a wiry and extraordinarily self-possessed figure. Quietly charismatic and looking much younger than his 54 years, a regime of running, veganism, and abstinence from alcohol and cigarettes have left this one time party animal looking flinty and fit, like a puma ready to pounce.
"I've been working on this album for nine months so I'm just coming out of the studio blinking into the daylight . . . "
All in black, his hair is a sixties pop mop with a grey streak - decidedly throwback but also as futuristic as some of the themes on his new album. He still looks like a classic beatnik indie kid all these years later.
The next five weeks are mapped out for Marr. That night he kicks off an "underplay" tour, a series of low-key gigs to introduce the world to Call The Comet, with an intimate show in the Button Factory in Dublin.
Marr is back playing live and recording after taking a year out to write his autobiography, 2016's Set The Boy Free, a hugely entertaining and modest account of his life (including his roots in Co. Kildare) which was as fast-moving and honest as Morrissey's was ponderous and dense.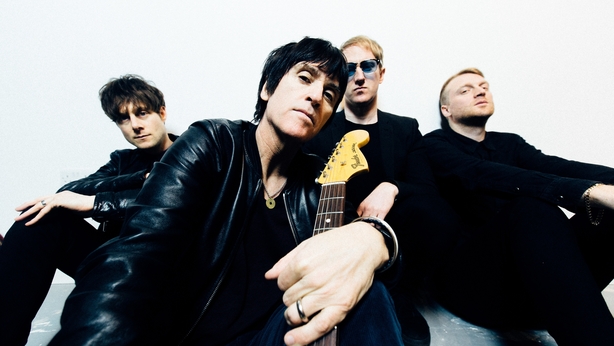 Set The Boy Free was the impetus for Call The Comet. "I was entirely led emotionally and instinctually on this record," he says. "I had just finished the book and promoting the book and I went straight into this record because I needed to make a record and as dramatic as that might sound when I hear myself say it, it's actually very true and that's a good reason to make a record.
"I'm entertained by surreal things and that's crept into the music. Actor Attractor from the new album is a pretty psychedelic song, a psychedelic piece of music."
"I'd had a year of delving into my past to write the autobiography and I had all swimming around my mind for nine months and then promoting it . . . I'm really grateful that the book was popular but I found myself very much in the mainstream and I was just talking about myself and the past, the past, the past, which for someone like me is just torture so I really needed to get in and make music that expressed my feelings so I went in not knowing what the hell I was going to do. I've been working on this album for nine months so I'm just coming out of the studio blinking into the daylight . . . "
Call The Comet features some of Marr's best playing of his 36-year-career. Jangly in places and spiky and attacking in others, it begins with Rise, a sparkling clarion call to action, before taking in eighties electro on the almost dubby mood piece New Dominions. My Eternal has the mystery of early Cure meets the strident guitars of late period New Order, and the album's closing song, A Different Gun, is Marr's response to the terrorist attack in Nice on Bastille Day 2016 and the attack on Manchester last year.
It has a more expansive and experimental sound with several songs exploring Marr's reawakened interest in his lifelong fascination with sci-fi, which led to the album's over-arching concept of an alternative future society.
"I kinda planned the first two albums for the songs to be deliberately short, sharp and punchy because the inspiration for the music on the first two was loosely the new wave bands I grew up with round the late seventies. The Buzzcocks, Magazine, all of that kind of thing so I was quite keen on keeping the solos short and the outros short and I had a rule that nothing would go over five minutes but I went into this record with no idea of what I was going to do."
"Expansive and trippy" - read our review of Call The Comet
After a solid year of "the past, the past, the past", there was a lot going on for Marr in the present, especially politically. However, he has always avoided being overtly political in his music.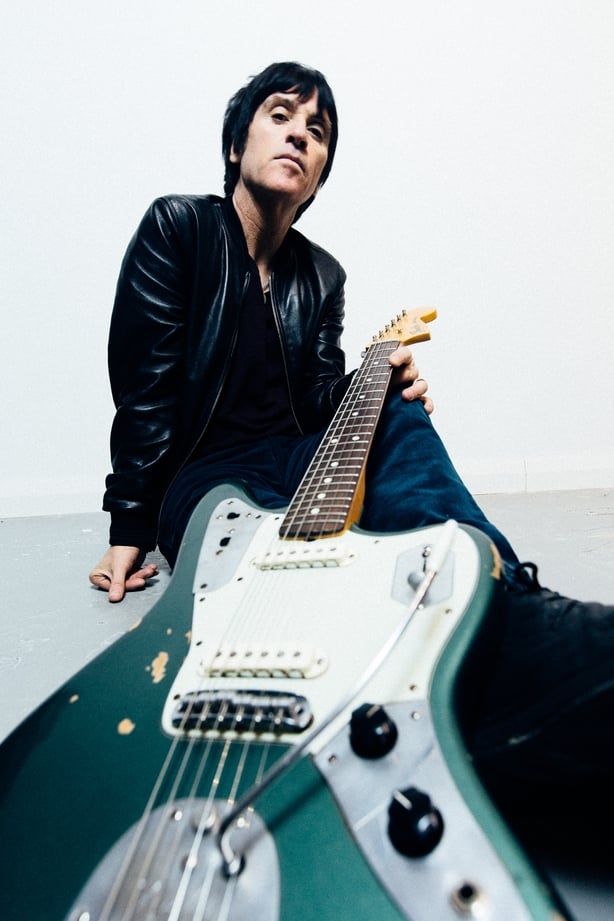 "There is a side to me that is a little bit more abstract than that and dare I say it, psychedelic. The political scene and being a spokesperson is a little bit too straight and restrictive for me. A lot of the art I like, like Marcel Duchamp, is more out there.
"I'm entertained by surreal things and that's crept into the music. Actor Attractor from the new album is a pretty psychedelic song, a psychedelic piece of music but it's not psychedelic like a sixties psychedelic song. I'm not trying to be the Jefferson Airplane."
He says that he's sharpening his writing skills and given that he has worked with some of the most gifted pop lyricist of the past 35 years including Neil Tennant, Matt Johnson of The The, not to mention Morrissey, has he found writing lyrics a challenge?
"Yes, I'm still considering applying for an Irish passport. Particularly as my parents are Irish and I spent so much of my time here as a kid it's a very easy leap for me."
"I think it's always a challenge because even if you're brilliant words don't always come easy. I can understand why people feel that I'm in competition with or up against my legacy with some of the great writers, I include Neil Tennant in that, Matt Johnson as well as Morrissey but in actual fact when I started playing in bands with adults who I actually didn't know at 15 the seeds were sown for me about how I expected lyrics to be.
"When I was in school and I started to really twig Patti Smith's lyrics and why the young Lou Reed was great and obviously people like Ray Davis and Pete Shelley that was where I set my bar and when I set my bar and that's where I measure myself up to. They're my yardsticks."
Recent single Hi Hello recalls Dancing Barefoot by Patti Smith, which in turn was a major influence on There is a Light That Never Goes Out by The Smiths. "That means it sounds like me, hahaha," Marr laughs.
One of the best tracks on Call The Comet is Bug, a song about the rise of the right, which inevitably touches on Brexit (after all, Marr does have a song called European Me) so did he genuinely think of applying for an Irish passport on the day after the Brexit referendum? "Oh yeah and I'm still considering it now," Marr says.
"Particularly as my parents are Irish and I spent so much of my time here as a kid it's a very easy leap for me. It's very interesting, the Irish position on Brexit and how that's going to play out is really going to be surprise to some British people."
Call The Comet burns with a long tail of inventiveness but Marr, one of the greatest players of his generation, still sees himself as a student of the guitar.
"If this sounds pretentious then sue me - I'm a working artist and as I got older I've looked at the lives of people like Lucien Freud and particularly David Hockney, who's 80-something and embracing technology. What I've finding is that visual artists, like the best musicians, have a brilliant knowledge of the past and history. They soak it up because they are such fans.
"You're a student and you keep looking forward and you embrace modern times and you embrace technology even if you don't agree with it, you come to terms with it. That's the way I see it. Moving forward and trying to do something great, that's my buzz really."
That evening he plays that low key gig in the Button Factory. It is a swelteringly hot night and Marr's guitar strings jangle but also snap in the humidity. He plays a cross section of songs from Call The Comet, one Electronic song, and a total of seven Smiths' songs - all are greeted with a near spiritual fervour.
Johnny Marr and the audience have well and truly escaped for the last two hours.
Alan Corr @corralan
Call The Comet is out on Friday, June 15. Johnny Marr plays the National Stadium, Dublin on November 2