This buoyant and ambitious third solo album from Marr is expansive and trippy 
As Morrissey continues to besmirch his legacy by courting controversy with outlandish statements and by releasing albums consumed with mordant navel gazing, his former foil in The Smiths had kept busy making melodic guitar pop. Call The Comet is Johnny Marr's third album in a solo career that he finally launched five years ago after decades as the world's most in demand sideman and occasional full-time band member with Modest Mouse and The Cribs.
It is a far more experimental and expansive affair than the enjoyable bloke rock of 2013's The Messenger and 2014's Playland and if anything Johnny Marr hasn't sounded this Johnny Marr since his days as the coolest six-stringed cat of the 1980s.
We need your consent to load this Spotify contentWe use Spotify to manage extra content that can set cookies on your device and collect data about your activity. Please review their details and accept them to load the content.Manage Preferences
If those first two solo albums were all about rediscovering the person he was before he was in The Smiths (both albums aimed for the short punchy post punk of The Buzzcocks and Magazine) then the declamatory and urgent sounding Call The Comet has a missionary zeal and some very big concepts.
This is a real feel of cities at night on several of the gleaming and ambitious songs here, not least the almost dubby New Dominions, on which Marr locks into a stream of consciousness lyrical flow. Call The Comet is embellished with the kind of art rock and post punk concepts of early-eighties British rock and it features some of the best playing of Marr's 36-year-career - jangly in places and spiky and attacking in others.
"I've been working on this album for nine months so I'm just coming out of the studio blinking into the daylight . . . " Read our interview with Johnny Marr 
Rise is a sparkling clarion call to action, My Eternal has all the mystery of early Cure meets the strident guitars of late period New Order, and on the album's closing song, A Different Gun, Marr tackles the heartbreaking subject of the terrorist attacks in Nice on Bastille Day in 2016 and Manchester last year with both gravitas and sensitivity.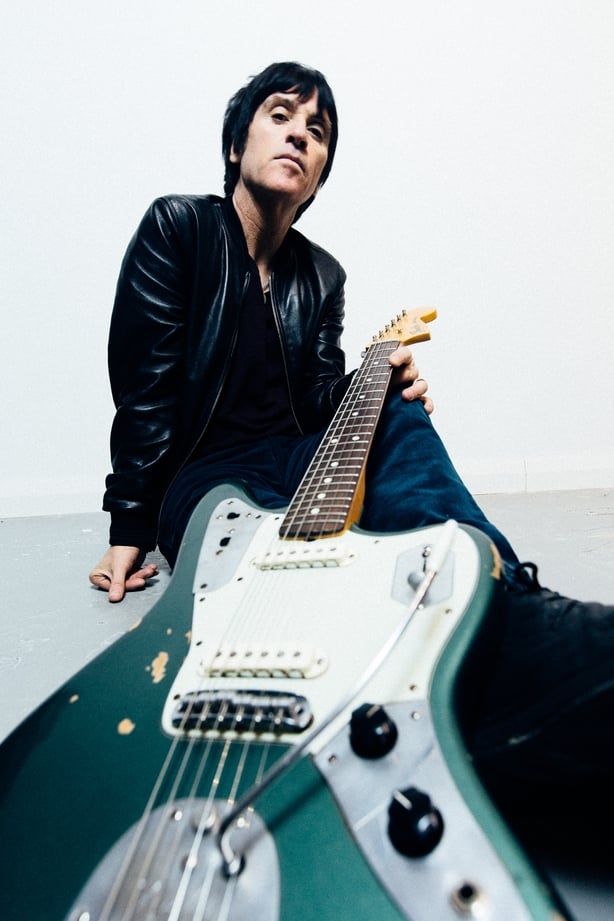 Hi Hello recalls Dancing Barefoot by Patti Smith, which in turn was a major influence on There is a Light That Never Goes Out by The Smiths and if the superb riff and futuristic keyboard sheen on The Tracers move ever forward, the bass and drums have the same anarchic rumble of the intro to The Queen is Dead.
Drenched in reverb and distortion, the nagging and menacing Hey Angel even pulls off the feat of sounding just like one of the mammoth riffs by  Marr's childhood friend Billy Duffy of The Cult, with a frazzled desert rock chorus straight out of Ian Astbury's mouth. 
Day in Day Out even features something as formerly verboten as an exhilarating solo and Marr pulls off the spoken word section of Walk Into The Sea like some Manc shaman, while the limber and melodic Bug, the most overtly political Marr gets on Call The Comet, features one of his most buoyant and chirpy riffs in years. 
Marr continues to cut an admirable and single-minded figure beside Morrissey's splenetic isolation. It may be an obvious thing to say but this is a guitar album that is unmistakably Johnny Marr. 
Alan Corr @corralan