Do have a cow, man! The Simpsons is set to mark its 666 episode with a Treehouse of Horror XXX special spoofing Netflix hit Stranger Things and Oscar-winning film The Shape of Water.
Fox Animation Studios have released a poster to promote the new episode, the latest in The Simpsons annual Treehouse of Horror Halloween specials, featuring members of the Simpson clan as Hopper, Eleven, Mike and other Stranger Things characters.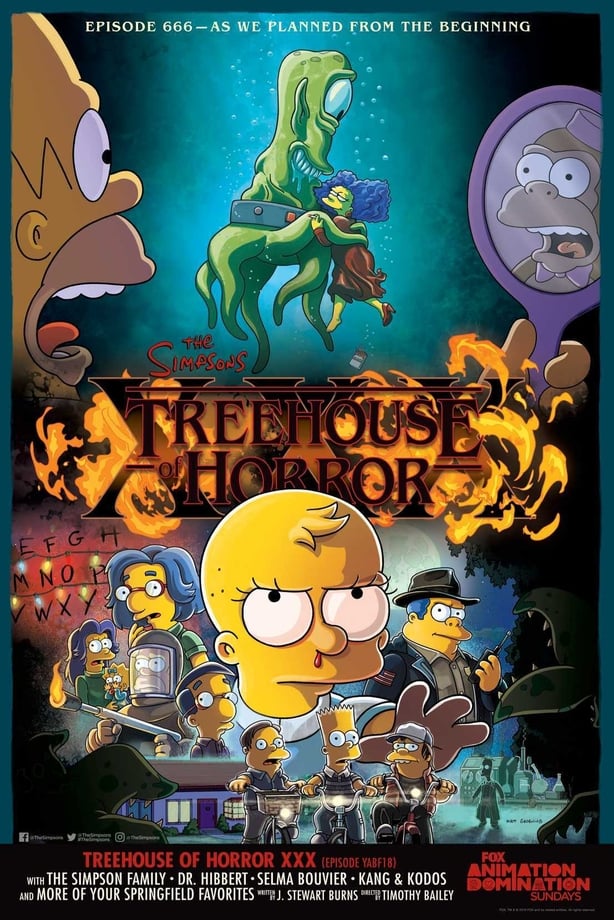 The new poster sees everyone's favourite cartoon family taken from Springfield to the haunted town of Hawkins. Lisa, naturally, plays Millie Bobby Brown's character, telekinetic wonder Eleven.
Bart is Finn Wolfhard's Mike, Nelson is Gaten Matarazzo's Dustin and Martin as Caleb McLaughlin's Lucas. Chief Wiggum still plays a policeman as David Harbour's Jim Hopper.
Meanwhile, much to Homer's horror, Marge's sister Selma romances octo-aliens, Kang or Kodo, in a spoof of Shape of Water stars Sally Hawkins as Elisa and Doug Jones as Amphibian Man.
The Treehouse of Horror fright night specials have run every year since debuting in 1990 on The Simpsons and feature three separate, self-contained segments that regularly spoof popular films and TV shows, including Coraline, The Exorcist, Jurassic Park and Die Hard.
This year's Halloween special is expected to air on October 20th. The third season of Stranger Things recently debuted on Netflix.
Click here for more television news