Guillermo del Toro's wildly imaginative adult fairytale is an opulently entertaining monster fable that is spectacularly stylised and perversely enchanting.
Best Actress Oscar nominee Sally Hawkins delivers an utterly captivating tour de force performance as a cleaner who falls in love with a fish-man (Doug Jones) in a covert U.S. research laboratory during the height of the Cold War. On paper it may sound stuffy, but the visionary filmmaker, who co-wrote the script with Vanessa Taylor, manages to create a richly exuberant and poetic romance story. 
The Shape of Water is a voyage into the depths of humanity and idealism. Make no mistake, the Amazon aqua-monster isn't the enemy here.
As the U.S fights against the clock to keep their newly acquired 'asset' from the Soviets, the abuse of governing power and resilience of the misconceived rises to the surface.
del Toro insists his latest outing which takes place when the Space Race was on and Kennedy was in the White House, and when "America believes it was great" is very much a movie for right now.
"The same problems we have today were real in '62 - sexism, racism, the need for marginalising people that are 'different'. The violence against them. All of that was alive then," he told RTÉ Entertainment.
The whimsical script flows well while the strikingly beautiful effects, particularly the over infused blues of the aquatic set-pieces, create a big splash.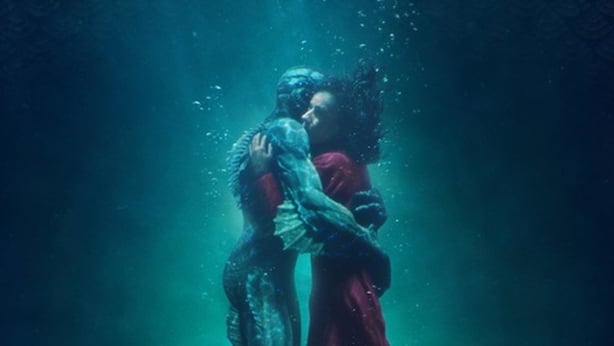 Sally Hawkins leads an incredible ensemble and delivers a combination of vulnerability and vigor to her part. She will no doubt bring home a golden statue at the upcoming Academy Awards.
Michael Shannon is a force to be reckoned with as the sadistic government agent and brings well-sustained intensity throughout. As ever, Richard Jenkins is a class act. Octavia Spencer and Michael Stuhlbarg equally lend fine support roles.
The Shape of Water floats to the top of 2018's best releases and will be anchored in viewers' minds long after the credits roll.
We need your consent to load this rte-player contentWe use rte-player to manage extra content that can set cookies on your device and collect data about your activity. Please review their details and accept them to load the content.Manage Preferences