The course of true love rarely runs smoothly, and on Love Island with heads being turned, surprise recouplings and new bombshells dropping into the villa on the regular, it can be even more challenging to find the one – but have Maura and Curtis met their match in each other?
Here's our definitive timeline of their blossoming romance.
The DM that started it all
It's hard to imagine a time when Maura was the new girl, but at one stage she was. Curtis was happily coupled up with Amy at the time of her arrival in the villa, but the professional dancer revealed to Danny that she had caught his eye months before their Love Island adventure began.
"I messaged her on Instagram one time telling her she's really good-looking," Curtis said.
Though Maura never replied to Curtis' message, she later spoke to him about it and assured him it was nothing personal; she just doesn't reply to messages from randomers.
Despite his interest in Maura earlier this year, he was certain that his head was not being turned from Amy.
Curtis' head gets turned
By Jourdan, not Maura. When the girls were sent off to Casa Amor, the cracks began to show in Curtis and Amy's relationship with his head being well and truly turned by new girl Jourdan.
On returning to the main villa, Curtis came clean to Amy about his intentions to recouple with Jourdan, had she not been cracking on with Danny, which broke Amy's heart. The real stinger: when he couldn't promise that his head wouldn't be turned again.
Amy and Curtis break up
The first official half-boyfriend and half-girlfriend in the villa called time on their half-relationship in the wake of the Casa Amor drama, leaving both single, but still officially in a couple.
Maura's type on paper
With Curtis newly single, and sparks failing to fly between Maura and new boy Marvin, Maura revealed her shock crush on Curtis to Lucie.
"I'd always look at him and think he's obviously gorgeous, his smile is like f****** hell, he's very manly and he's funny, he's almost the whole package for me," she said.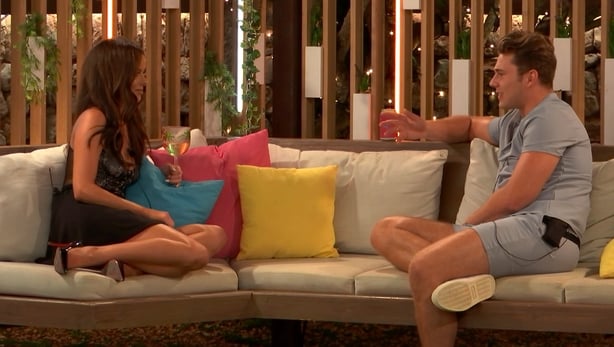 The dance of love
The way to Curtis' heart? A dance lesson.
Maura tells Curtis she likes him
Never one to shy away from speaking her mind, Maura decided it was time to tell Curtis how she feels about him...
Amy leaves the villa
In a double elimination, Danny and Jourdan were voted as the least popular couple by the public so left the villa, but the fate of Lucie and George, and Curtis and Amy, was left in the hands of the other islanders. Despite her feelings for Curtis, Maura voted to save her friend Lucie, but Lucie ended up being sent home anyway.
After a lot of thought, Amy decided to leave the villa, explaining how neither she or Curtis would be able to move on if she remained there, which left the door open for him and Maura to get to know each other better.
Two new bombshells arrive
Francesca and Chris entered the villa and set their sights on Maura and Curtis, but there was no spark between Maura and Chris. Curtis on the other hand wanted to get to know Francesca better, so a love triangle developed as he wanted to keep his eggs in both baskets.
Heart rates are raised
During a challenge, the girls and boy had to dance to raise the heart rates of their fellow islanders, and both Maura and Curtis raised each other's heart rates more than any other contestants did.
A kiss from Maura during her turn left Curtis speechless.
A recoupling gone wrong
When Francesca chose to recouple with Curtis, she put a spanner in Maura's plan to couple up with him, but being in an official couple with Francesca didn't stop Curtis from getting to know Maura, and the two began spending more and more time together.
After spending one night in bed with Francesca, Curtis moved himself out to the day beds.
If you like it...
Put a ring on it. In a Snog, Marry, Pie challenge, Curtis chose to kiss Francesca and singled Maura out as the woman he would marry.
Cracking on
Naturally fed up by all the indecision from Curtis, Maura was at breaking point and decided to confront him about whether or not he had made a decision yet, telling the girls that if he hadn't, she would just move on and forget the whole thing.
Before she could however, he pulled her for a chat to tell her that she was the one for him and they started cracking on in the roof terrace, and the rest - at least for now - is history.
Love Island continues on Virgin Media 2 and ITV2 at 9pm.