The first trailer has been released for Dublin Murders, the new RTÉ, BBC and Starz thriller series based on the books of bestselling author Tana French.
The Sarah Greene and Killian Scott-starring trailer was unveiled by the Starz network in the US.
Dublin Murders sees French's first two books, In the Woods and The Likeness, brought together in adaptations by Sarah Phelps, who has re-imagined Agatha Christie's And Then There Were None, Witness for the Prosecution and Ordeal by Innocence for the BBC.
Rosie star Greene plays Detective Cassie Maddox, with Love/Hate star Scott cast as Detective Rob Reilly. The cast of the series also includes Tom Vaughan-Lawlor, Moe Dunford, Ian Kenny, Eugene O'Hare, Jonny Holden, Conleth Hill and Peter McDonald.
Each of French's novels has a different member of her Dublin Murder Squad as a central character, with viewers promised "a dark psychological mystery with a tap root that drops deep down into Ireland's past, foreshadows the future and brings insight to its present".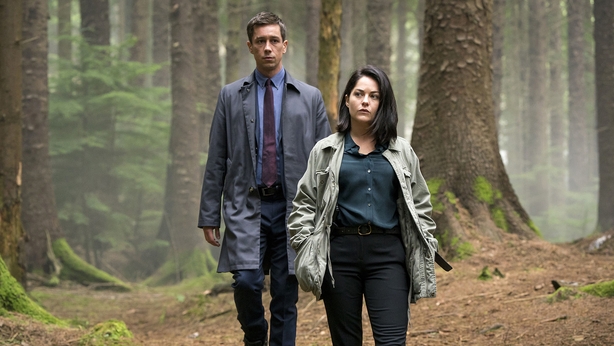 "This series, set during the height of the Celtic Tiger financial boom of the millennium, will focus on two murder investigations led by ambitious and charismatic Detectives Rob Reilly and Cassie Maddox," said the BBC when it announced the series last December.
"The victims - a young talented ballerina who is found dead on an ancient stone altar; and a vivacious free-spirited woman, who is found stabbed in a roofless famine cottage - are seemingly unrelated, but as we will discover, are actually knitted together by powerful shared themes - the macabre 'red in tooth and claw' elements of both stories, and their heart-thumping psychological thriller qualities."
The lead director on the series is Saul Dibb, whose credits include Journey's End and Suite Française, with John Hayes (Bancroft) and Rebecca Gatward (Shetland) also behind the lens. Dublin company Element Pictures is among the producers on Dublin Murders, which has been supported by Northern Ireland Screen.
"The writing is brilliant and dark and it's thrilling to give Tana French's words a new life on screen through the wonderful Sarah Phelps," said Greene.
"Sarah Phelps has beautifully adapted Tana French's compelling novels into a complex and dark exploration of memory, identity and the potentially devastating consequences of pursuing truth," said her co-star Scott.
The series is set to premiere later this year.