Saoirse Ronan has opened up about experiencing inequality in the film industry and recalled times in her career when she was ignored on set.
The 25-year-old actress, who has been nominated for an Oscar three times, spoke to students in Scoil Chaitríona in Glasnevin, Dublin during a Penguin Talks session about experiencing sexism on set, revealing moments she felt undermined.
"Talking over you – I'm not really into that. When someone calls you a little lady or an angel – I'm not into that either," Ronan said.
Ronan admits she has encountered "incredibly chauvinistic" people during her successful career but said it has "only happened a handful of times".
"I mean, I'm more aware of it now. I will say, that for me in my work, I've been very, very lucky that I've been around a lot of grownups - men and women - who were just very supportive and encouraged me to actually speak and ask questions.
"But I have noticed, even with a couple of things that I've been on recently, I've worked with a couple of people that are incredibly chauvinistic."
"You could be on a film set every single day and know the story inside and out and you're going to ask to a question about the next camera set-up with the director, and the cinematographer will be talking over you, and won't stop talking. And I'd be: sorry, can you just? I was just in the middle of?'"
"It has only happened a handful of times but it does happen, and it is a bit mind-blowing when it does.
"Generally, everyone is wonderful but every now and again you do get a bit of that, and it's times like that where I go 'I know this doesn't happen for the boys on set'".
Before the Q & A session with almost 150 students, Ronan chatted to Scarlett Curtis, editor of Feminists Don't Wear Pink, about feminism and the importance of saying no.
When asked if being "strong and confident" in the film industry came naturally to her, Ronan said that after she made Lady Bird, there were more eyes on her, and she knew she had to follow her gut instinct.
"Over the last few years, I remember it was around the time that Lady Bird came out, and suddenly things were like really sort of shifting a bit, and I was being asked to do things that I'd never been asked to do before for press.
"It was a brilliant but a really scary thing to be thrown out there. I realised that I had actually spent quite a bit of time going 'yeah, whatever you want to do!' and 'yeah, yeah I'll do that, that's fine'.
"Because there was a lot being asked of me, I had to actually be the one to go 'no, I'm not comfortable doing that'.
"For the first while, I hated it so much and it was just the worst thing to have to speak to someone who is older than you, even if you know what's right for you and saying, 'no, I don't want to do this thing because I know myself'. But once you get used to it, it's kind of great," she said.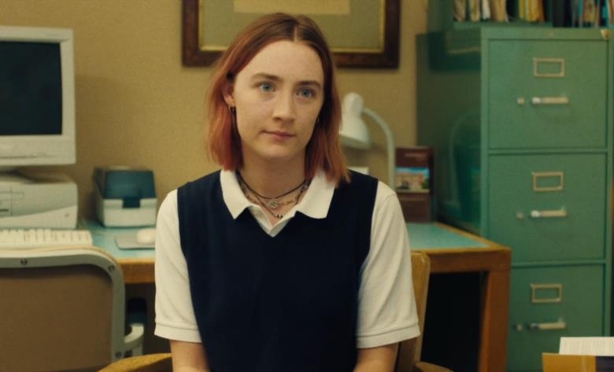 Ronan also gave advice on how everyone can support the feminist movement saying, "I think something you can do that doesn't really take a lot out of you, is just really support the other girls around you - and that includes boys as well. It's really important to do that!
"One of the things that really helped me when I was younger was sport. Even if you're not good at it doing something like that, being on a team with boys and girls, and really having to help the girls around you that can have a massive impact on how you co-operate with one another."
The Mary Queen of Scots star also told students to be mindful on social media and understanding to the fact that "everyone is going through their own stuff."
"I'm not on Facebook anymore. But people can get a little mean on social media...
"I think it's really easy to pass judgment on people when you're sitting on your phone. It's important to remember everyone is going through their own stuff."
Penguin Talks is a new programme of free creative talks for young people across Ireland and the UK, giving them the opportunity to both hear from and directly question a world-renowned thinker, writer or influential figure from the Penguin family of authors.
Previous talks have included Michelle Obama on the power of education and self-belief, and Yuval Noah Harari, author of Sapiens, in conversation with Russell Brand on the future of the work.
Check out Saoirse's MET Gala look here
For more movie news and reviews, click here