Alan Mulligan's noirish slow-creeper is based on a solid premise involving an exploitative bank and the subversive, vengeful act that aims to rock the financial institution to its foundations.
Dublin, Ireland, soulless, sterile office blocks and we are at the tail-end of the most recent recession where James Allen (Laurence O'Fuarain) works for a bank, which according to a TV news report, has a reputation for "aggressive selling and a willingness to foreclose on families suffering mortgage arrears".
We need your consent to load this YouTube contentWe use YouTube to manage extra content that can set cookies on your device and collect data about your activity. Please review their details and accept them to load the content.Manage Preferences
Moody and troubled though he appears to be, James is valued as a keen seller of financial products. His colleague Alison (Sarah Carroll) is also a model employee yet fails to get the promotion she hoped for.
"Is there anything I could have done differently?" she asks her pugnacious, mildly creepy boss. "Maybe work on your killer instinct," he replies, affirming the do-or-die cut-throat attitude against which both James and Sarah will subsequently rebel in dramatic and convincing fashion. Without wishing to spoil, the scam James embarks on aims to benefit those who are losers as far as the bank is concerned.
Is James a good guy or a bad guy or just a smouldering rebel? Mulligan's great feat in this movie, through O'Fuarain and Carroll's impressive performances, is to make us think about this question every time.
Another ambiguity is also expertly nursed along and makes us ask the following: are the elements that bond him unwittingly to accomplice Sarah erotic or exploitative? How much is she attracted or repelled by him? The film plays around with our perceptions about these patterns with admirable skill.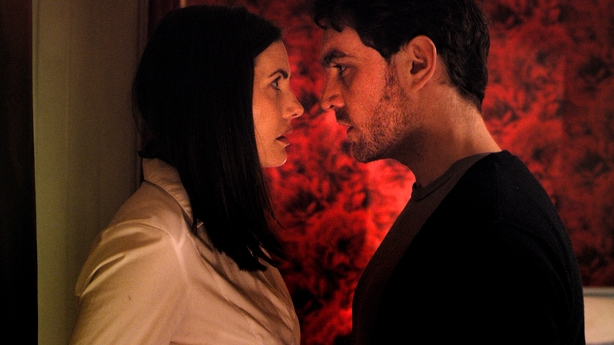 Whatever the case, James is certainly a good guy for making sure to take care of his mother Molly (Ally Ní Chiaráin) after she is rendered speechless by a sudden stroke. The stroke is caused, yes, by the arrival of a stern letter concerning her mortgage, sent from the self-same bank which is James' employer.
Thus The Limit Of becomes a movie about bit players taking on the corporation, though not in any kind of gung-ho or triumphalist fashion. James Allen's act is, initially anyway, a lone, desperate one. There is no self-aggrandisement in his rebellion. Sarah's grave mistake is to see an opportunity for blackmail when what is in question is not your regular bank heist.
Written and directed by Alan Mulligan, The Limit Of is based on a clever premise which will hold your interest to the end. It won Best First Feature at the Portugal International Film Festival, 2018. It also garnered Director's Choice and Best Emerging Filmmaker awards at Wood Hole Film Festival, Cape Cod last year. Sharper, snappier editing and less of that deliberate ponderousness in the dialogue and direction would have helped achieve a more supple rhythm, but this is a mere caveat.
Paddy Kehoe