Last Breath is a dramatic, sometimes moving film which tracks the lives of deep sea divers working on the seabed in the North Sea while in the throes of a challenging occurrence involving one of their team.
Real footage, filmed by the divers' helmet cameras lends palpable drama to this remarkable documentary. The film also knits in additional reconstructed scenes featuring the self-same individuals who were confronted with challenges they had never before experienced. A fearfully disorienting train of events was set in train some '12 hours steam' from Aberdeen that fateful September night in 2012.
The Topaz, the ship which carried the divers, was 100 metres in length and 20 metres in width and had been locked into position in the North Sea, to allow maintenance work to be done on the seabed. This was the vessel from which the men would dive, having ensconced themselves in the diving bell.
Their lifeline was the so-called 'umbilical' cable which supplies divers with hot water for warmth - the mean temperature is 4 degrees on the North Sea bed. The 'umbilical' also supplies oxygen to breathe and the communication cables to hear messages and instructions.
Notoriously unpredictable, the North Sea is described as "one of the most dangerous environments in the world" by Duncan Allcock, a crew member. Such unpredictability comes with the territory, however, and an 18-foot swell with 35 knots of wind is manageable, if just about. "We were at the limits of diving, but it wasn't undivable," says another man.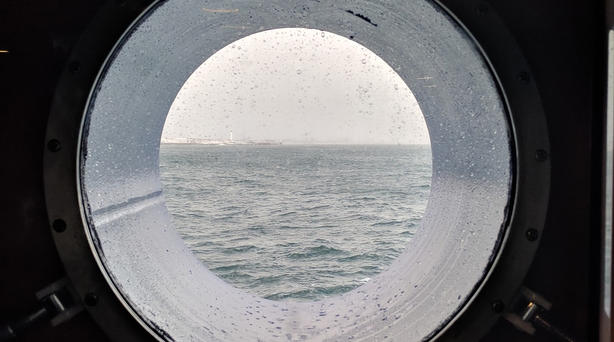 Allcock's job was to remain in the diving bell, supervising the divers as they worked to replace a length of pipe. Then on a console, an amber light flashed, followed by a green light, then finally a red. The Topaz had lost its anchoring and was gathering speed at an alarming rate. The ship had become "a sailboat" as one contributor puts it. Meanwhile, the computer systems that controlled the vessel had failed, leaving the crew at the mercy of the extreme weather.
With the ship literally pulling him along, Cambridge diver Chris Lemons found himself entangled in his umbilical, unable to free himself. Eventually the cable snapped, leaving him with two tanks on his back which in theory afforded him little more than five minutes of oxygen.
Last Breath tracks the subsequent events with a finely honed theatrical sense of the highs and lows of this incident, which has burned itself indelibly into the memory of the men concerned. Chris's then fiancée Morag brings us the view from the land-side, as it were, talking of the marriage plans and the completion of a new home in rural Scotland.
Ultimately, the film is a stirring tribute to a band of unpretentiously likable, yet highly skilled individuals, bonded together in their own ways, and looking out for each other, whatever the danger.
Paddy Kehoe