Boomtown Rats frontman Bob Geldof 'knighted' Larry Gogan live on air during the iconic presenter's last day on RTÉ 2FM on Thursday.
With 2FM renamed Larry Gogan FM for the day, Geldof was among well-wishers including Ryan Tubridy, Graham Norton, Brendan O'Carroll, Imelda May and Roddy Doyle who either telephoned in or joined Larry in studio on Thursday afternoon before he moves into his new home next door on RTÉ Gold.
The legend that is Larry Gogan gets a standing ovation on his last day on @RTE2fm #LarryGoganFM @rtenews @SineadCrowley pic.twitter.com/3ZbNQc7GBJ

— Entertainment on RTÉ (@RTE_Ents) January 31, 2019
Paying tribute to 'Sir Larry', Sir Bob said: "Thanks for everything you did for my band; and in general for just bringing proper rock 'n' roll to the country. You'll be always remembered for that."
Geldof said he was in awe of Larry's longevity and enthusiasm.
"How come you were 'doing the job' and it lasted for 40 years?" he asked. "Most people burn out or they sound tired or they sound out of date or they sound not with their audience anymore."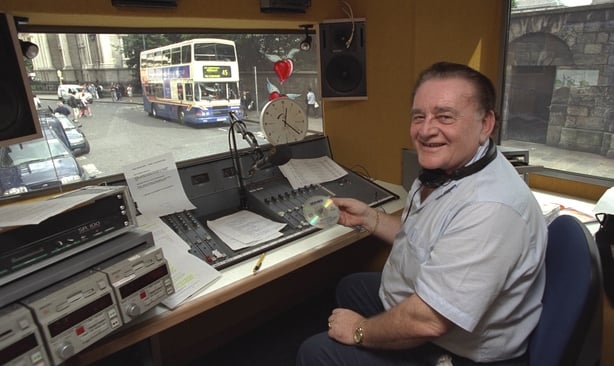 "I think you have to be with the audience all the time," Larry replied. "Maybe it was my children that kept me going - and now grandchildren! They're absolutely amazing."
"When you played us, to sort of launch 2FM - that really wasn't with the audience," Geldof continued.
"People thought we were scallywags and we were scammers and stuff like that. And just kind of said, 'To hell with it! This is a great band. They're Irish and they're number three in the British charts and I'm going to play it'."
Among those who recorded messages for Larry were Jon Bon Jovi, Cliff Richard, Westlife, Rod Stewart, Chic's Nile Rodgers, Hozier, Dermot O'Leary and Sigrid.
"I don't know what the fuss is about at all," said the ever-modest Larry. "I'm just moving to RTÉ Gold!"