Holly Carpenter has said she feels like she's "not in the gang anymore" and that it's "pretty gutting" after being voted out of Dancing with the Stars on Sunday night.
Carpenter and her partner Trent Whiddon became the second couple to be eliminated from the dancing competition during the show's Movie Night episode.
Speaking to RTÉ Entertainment the morning after her exit, the model and former Miss Ireland spoke about her reaction to hearing her name being called out.
"I think when I heard them call my name out I was just like 'Noooo!' You just get this moment where you're in shock and you're upset and you're devastated and all you want to do is hug everyone but you have to do all these interviews," she said.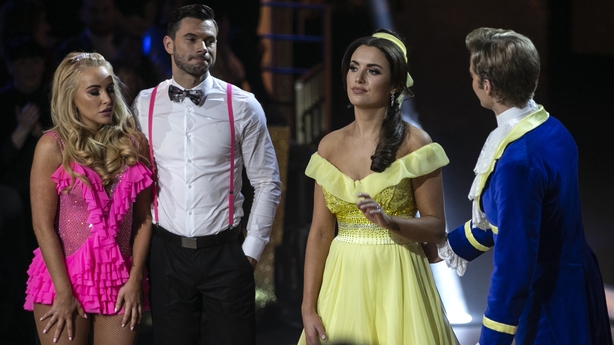 The reality is now begging to settle in. "So it's kind of coming to a realisation now that I actually have left the competition. I want to be at rehearsals, like I'm supposed to be at rehearsals now!" she said with a laugh.
"But yeah, someone had to go, it's what I signed up for, it was just sad that it was me and I left so early", Holly continued.
"I still feel like I had a lot to give, and I was trying to hold my place until Curtis [Pritchard] came back from his injury, so that's also really upsetting.
"There was a part of me that felt I had let him down and all this guilt that I started feeling, but to be honest, I walked away feeling like I had done my best, and I think with anything you do in life, if you can honestly say that you tried your hardest and that you're proud of yourself, then nothing else really matters.
"It doesn't matter what people on Twitter say or really even what the judges say, I was proud. Obviously I would loved to have won, I'm not going to lie!"
The model had originally been paired with pro-dancer Curtis Pritchard, but he had to miss the start of the show following an assault in December. Australian dancer and choreographer Trent Whiddon stepped in as Holly's partner.
"It was an unusual circumstance, we had a lot less time to get to know each other, even for the salsa, I met him six days before the live show and everyone else had had a number of weeks, up to six weeks really to get to know their partner and build that trust," she said.
"But I'm not going to let people think I'm using that as an excuse, I got to know him quickly and he's such a professional. He really brought me back down because I get really anxious and stressed."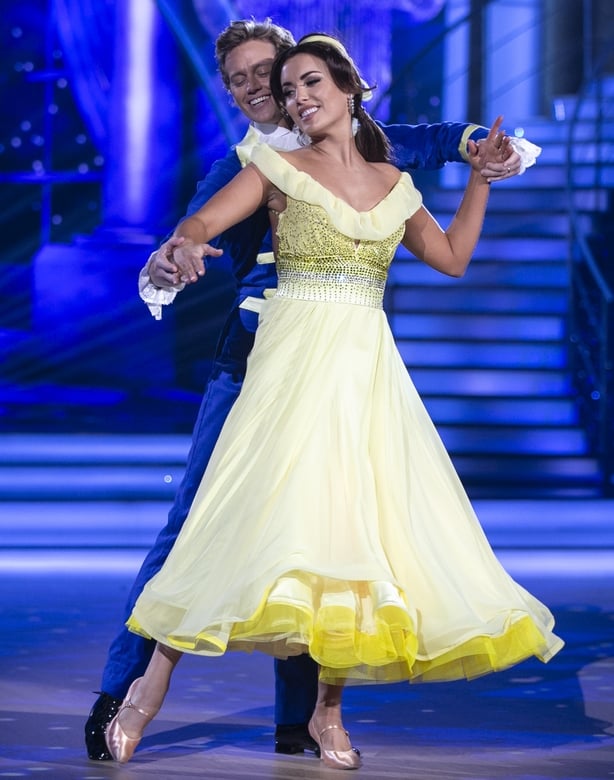 She said she feels like she "definitely went out on a high" in Sunday's show in which she danced a graceful foxtrot while dressed as Belle from Beauty and the Beast.
"It was like a fairytale," she recalled. "It felt like a dream and I couldn't have asked for a more magical song to dance to so at least I'll have that footage for the rest of my life!"
The model said she plans on attending the live show this weekend and joked that the remaining contestants "won't be able to get rid of me".
"You form this big family, you see each other Monday to Friday in the studio rehearsing, you go and do a full day rehearsal on Saturday, you're with each other all day Sunday. I'm with these people seven days a week since before Christmas, so I just feel like I'm not in the gang anymore and it's pretty gutting but they won't be able to get rid of me!" she said.
"There's so much of an emotional attachment that comes with this challenge. You're given a dance, you're given a costume, you're given a character and you have just one shot to do it, so there's this adrenaline rush, so I feel like I need to go and do a sky dive or something now to keep it going because I'm still on a buzz from it!"
Holly added that taking part in the competition has "given me a bit more faith in myself".
"You go into these things almost with your tail between your legs but when you put your mind to something and you turn up and you're just there, you can actually really learn how to do a dance. I was looking at my salsa and my foxtrot and my waltz, I did those things and I came from a background of no dancing. So it's made me think 'what else can I do?'
"There's nothing you can't do it you give it 100% really."
Who would she like to see lifting the glitterball trophy?
"It's so hard because I am so close to everyone, but if a woman was to win, which I'd be delighted, I think Cliona [Hagan] is in with a great chance, she's brilliant, she brings to much character and personality to every dance, Clelia [Murphy] was top of the leaderboard she's doing really well, Mairead [Ronan] is so loved by the public and she's a sweetheart, everyone has something," Holly said.
"And then out of the lads, if it was a lad, I'd love to see Johnny Ward win. I think he's a natural born performer, he'd do anything for anyone and he was one of my best friends on the show."
Dancing with the Stars continues on RTÉ One at 6.30pm on Sunday.