Holly Carpenter has become the second celebrity to be voted off RTÉ One's Dancing with the Stars after Sunday night's Movie Night episode of the show.
Nine contestants and their partners now remain to battle it out for the glittering prize.
"I'm gutted, I'm absolutely devastated," Holly Carpenter said as she received the news. "I had an amazing time.. but, yeah I'm gutted."
Her dance partner, Trent Whiddon, knew that the series had been tough for Holly so far and he readily acknowledged this.
"So much stress and she's dealt with it brilliantly. I couldn't be more proud of her, I'm really disappointed for her."
The action-packed show began with Jennifer Zamparelli arriving down the stairs on particularly elevated footwear as she quipped: "Shoes are very high today."
So sad to say goodbye to @Holly0910 & Trent! We will miss you! pic.twitter.com/esiuE6PTXR

— RTE One (@RTEOne) January 27, 2019
Co-host Nicky Byrne in turn remarked that last week's performances were so powerful that they caused a blackout. Some "blockbuster performances" were promised as Clióna Hagan and her partner Robert Rowinski began proceedings with a jive for their Legally Blonde theme.
"Oh my god, I love that film," Clióna had enthused on being told by Robert that this was to be their theme.The week's training had been "tough but enjoyable," said the dancer.
Judge Julian was well impressed: "I thought you I was looking at Reese Witherspoon," he said.
Holly and Trent did the foxtrot on a Beauty and the Beast theme. Holly was temporarily missing her make-up bag during the week which she regarded as her "little security blanket" but she and Trent performed sufficiently well for Julian to enthuse: "darling, tonight you were the belle of the ball."
Judge Brian was impressed but he wanted to see "the Holly from week one" back on the floor.
Loraine saw the positives too but "there was something missing..you've got to engage more. You are beautiful and, Holly, that beautiful girl needs to become Holly the dancer."
It was Top Gun for Denis and Milova and Denis had been finding the tango a bit tricky early on in the week.
"When you're moving around the room it's a bit like a three-legged race - you have to stick together for the whole dance." Jennifer thought highly of the performance: "You made the Eighties quite sexy there for a few minutes." However, Brian saw some "postural problems", the dance didn't have enough contrast in it and he thought that Denis and Milova might end up in "the danger zone after that performance."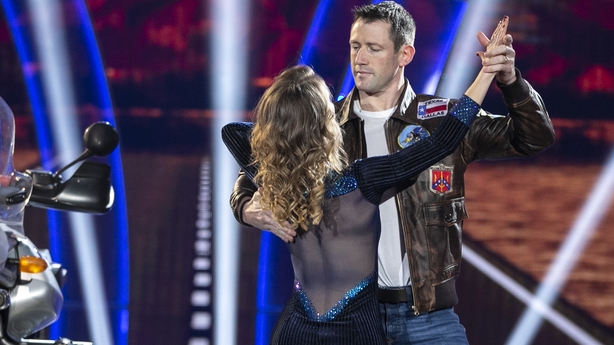 Next up were Demi Isaac Oviawe and her partner Kai Widdrington with a dance inspired by the Dream Girls movie. Demi showed beforehand that she was determined to stay in the competition, "because I don't want o go home."
"Whatever happens you looked like you had the time of your life up there, " said Jennifer after Demi and Kai's energetic performance. "You're definitely on the up now, " Loraine told the Young Offenders actress. "One little tip - close the mouth!" Demi: "I was trying to breathe!"
Judge Brian Redmond was impressed: "Tonight I feel it was all attack, attack, attack - excellent." Demi was certainly channeling her Beyoncé. "Sorry, there was no Demi tonight, only Beyonce, " she told Nicky in their short chat.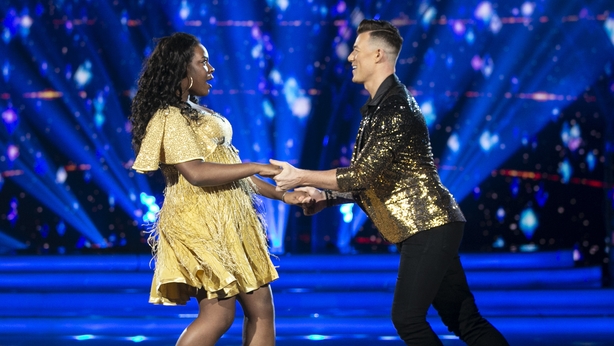 Fred Cooke and Giulia Dotta were doing the American Smooth from the Pink Panther as the comedian joked how it had taken him 17 years to grow his Inspector Clouseau moustache (the beard sadly had to go earlier in the week.)
Julian was delighted - the performance "put a smile on my face" - but the judge signalled the need for "a little more attention to the steps and to the choreography - a little bit more American Smooth."
Brian pulled no punches, he thought the footwork was "atrocious", "a very strong word to use I know."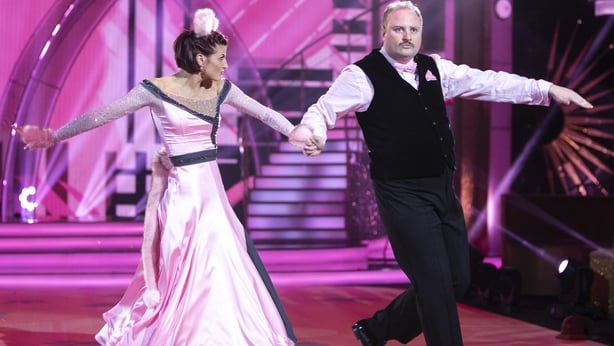 Johnny Ward and Emily Barker danced a Viennese Waltz from Batman Forever. "I hope to do Batman proud," said Johnny and he certainly did so as Brian thought the opening was "really athletic" but "the bending of the legs was a little bit more Penguin than Batman." Julian dubbed it "a box office gold performance" while Loraine had witnessed " a blockbuster performance."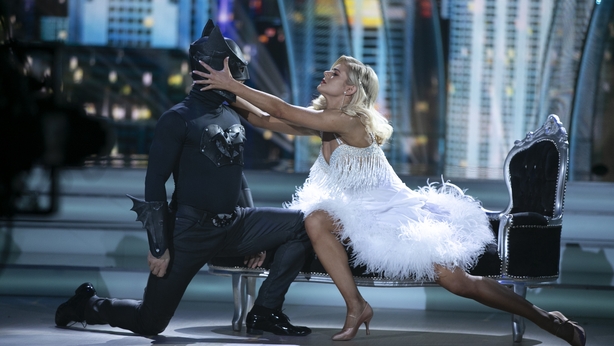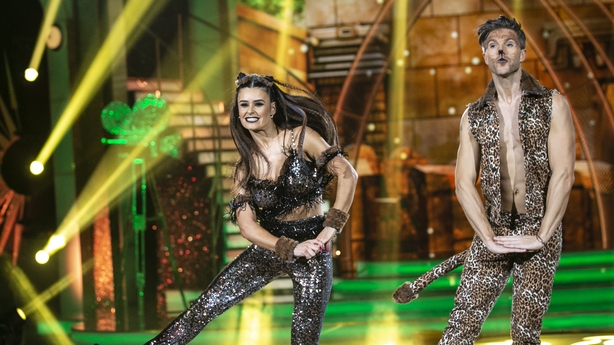 Darren Kennedy and his partner Karen Byrne explored The Jungle Book for their turn on tonight's show. "I loved The Jungle Book as a kid," recalled the popular TV presenter. "I was all 'I want to walk like you, talk like you' for about two years." Referring to injury worries, he quipped: "I might have lost an ankle, but I gained a tail."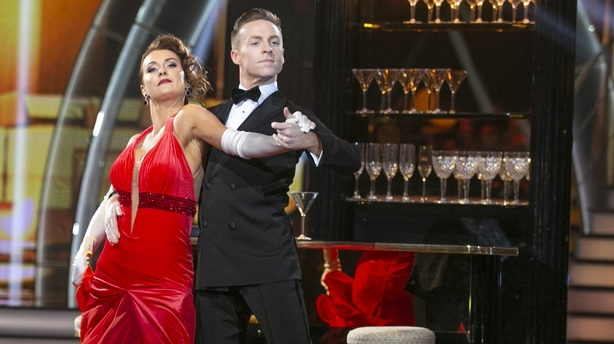 Mairead Ronan and her partner John Nolan danced the tango from the movie Pretty Woman to the Roy Orbison song of the same name Pretty Woman. "That was a red carper premiere tango, " said the ever-enthusiastic Julian remarking on the Richard Gere vibe of the performance.
Loraine told Mairead that she was "so on her feet" and that she had "absolutely nailed" a particular position in the dance. "All in all I thought it was an excellent performance."
Peter Stringer and his partner Ksenia danced a pasa doble from the Disney movie Loco. Brian was well impressed. He acknowledged it was a Mexican-themed movie but the pasa doble was a Spanish dance and "you gave me such a Spanish feel that I think I'm gonna have that paella and glass of wine when I go home."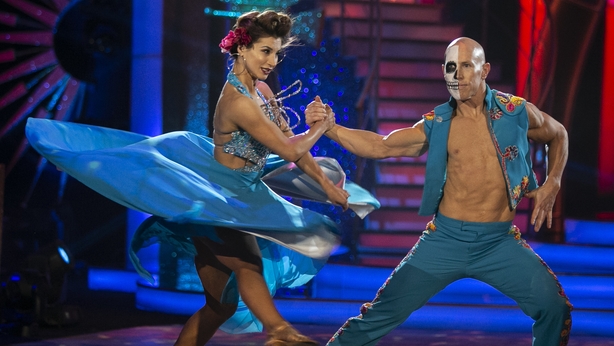 Clelia Murphy and her partner Vitali Kozmin chose a salsa for Night Fever. Although the song from Saturday Night Fever was usually linked with Saturday night, Clelia promised the viewers that "it was going to be a Sunday night that they will never forget, hopefully."
Julian was very taken with the dance. "It was fun it was fab," he said, and he noted how Vitali had taken the original dance steps from the movie and worked them into the salsa. "Very clever." And so the voting began and the pro-dancers took the stage for yet another impressive performance.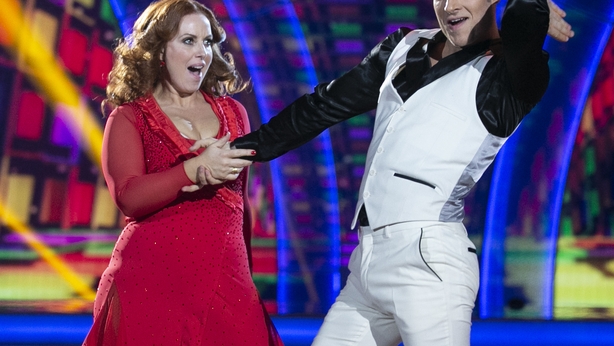 Can't Stop Dancing airs this Friday at 8.30pm on RTÉ One, with Dancing with the Stars continuing on Sunday at 6.30pm on RTÉ One.