Sharon Horgan has joked on Twitter that she does not remember saying any of the Spanish translation of the trailer of the new series of Catastrophe.
Just watched. I don't remember saying any of that https://t.co/Xy49tFwpya

— Sharon Horgan (@SharonHorgan) January 18, 2019
What is much more entertaining is the voice purporting to be Sharon definitely sounds 20 years her senior.
Fans of the BAFTA winning programme enjoyed poking fun at the Spanish version saying things like:
You sound older in Spanish.

— Clelia Mountford (@CleliaMountford) January 18, 2019
.
Cat-uh-strrrrrrrrro-fay` es my bien, gracias

— Richie Richardo (@FrankSnotra) January 18, 2019
.
As for Rob Delaney's voice in Spanish he sounds like a calm man crossed with the promotional voice on a film trailer which he certainly does not sound like in the English speaking programme either.
Despite the mismatched voices Spanish audiences can not get enough of the series and viewers there are looking forward to the new series.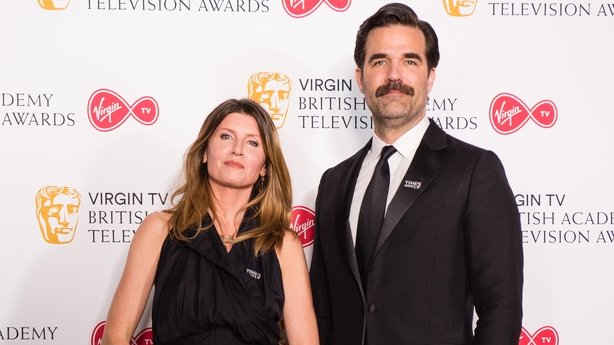 The series has been back on our screens on Channel 4 since Tuesday January 8 at 10pm.
The Game Night actress and co-star (recent new dad for fourth time) Delaney both urged viewers to tune in to meet Rob's sister hopefully she is as entertaining as Sharon's brother Fergal played by Dublin actor Jonathan Forbes.
#Catastrophe Tonight! 10pm on @Channel4 ???? pic.twitter.com/Bp8ntzUB78

— rob delaney (@robdelaney) January 15, 2019
Episode two of #Catastrophe. Tuesday night at 10pm on @Channel4
Watch more of this lady being sublime @michaelaWat https://t.co/P2T0MMOF1M

— Sharon Horgan (@SharonHorgan) January 15, 2019