Australian choreographer Trent Whiddon, who has stepped in at the last minute to replace injured professional dancer Curtis Pritchard on Dancing with the Stars, has told RTÉ Entertainment that he is not fazed about joining the show as Holly Carpenter's new dance partner.
Trent was brought in to replace Curtis when he was attacked in a nightclub while at home in the UK on St Stephen's night, sustaining serious injuries.
He will partner Holly until Curtis recovers from surgery on his knee and returns to the show.
The pro-dancer said: "One thing for sure in the dance world - there's always injuries, especially when you're onstage.
"We're used to sort of jumping in for people last-minute, so this is something that's not unusual for me. But it's a great challenge and definitely keeps you on your toes."
The upcoming third season of RTÉ One's Dancing with the Stars kicks off on Sunday night, and model Holly said that working with two pro-dancers has given her an advantage of sorts.
She told RTÉ Entertainment: "I guess I'm the only person on the show who's had two dance partners, so I'm going to look at it as an advantage.
"They are very different; Curtis is only 22, Trent's a little bit older than 22. [Looking at Trent] I actually don't know what age you are! So he's very mature and he's blond and Curtis is brunet, so that's a big difference!"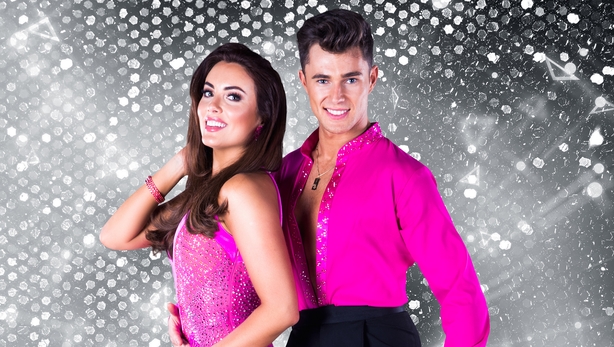 Trent said he is already impressed with Holly's skills on the dancefloor.
"What's impressed me most about Holly is just being a nice, lovely person, and she has got her stuff together," he said. "She's actually been teaching me some of the steps!
"Holly's had great training from Curtis; he's really gotten her up to speed, so I'm sort of stepping in and trying to catch up at the moment. We're starting to make headway with the salsa."
Despite training going well, Holly admitted that she has some pre-show jitters.
She said: "I'm pretty nervous about the show; I'm not going to lie. But I'm also just really excited to get out there.
"We've seen our costumes; we know our dances, so it's just about actually giving it socks at this stage. I don't want to look back and go, 'I should have given it more'."
The model contemplated what would happen if she won the show.
"If I win and I have the trophy, it's going to be like sharing my baby with two different dads!" she laughed.
"Trent lives in Slovenia and Curtis lives in the North of England and I'm in Dublin, so the trophy will have three different, fabulous homes. There'll be visits!"
Dancing with the Stars kicks off on Sunday, January 6 at 6.30pm on RTÉ One.