Jennifer Aniston will be Courteney Cox's bridesmaid when her Friends pal exchanges vows with Snow Patrol's Johnny McDaid at a Malibu ceremony following their Derry wedding.
McDaid proposed to Cox at Aniston's house and Jennifer has hosted a bridal shower with an Irish theme for her friend since the couple announced their engagement on social media in 2014.
There has been much speculation about the Cox/McDaid nuptials for the past four years and while it may be early days as yet, Aniston believes she will not be attending the Irish festivities.
"I haven't been invited, it's as simple as that, " she told the Irish Sun. "Of course I'd go if she asks me to, but so far she hasn't."
Wedding plans in the immediate future in any case are not uppermost in the mind of McDaid who is on tour at the moment while Courteney Cox is in LA.
"So it would be really difficult for me to get married unless I do it by proxy or over Skype or something," he recently told the Belfast Telegraph.
Aniston also talked about filming in Ireland for the movie Marley and Me. "I just loved it there," she said.
That film has a canine theme and, indeed, its lead actress lives with three pet dogs in her Bel Air home.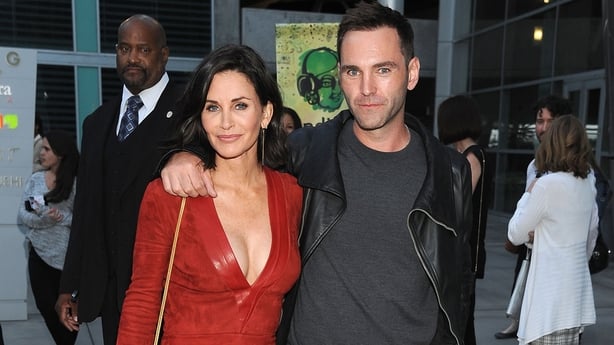 "They wake me every morning at 6 and we cuddle," she told the Irish Sun. "They are usually snuggled up with me when I'm watching TV. I just love dogs."
The actress is currently filming a new drama series set in the competitive arena of morning TV in New York.
She plays a TV news presenter and the series will also star Steve Carrell and Reese Witherspoon, "I watch the news," she says. "I watch recordings of the news. I love documentaries."
She also stars as a Texan beauty queen tuned pageant judge in the Netflix movie Dumplin'
The actress turns 50 next February. "As I get older, I've stopped listening to people's judgements about me."The first time it happened it didn't feel good, but sometimes you can't dodge those bullets.
"But you need to understand yourself and what you stand for and everything else you hear will fall by the wayside because it's not based on any kind of truth that speaks to you.
"I don't love being famous and the negativity that comes along with it and the judgements."