Kathleen Watkins appeared on Saturday night's Ray D'Arcy Show where she spoke about whether her husband Gay Byrne will return to the airwaves..
Host D'Arcy said he read recently that the veteran broadcaster, who is currently battling cancer, wants to go back on the radio, but she doesn't want him to do it.
"I'm as they say, working at the cold face, I'm dealing with it every day", she responded.
"I would prefer that he didn't go back on the air at the moment. I just don't think it's right for him at the moment and he would be the first to agree that he thinks I'm probably right."
Watkins, who has just released her second children's book, Happy Christmas Pigín!, said that Byrne "always loved radio more than television, he's a radio man."
She added: "It's nice to still be dabbling at 84, we are 84 after all!"
Ray commented: "At 84 this is your second book, you came to it in your eighties."
"There's nobody more surprised than myself!", she said with a laugh.
'He always loved radio more than television' Kathleen Watkins talks about whether Gay will return to the airwaves and about her surprise at becoming an author in her 80's. #rarydarcyshow pic.twitter.com/cBY9KxiWZ1

— The Ray D'Arcy Show (@RTERayDarcyShow) November 10, 2018
The author and broadcaster also spoke about Byrne's cancer treatment, saying "it's been a busy time".
"He's doing ok, we're in a management situation, it's up and down", she said.
"Some days are better than other days. But he's ok, like so many people with that particular cancer, treatment is ongoing, so we're in and out of the Mater the whole time to those wonderful people."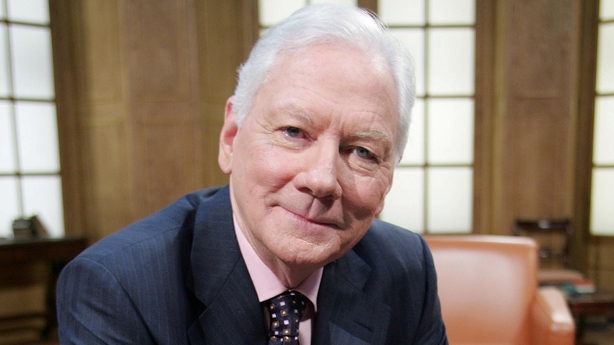 She went on to praise the hospital staff at the Mater Hospital.
"Could I just say something about the oncology department of the hospital, it's not an unhappy place. In fact it's a place of calm, I wouldn't say joyful, I would just say calm.
"People going about their work, looking after people beautifully. I couldn't praise them higher", she said to applause from the audience.
Watch the full interview on the RTÉ Player here.
The Ray D'Arcy Show airs on RTÉ One on Saturday nights at 9.45pm.